Sharing our Weekly Meal Plan with make-ahead tips, freezer instructions, and ways make supper even easier!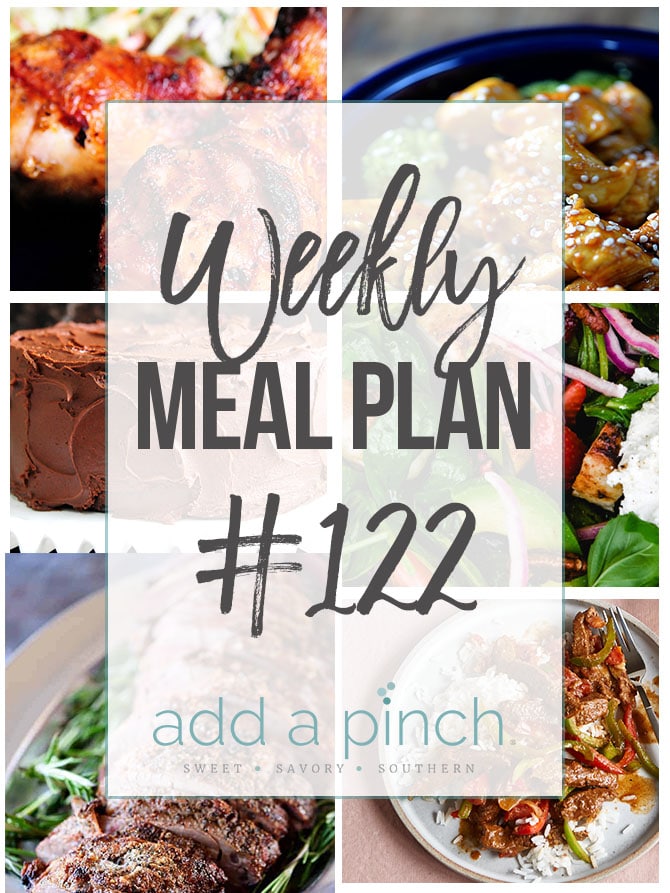 Saturday: Hot Spinach Artichoke Dip, Grilled Chicken made with Best Grilled Chicken Marinade,  Southern Potato Salad, Coleslaw, Old Fashioned Vanilla Ice Cream (Make Ahead)
Sunday:  Beef Tenderloin, Perfect Baked Potato with Potato Bar Fixings, House Salad with Homemade Dressings, Best Chocolate Cake Ever  (Make Ahead for Mother's Day)
Monday: Grilled Chicken Spinach Salad with Strawberries  (Leftover Makeover)
Tuesday: Leftovers
Wednesday:  Easy Pepper Steak with Rice + Cream Cheese Poundcake, Strawberries and Perfect Whipped Cream (Slow Cooker, Add a Pinch Cookbook)
Thursday:  Skinny Orange Chicken +Broccoli + Fresh Pineapple Sorbet (30 Minutes, Make Ahead)
Friday:  Family night out
MEAL PLAN TIPS: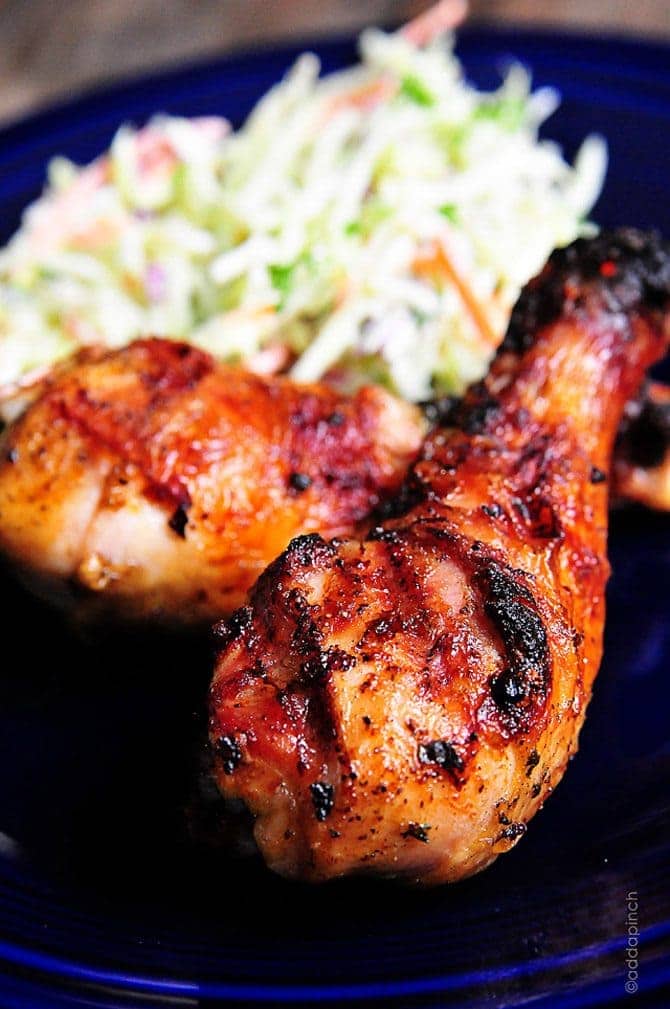 Saturday:
This weekend, we will enjoy time together and  some of our family favorite recipes for some casual suppers.
Grilled Chicken: I will have my Grilled Chicken Marinade made ahead and our chicken marinating for the best, most delicious and juicy chicken! I'm grilling a couple of extra chicken breasts for lunches or meals later this week.
Southern Potato Salad: Make the potato salad the night before and refrigerate – so scrumptious and easy.
Old Fashioned Vanilla Ice Cream: This creamy delicious custard style ice cream is perfect for this weekend! Make it ahead if you wish and keep in the freezer until ready to serve!
So today just grill the chicken, make the Coleslaw and set the table. Hopefully, I will get done in time to relax a few minutes with a cold glass of fresh lemonade!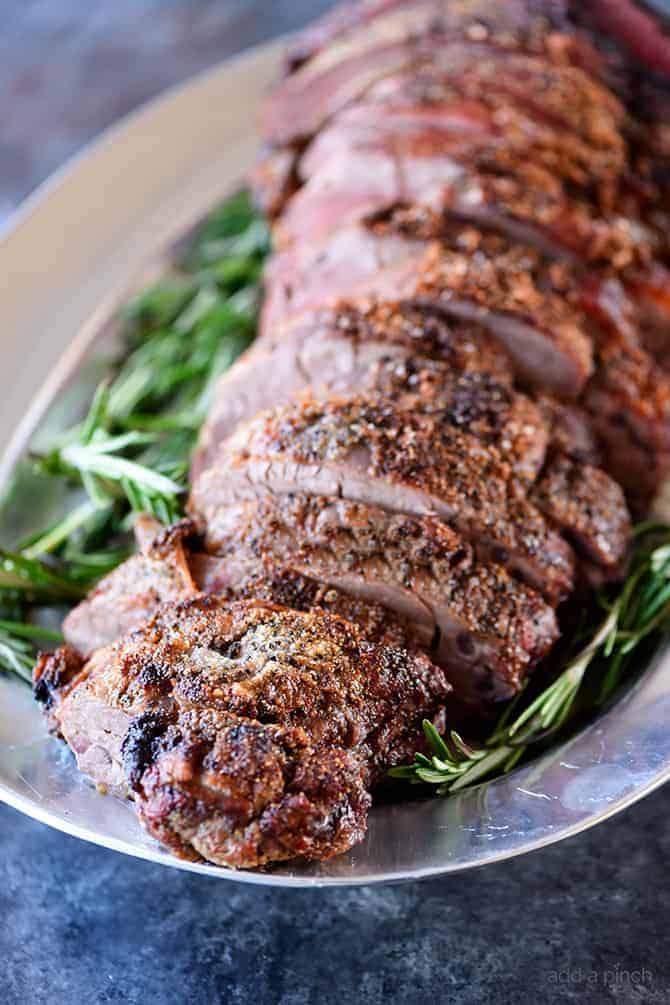 Sunday:
Beef Tenderloin: You can season this at least one hour before cooking or up to overnight. You can also prepare it even more ahead of time if you like. Be sure to keep your wrapped beef tenderloin on a baking sheet in the refrigerator. We love this for holidays and special occasions – so delicious!
Perfect Baked Potato: You can certainly bake these ahead if you wish. I will fix crispy bacon, shred cheeses and other toppings and put each in containers to just pop out of the fridge when supper is ready to serve.
House Salad with homemade dressings: I will have the dressing pre-made and labeled in the refrigerator. All I'll have to do right before serving is add the amount of olive oil in each recipe, give them a hearty shaking and serve.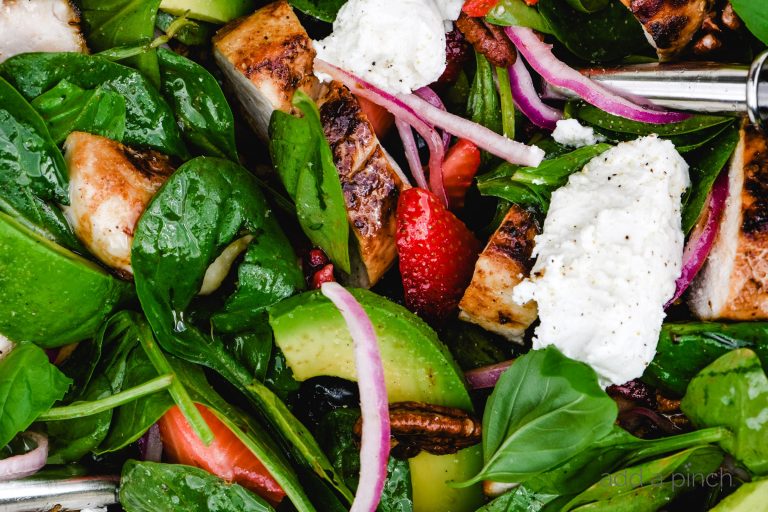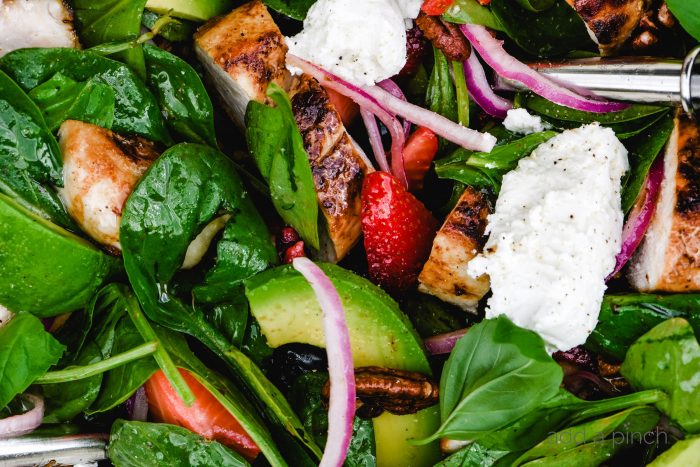 Monday: 
Grilled Chicken Spinach Salad with Strawberries: After all the cooking this weekend, I planned for a night with a delicious leftover makeover with this juicy delicious salad. I've grilled the chicken ahead on Saturday and the dressing is such a quick and easy one to make ahead or right before you serve the salad.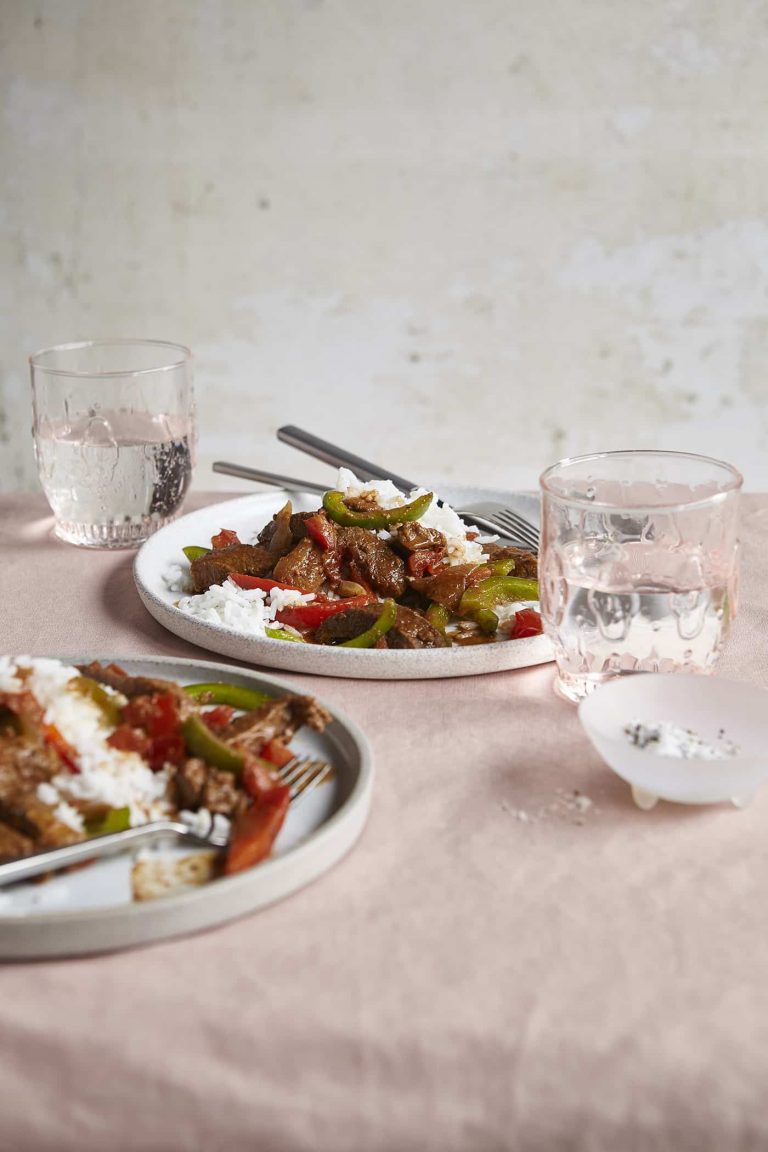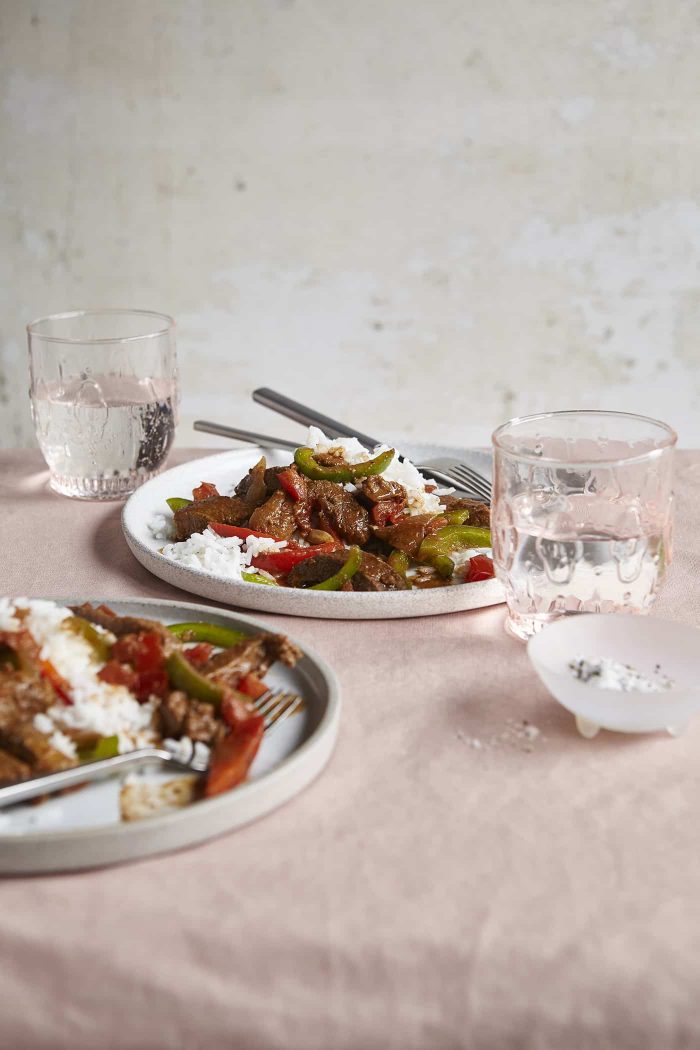 Wednesday:
Easy Pepper Steak: Tonight's scrumptious supper has been a family favorite for many years and is now a favorite in my Add a Pinch Cookbook as well!
I have already prepped all of the veggies in the recipe and stored them in one freezer-safe zip top bag. In a second bag, I've added the slices of beef, along with the seasonings and mixed these together to coat the meat well. Then, I added the sealed first and second bags into a third bag so that both are in one marked bag in the freezer!
I'll pull the bag out on Tuesday night to thaw in the refrigerator overnight. Then, Wednesday morning, I'll pop it all into the slow cooker before I get busy for the day! Supper's easy and the house smells divine when everyone gets home and ready to eat!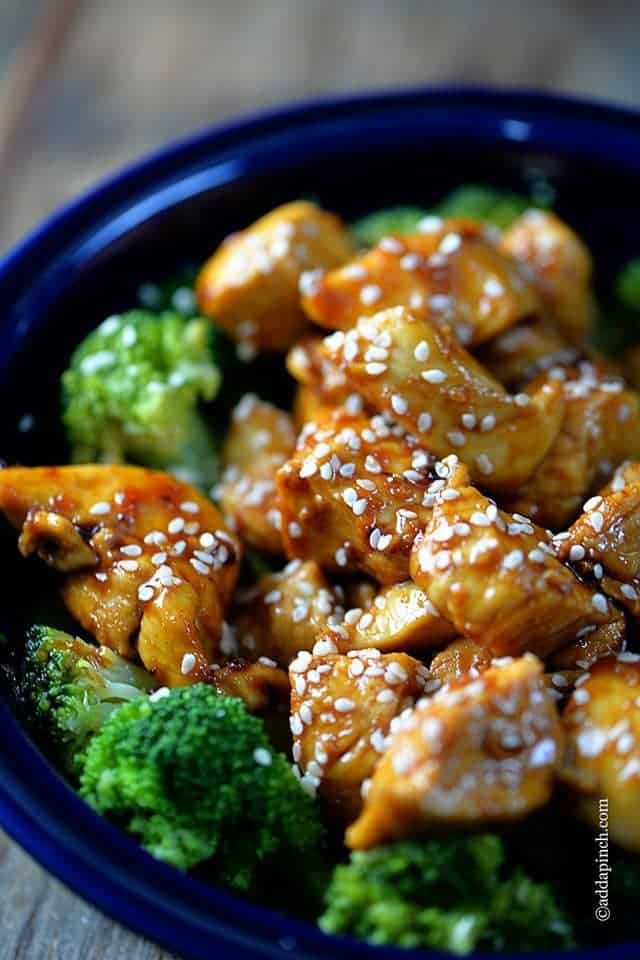 Thursday:
Skinny Orange Chicken: Orange Chicken has always been a dish I loved to order from a favorite Chinese restaurant. I developed this recipe to make at home so that it's lighter, fresher and even more delicious!
It's so easy to go ahead and make the sauce for this dish. Sometimes I cut up my chicken breasts and pop back in fridge until ready to cook. I love this fresh take on this popular take out dish – and I certainly don't want take out after eating this!
Happy Mother's Day to all the Moms!
Have a great week!
Robyn xo