Weekly Meal Plan #17
Sharing our Weekly Meal Plan with make-ahead tips, freezer instructions, and ways make supper even easier!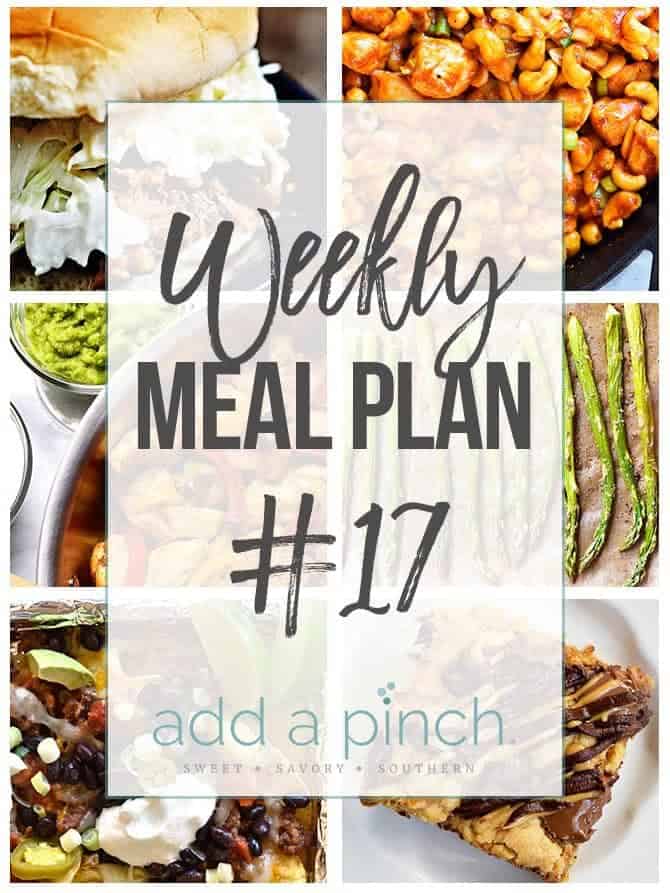 Saturday: Last Day at Disney – Family Night  Out!
Sunday: Pulled Pork Sandwiches + Coleslaw + Classic Pound Cake  (Slow Cooker)
Monday: Cashew Chicken + Zucchini Noodles (30 minutes)
Tuesday: Orange Salmon + Garlic Butter Roasted Asparagus + Poppy Seed Fruit Salad (from Add a Pinch Cookbook) (30 minutes)
Wednesday: Chicken Fajitas + Cilantro Lime Rice + Homemade Refried Beans (30 minutes)
Thursday: Leftovers
Friday: Crispy Chicken Wings (from Add a Pinch Cookbook) + Buffalo Chicken Dip + Sheet Pan Nachos + Peanut Butter Cup Blondies (Sam's Friends Over) (Make Ahead and Freezer Friendly)
MEAL PLAN TIPS:
Saturday:
It's our last night of our family trip to Disney – so we will enjoy food from some of our favorite places today!
Sunday: 
Pulled Pork Sandwiches: Let the slow cooker do all the hard work for you. You can easily put everything into the slow cooker insert the evening before and refrigerate. Then, on Sunday morning, just remove from the refrigerator and place into the slow cooker, set the timer and go! Easy, peasy!
Coleslaw : This coleslaw comes together in a snap, but is also a great make-ahead side dish too.
Classic Pound Cake: My Grandmother Verdie's recipe for pound cake is just as delicious the next day as it is freshly baked. Bake it ahead for an easy meal!
Monday: 
Cashew Chicken: While from start to finish only takes 25 minutes on this recipe, you can definitely speed it up for a weeknight by going ahead and cutting up your chicken and storing in an airtight container in the refrigerator. Likewise, you can go ahead and mix together the sauce used in the recipe and store it in an airtight container in the refrigerator as well.
Tuesday:
Orange Salmon: The inviting smell of this marinade alone is reason enough to make this salmon! While it's marinating, prepare your asparagus and roast it. The salmon only takes about 10 minutes to grill. Delicious, quick meal for sure!
Wednesday: 
Chicken Fajitas: A definite quick and easy go-to recipe that takes just 25 minutes from start to finish. If you want to speed things along, even more, I like to go ahead and prep the veggies the night before.
Thursday:
Leftover Makeover:  If we decide to stay in, I'll make a Chicken Fajita Salad with leftovers from last night. If not, we will eat out as a family.
Friday:
Crispy Chicken Wings: These are from the cookbook and are so crispy and delicious without being deep fried! They are freezer friendly too so you can make a bunch and freeze them for up to 3 months!
Buffalo Chicken Dip: Prep the dip the day before and then just pop into the oven to bake and serve!
Sheet Pan Nachos: So easy and ready in minutes, very minimal prep needed.
Peanut Butter Cup Blondies: Perfect to make ahead the day before.
(The menu is pretty large, but you know how teenage boys eat!)
Hope you have a great week!
Robyn xo