Sharing our Weekly Meal Plan with make-ahead tips, freezer instructions, and ways make supper even easier!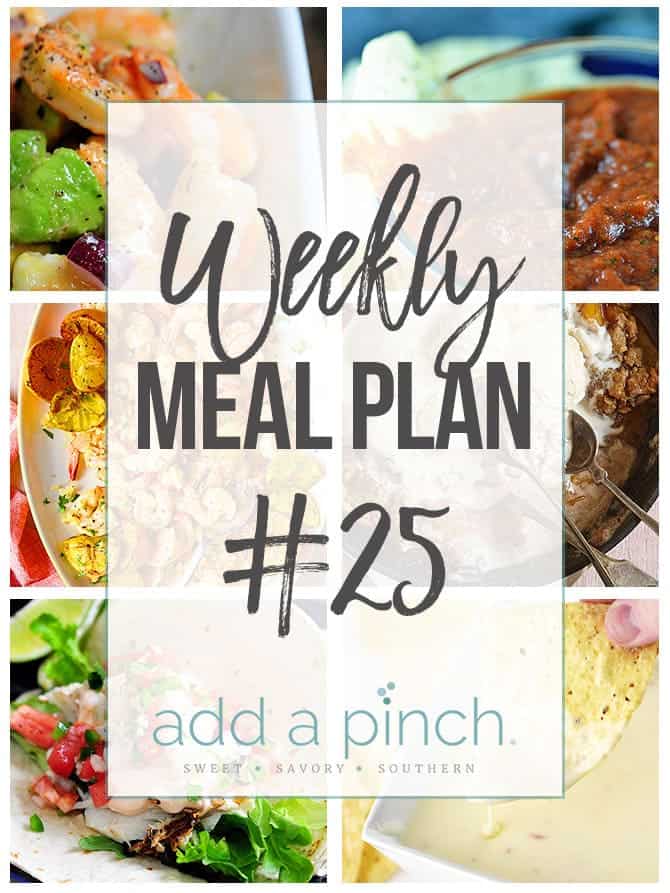 We are taking a family trip to the beach this week and we will eat out some nights, but we LOVE fresh seafood, so I made sure the place we are staying had a full kitchen. I'll share a few things with you along the way – and some of the plan may change a bit according to what scrumptious seafood we get for me to cook while we are there!
Saturday: Family Night Out – After a long day in the car, I'm sure we will just eat out tonight.
Sunday: Broiled Grouper with Lemon Basil Butter (from Add a Pinch Cookbook) + House Salad with Citrus Vinaigrette Dressing + Favorite Key Lime Pie (Add a Pinch Cookbook)
Monday: Shrimp Avocado Salad + House Salad + Skillet Brownie S'Mores (35 Minutes)
Tuesday: Perfect Queso + Restaurant Style Salsa + Shrimp Tacos + Fish Tacos + Fresh Pineapple Sorbet (Make Ahead/Leftover Makeover)
Wednesday: Family Night Out
Thursday: Citrus Shrimp + Grilled Watermelon and Peach Salad with Basil and Feta + Georgia Peach Crisp (from Add a Pinch Cookbook)
Friday: Leftovers or Family Night Out
MEAL PLAN TIPS:
Like I mentioned, some of the meals may change up a bit depending on the fresh seafood selection when we go to the market at the beginning of our trip. Part of the fun of the beach for me is preparing dishes with fresh-caught local seafood, so I may make different dishes depending on what I find. 😉
Sunday:
My family loves grouper, so I'll be on the lookout for this on our visit to a local fish market. I will make extra grouper for my Fish Tacos I'll serve on Tuesday.
I'll mix up a some green salad and keep in the refrigerator for us to enjoy this week. Premix the Citrus Vinaigrette ingredients ahead of time and just add the olive oil and shake when ready to serve.
Key Lime Pie: This comes together quickly, so I'll make this in the morning and refrigerate so that it's ready for supper.
Monday:
Shrimp Avocado Salad: I'll cook enough shrimp for this meal, as well as Shrimp Tacos for Tuesday's supper while I'm making it. This salad comes together quickly and is so light and perfect for a summer beach supper!
Tuesday:
Restaurant Style Salsa: Make this ahead and refrigerate.
Perfect Queso: Grate all the cheeses and place in airtight bags or containers until ready to prepare. This is ready in minutes!
Shrimp Tacos and Fish Tacos: I'll be using the extra shrimp I cooked on Monday and the extra grouper I made on Sunday for these two types of tacos. So easy!
Thursday:
Citrus Shrimp: Super easy and ready in minutes!
Grilled Watermelon and Peach Salad: I'm so excited just thinking about this salad! It's one of my favorite salads (aren't they all?) from the Add a Pinch Cookbook!
Georgia Peach Crisp: I planned this for tonight since I'm slicing fresh peaches for the salad we'll be enjoying for supper too! We may even make some No Churn Vanilla Ice Cream to top this with! Yum!
Have a fun week – welcome to June!
Robyn xo