Baked Pasta with Spaghetti Sauce Recipe
Mercy! How is it possible to love Baked Spaghetti or Baked Ziti more and more every single time you taste it?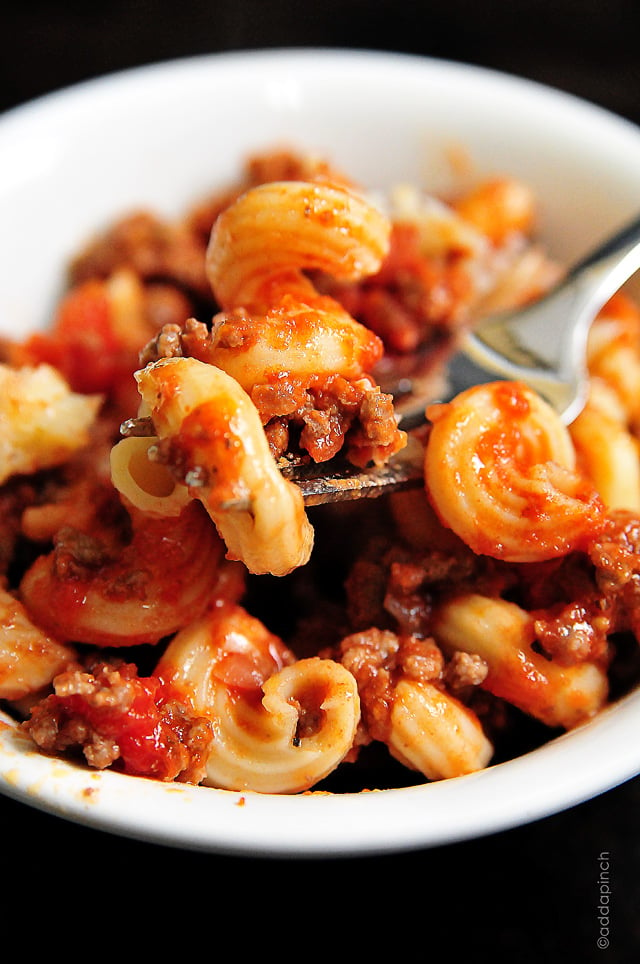 Over the past couple of weeks, we've had it twice.
Yes! You read that last sentence right. Twice in two weeks!
What gives? You'd think as a food blogger, recipe developer, whatever-you-want-to-call-me-today-er, that I'd be just a little bit creative for two days out of fourteen. But, I haven't been.
I guess I'm still craving spice after all those holiday meals and really, baked pasta with a meaty spaghetti sauce makes one of the easiest meals you can throw together in a sure fire hurry.
One of the best parts of this recipe is that you can really use whatever type of pasta you have on hand and that you love. We've been rather obsessed with twirl noodles lately, so rather than using ziti noodles as I normally would, I used these. Of course you can use spaghetti noodles, ziti, penne, rigatoni, elbow, or any other type that will hold the sauce well.
As for us, we're using twirls.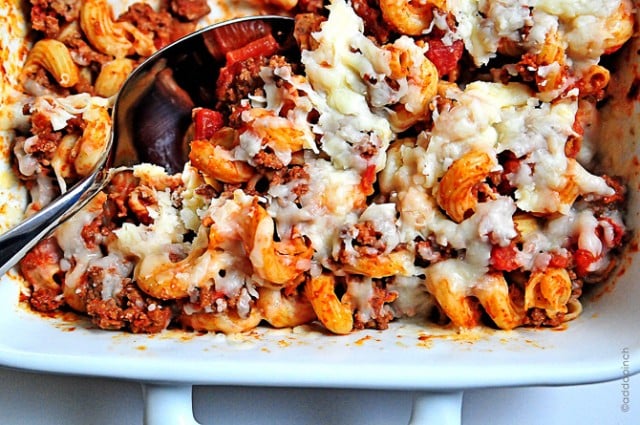 And there's another little secret that this baked pasta recipe and I have for you, too. It is a wonderful make-ahead meal.
As in, the reason we had it twice in two weeks was that I made a double recipe and rather than freezing one of them, I stuck it in the refrigerator. I meant to take it to my sister so that she didn't have to cook supper one evening, but honestly, I forgot it.
A couple of days rolled around and by then I was just way too embarrassed to even think about taking it to her – even though I know she wouldn't have minded a bit. It would have nagged me to death.
So another day went by and I as I rushed in the door from an appointment that ran over in the afternoon, I opened the door to the refrigerator and there before me was a pan of this baked pasta to the rescue.
Supper was saved!
I know, that sounds entirely too dramatic, doesn't it?
We could have just as easily had a sandwich, a quick breakfast-type meal or any number of recipes that only take about 30 minutes or less to prepare. Heck, there are plenty of those on this website for goodness sake. But, I have to tell you. Right then and there, that pasta was even better than take out. Delivered at that.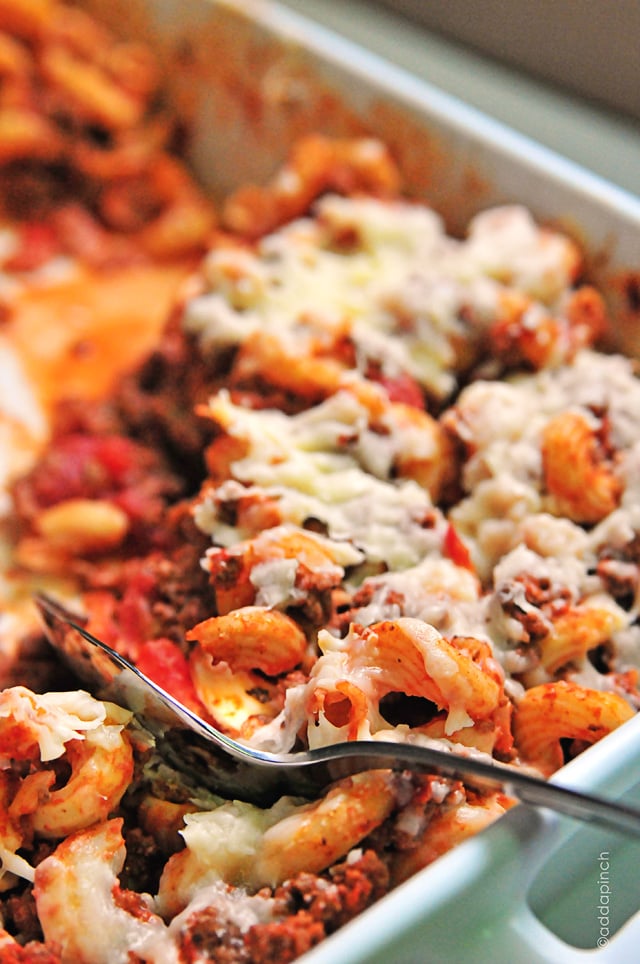 One of the pans of baked pasta was made with cheese and the other I left it out since I was planning on freezing it. My plan was to add the cheese as the baked pasta was going into the oven. Well, since I was in such a hurry when I threw it in the oven, I totally forgot that step. While I love everything about cheese, I have to say that this baked pasta was really very good without it.
Here's my baked pasta with spaghetti sauce recipe. I hope it comes to the rescue for  you sometime, too!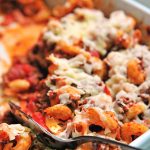 Print Recipe
Baked Pasta with Spaghetti Sauce Recipe
Baked Pasta with Spaghetti Sauce makes a wonderful, hearty meal for a family or even when entertaining.
Prep Time10 mins
Cook Time30 mins
Total Time40 mins
Servings: 6 -8
Ingredients
8 ounces pasta
1 tablespoon olive oil
1/2 medium onion diced
1 tablespoon dried oregano divided
1 1/2 pounds lean ground beef
1 clove garlic minced
1 26 ounce can tomato sauce
1 14 ounce can diced tomatoes
2 cups Monterrey Jack cheese shredded
Instructions
Preheat oven to 350º F. Spray 9x13 casserole dish with nonstick cooking spray, set aside.

Cook noodles in boiling water according to package directions. Drain well. As pasta is cooking, drizzle olive oil into skillet over medium-low heat. Add onion and cook for about 3 minutes until translucent. Add garlic and half of oregano to skillet with onions and cook for about 2 minutes. Add ground beef to the skillet, stirring often.

Add diced tomatoes, tomato sauce, and additional oregano to ground beef.

Combine with noodles and pour into prepared baking dish.

Top with cheese and bake for 25-30 minutes.
Enjoy!
Robyn xoxo
If you love this recipe, you may also like: