Black-Eyed Peas Recipe
This black eyed peas recipe makes a classic recipe that works as a side dish and or the main with a huge piece of cornbread. 
I think I would lose my Southern card if I didn't serve black-eyed peas, greens, ham and cornbread on New Year's Day. You may be able to get away with serving something different from turkey on Thanksgiving. On Christmas you can have fun and create your own traditional family meal. But on New Year's Day, you better bet your bottom this Southern girl will serve the most highly anticipated meal of the day.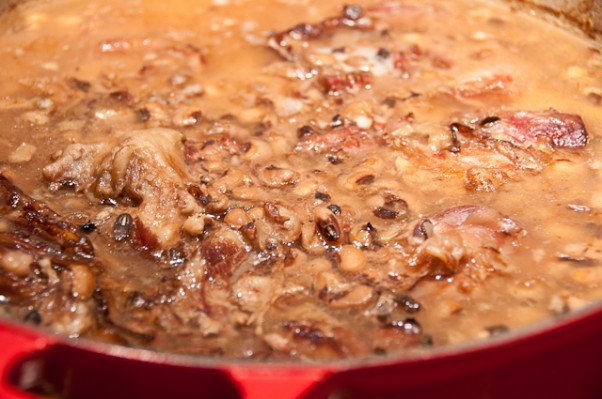 Black-eyed peas are great for any day of the year, not just New Year's Day. Black-eyed peas are rich in fiber, calcium, and Vitamin A and are priced just right for any budget.
I remember my Grandparents would have a bowl of black-eyed peas and cornbread many nights as their meal. A meal made from ingredients they grew on their farm. A brown bag of peas kept from year to year and stored in the freezer in the garage. The freezer was dedicated to gardening and storing all of the delicious foods their garden produced. Each year as soon as there wasn't a threat of another frost, my Grandparents would lovingly plant row after row of this Southern favorite.
It seemed as if our summers went on forever. Full of days playing outside and afternoons cooking with Grandmother. As summer neared it's end, we'd sit on Grandmother's porch shelling peas and telling stories.
Luckily, she taught me how to make a delicious meal from them as well. With a generous amount of time, water, and a meaty ham bone, these peas we'd tended during the summer fed us well throughout the winter months. Once a pot of black-eyed peas has been cooked, you can utilize them in various other dishes from soups, stews, appetizers, and salads.
Here's the black eyed peas recipe she taught me to make.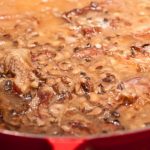 Print Recipe
Black-Eyed Peas
This black eyed peas recipe makes a classic recipe that works as a side dish and or the main with a huge piece of cornbread.
Prep Time5 mins
Cook Time1 hr
Total Time1 hr 5 mins
Servings: 8
Ingredients
1 (16-ounce) package dried black-eyed peas
water
ham bone
Instructions
Place black-eyed peas into a colander and wash them well.

Pour peas into to a very large pot and cover with water plus 4 inches.

Allow to soak overnight or longer, adding water after a few hours if needed.

Add ham bone to black-eyed peas and cook over a low heat, adding water as needed. Cook until the peas are tender, about 1 to 1 1/2 hours.

Ladle into a serving bowl, removing any pieces of bone and allowing ham pieces to remain.
Enjoy!