Jump to Recipe • Print Recipe
Okay, so sometimes, I just really crave a salad. A big salad with a ton of flavor like this one with blackened shrimp.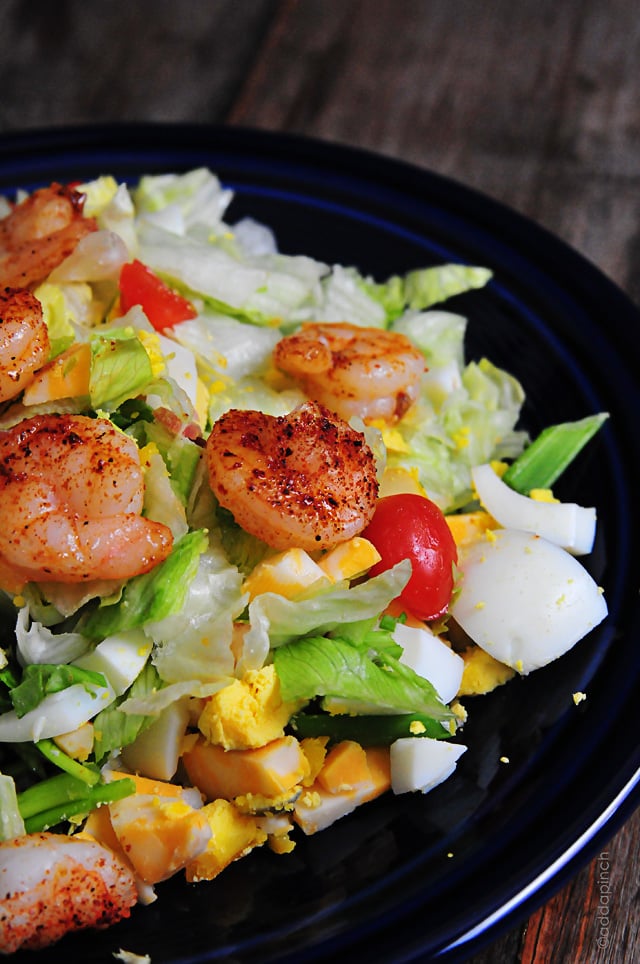 So simple to make for a quick lunch or light supper and I've found a trick that really helps make salad type meals so much fun and gives everyone exactly what they want.
You ready?
It is so simple that you are going to think I'm crazy. But really, just trust me on this and try it the next time you are serving salad as a meal for a crowd.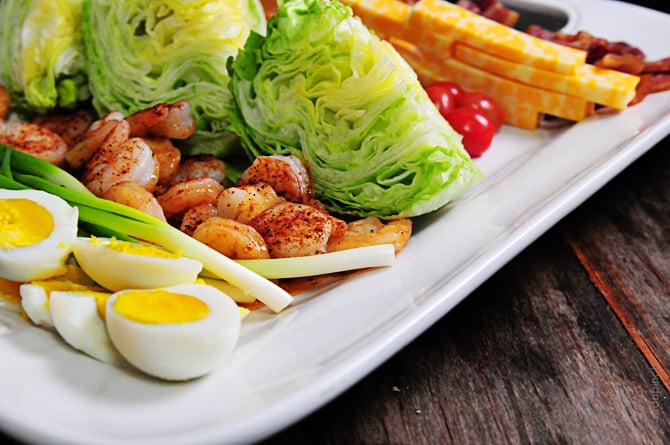 I prep all of the ingredients for a salad and serve them on a platter. Then, each person puts the toppings they want for their salad onto their plate. I then take their plate and place everything onto my chopping board.
Using my huge pizza knife, I make quick work of chopping their salad to bite sized pieces for them. Then, with a quick toss, their salad goes back onto their plate for them to dress if they'd like. Of course, I have to add a few whole cherry tomatoes and the blackened shrimp onto the top of the chopped salad.
I still want everything to look pretty.
Ya know?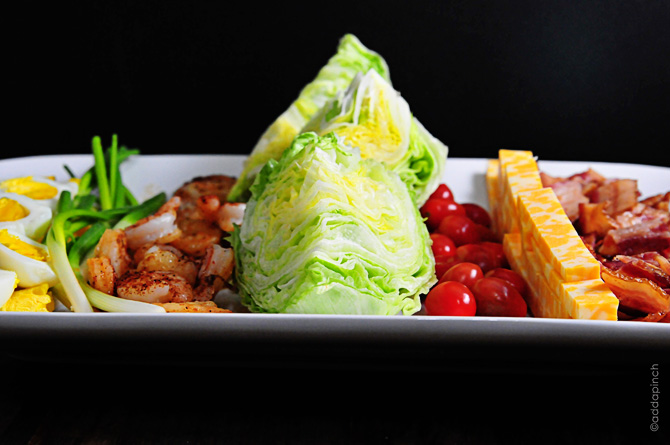 What I've noticed the last few times doing this manner of serving a large salad is that people really like being able to pick exactly what they want in their salads. My son also adds more to his salad than I would have added had I been making his for him, too. And that's a benefit I love!
You can be as extravagant on the items you include on your salad platter as you like, depending on the theme of your salad. But, for this blackened shrimp salad, I decided to keep things simple and let the blackened shrimp really shine.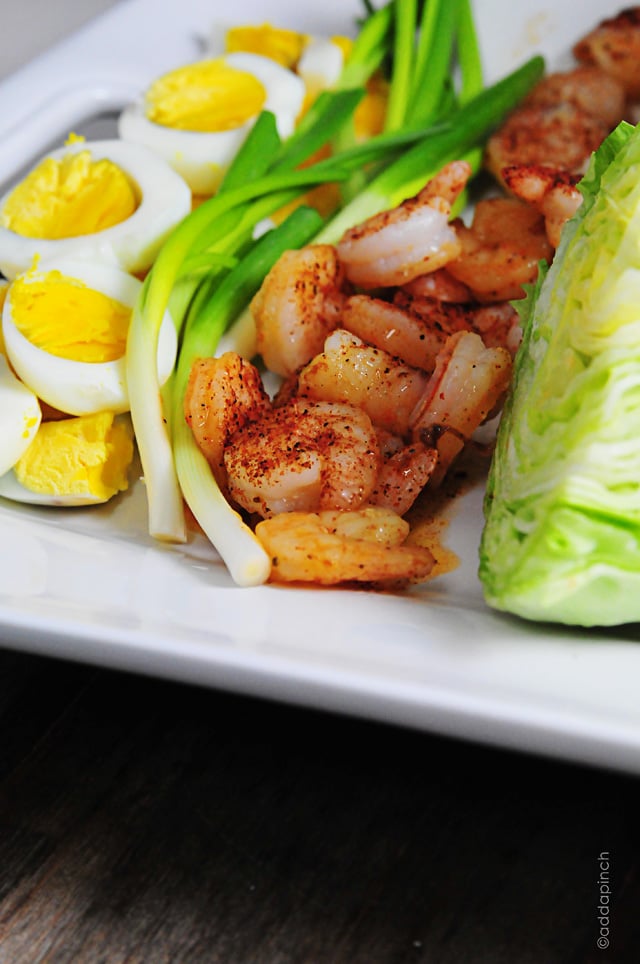 Oh yeah, and those eggs? You really have to pop back in tomorrow for me to share with you how I cook a bunch of eggs at once for salads and snacking. You'll love it, promise!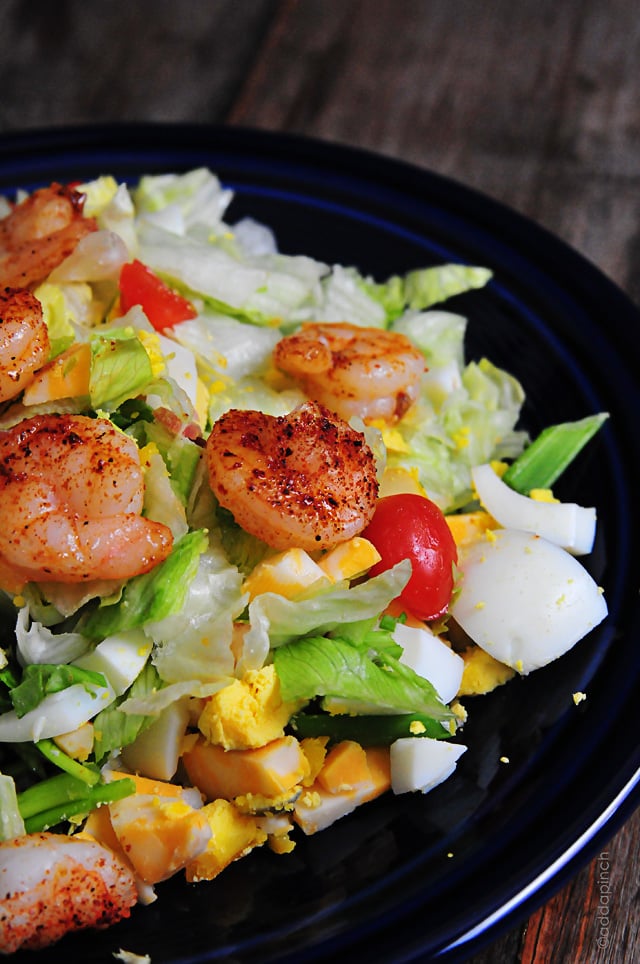 Let me know if you try the platter trick when serving your salad.
Here's my blackened shrimp salad recipe. I hope you love it.

Blackened Shrimp Salad Recipe
Blackened Shrimp Salad makes a great lunch or light dinner idea. This recipe comes together in minutes and will quickly become a favorite. Packed with flavor!
Author:
Robyn Stone | Add a Pinch
Ingredients
2 pounds blackened shrimp
1 head iceberg lettuce, cleaned and but into four-six wedges
6 hard-cooked eggs, halved
8-10 pieces cooked bacon
8-10 green onions
1 pint grape or cherry tomatoes
1 (8-ounce) package cheese, sliced into strips
Instructions
Arrange ingredients by type onto a large serving platter. Allow guests to place ingredients they prefer in their salad onto their plates. Take their plates, except shrimp, and chop into bite-sized pieces. Lightly toss and place back onto plate. Top with shrimp.
Enjoy!
Robyn xoxo