Now that the weather has teased us with bits of spring for a couple of weeks, I've loved being outside as much as possible. Whether I'm outside playing with Ranger and Miss Annabelle or checking in on things around the farm, it really is my favorite place to be.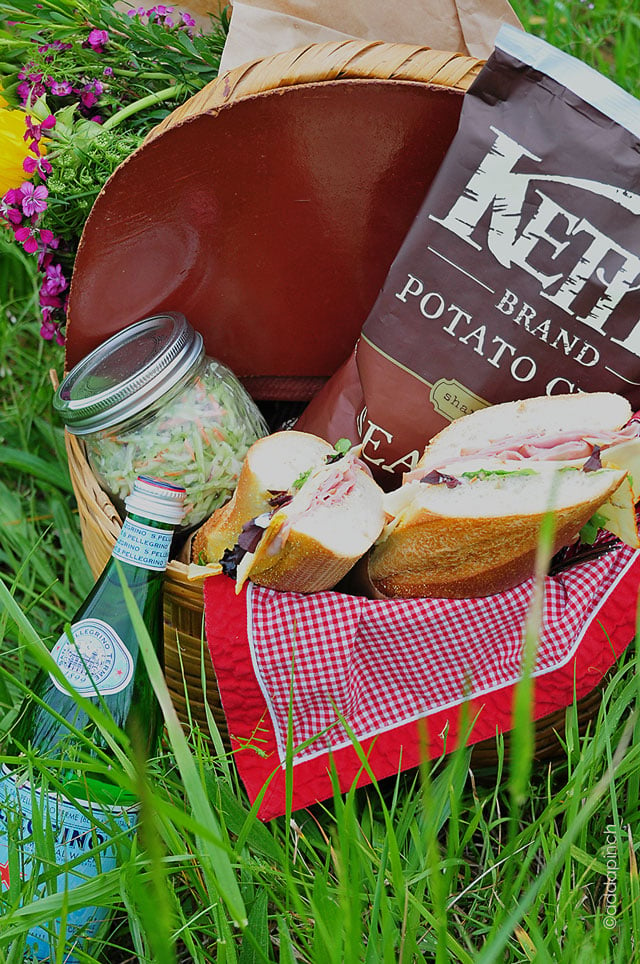 Y'all know by now that I am all about simple living – which includes simple, yet delicious recipes. Even though cooking and entertaining are my favorite things to do, I still believe simplicity is the best.

That's why I immediately knew the recipe I would recreate from one of my most memorable picnics I've ever taken. My husband and I were on our honeymoon in Mackinac Island, Michigan and the hotel where we were staying prepared a picnic lunch for us and had it delivered to an area on the grounds of the hotel. After a full morning of riding bikes and exploring the island, I was blown away when we just "happened upon" this beautiful picnic basket filled to the brim with the perfect picnic.
Talk about romantic!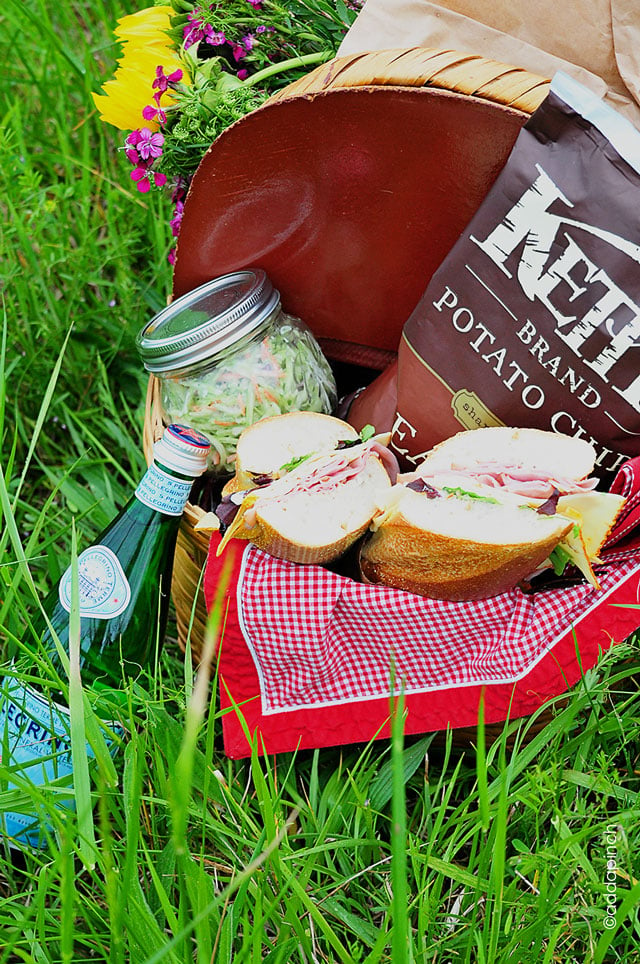 One of my favorite parts of the basket was a simple hot ham and cheese sandwich on a loaf of French bread. I knew that sandwich had to be part of my perfect picnic basket, along with my husband's favorite broccoli slaw, grapes, chips, water, and fresh flowers.
I pulled out my Grandmother's picnic basket that she used for years and years taking pies to family reunions and church socials, as well as packing fun picnics for my sister, cousins and me during the summer. Oh the memories of those days!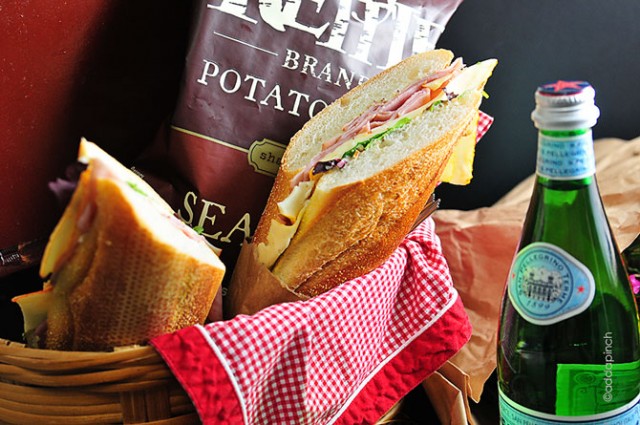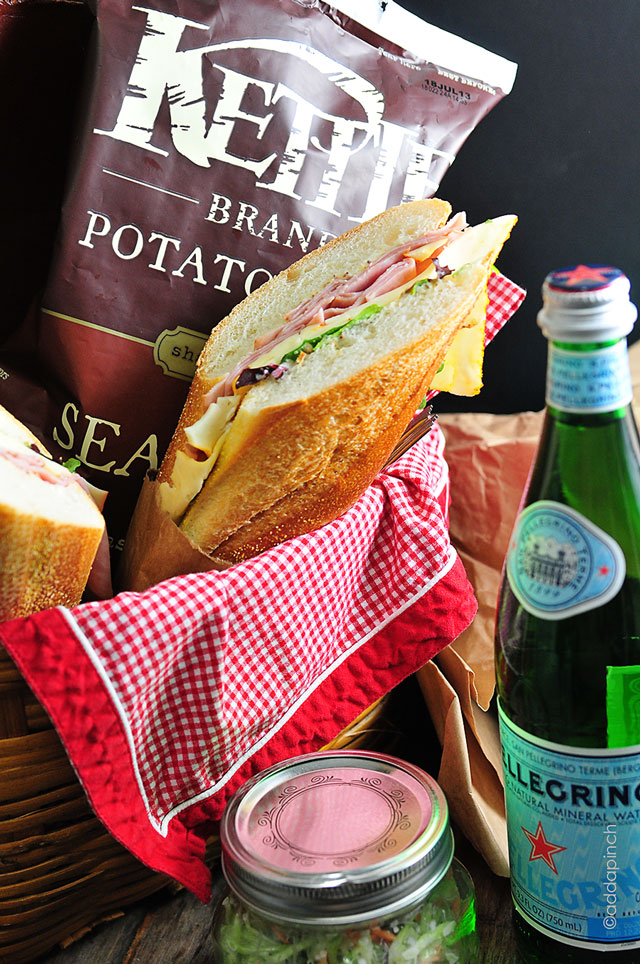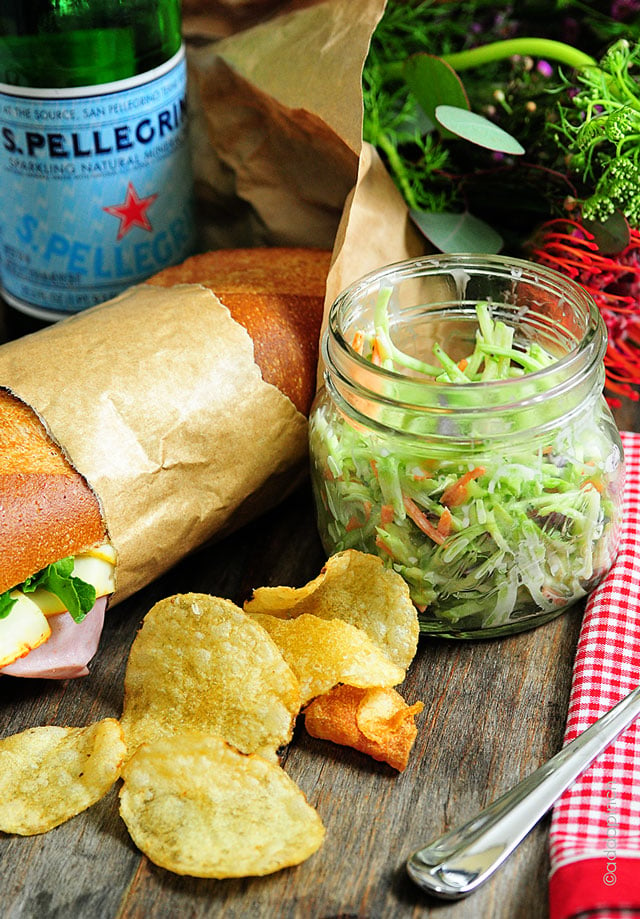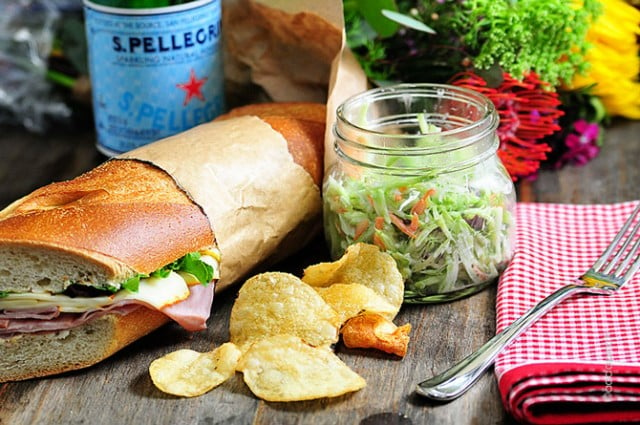 Here's my Hot Ham and Cheese Sandwich Recipe, along with my menu for a perfect picnic.
Hot Ham and Cheese Sandwich Recipe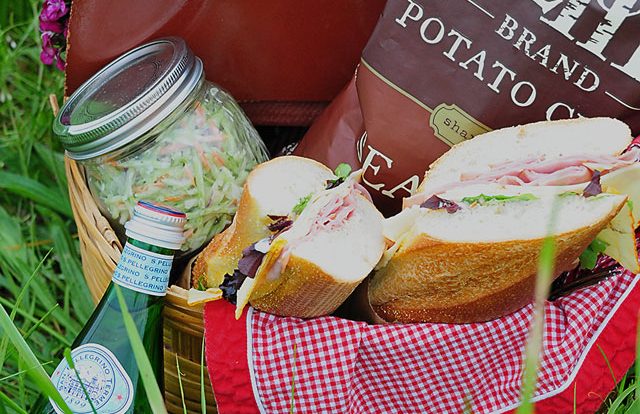 Hot Ham and Cheese Sandwiches make a delicious quick, yet delicious meal and are part of my idea for the perfect picnic.
Ingredients
1

loaf French bread

1/2

pound

sliced smoked ham

1/2

pound

sliced smoked cheese

1

cup

lettuce leaves
For the Sandwich Spread
1

cup

butter

softened

3

teaspoons

Dijon mustard

1

medium onion

minced

3

teaspoons

Worcestershire sauce
Instructions
Preheat oven to 425º F. Mix together ingredients for sandwich spread in a medium bowl until well-combined. Set aside.

Slice loaf of French bread in half lengthwise and place on a rimmed baking sheet.

Spread the inside of both halves of bread liberally with the sandwich spread.

Begin layering ham, cheese, and lettuce onto one half of the bread. Top with the other half of bread and place into the preheated oven for 5 minutes, or until the sandwich has heated throughout and the cheese has reached the melting point you prefer.

Remove from oven and slice in the middle. Then, slice each of the halves in half again until you have four pieces.
My Perfect Picnic Menu and Tips

Menu

Hot Ham and Cheese Sandwiches wrapped with parchment paper or foil to keep warm and for easier serving.

Broccoli Slaw stored in a Mason jar with a fork tied on with butcher string or wrapped in napkins.

Grapes that have been cleaned but are still on the vine for a more casual feel.

Water or Fresh Lemonade sealed tightly and packed with enough cups for your picnic-ers.

Tips

Keep it simple. Whether your picnic is a planned event or a last minute thought, keep your picnic plans simple. The less fuss, the more enjoyable it will be for you and everyone else. That tip goes for everything in life, really.

Grab a large basket and line it with fresh linens. If your basket doesn't have a lid, utilize additional linens to cover the contents to keep everything fresh.

Stay cool. If you are traveling a distance before you'll be eating your picnic, consider including an ice pack sealed inside of a zip top bag to keep the contents of your picnic cool.

Clean up. Remember you'll need to keep your picnic area clean and leave it even tidier than you found it. Pack a few paper bags in the bottom of your basket to use for clean up after the picnic.

Have fun. Along with keep it simple, remember to have fun. Enjoy the fresh air, scenery, and the company during your picnic. Relish the moment!