Jump to Recipe • Print Recipe
This easy 15 Minute Pizza Recipe for Kids makes a quick lunch or supper the whole family will enjoy! Great to get kids in the kitchen preparing their own pizza recipe!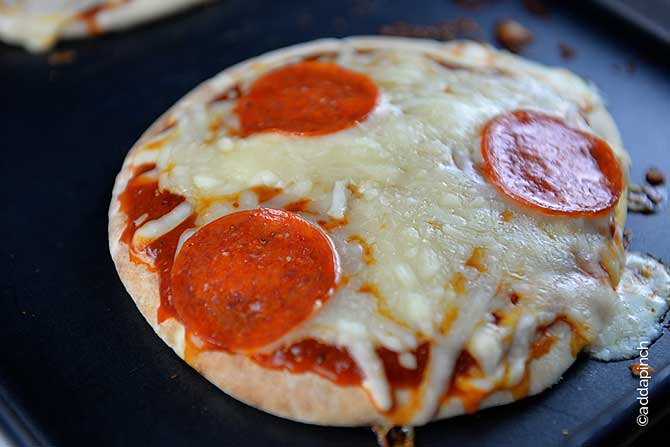 Since school has started, there are days that by the time we've worked through a good bit of our morning class work, it is already time for lunch. Sometimes, my son believes he'll starve to death before we've even finished math, even though he's just finished eating breakfast a couple of hours before. I'm not sure if his sudden hunger is brought on by the algebra problems or because he's a growing boy. Either way, I know I only have a limited time to get something good into him for lunch before we're in a downward spiral. The same can really be said for afternoons when he needs a quick, filling snack or a light supper before Scouts.
And I love to turn to this super quick, easy, 15 minute pizza recipe for kids! Talk about the perfect quick pizza recipe!
With supervision, especially around the hot oven, this makes a great recipe that children can enjoy making themselves. I love to watch my son and his friends make these for snacks in the afternoons. It seems like they enjoy their pizzas a whole lot more when they make them!

Made with super simple ingredients that I normally have on hand, pita bread, homemade pizza sauce, and cheese, these little babies are favorites when they appear around my lunch table. Sometimes, we'll add pepperoni or other meats and veggies, depending on what we have and what we'd like to include. Basil and tomatoes are always welcome on mine for mini margherita pizzas, and leftover chicken, spinach, and a few sun-dried tomatoes are also toppings that I turn to from time to time. The possibilities are just endless, but thankfully, they are ready in a jiffy and make a delicious meal!
Here's how we make our 15 Minute Pizza Recipe for Kids. I think you'll all love it!

15 Minute Pizza Recipe for Kids
This 15 Minute Pizza Recipe for Kids makes a quick lunch or supper the whole family will enjoy!
Author:
Robyn Stone | Add a Pinch
Ingredients
1 piece pita bread
2 - 3 tablespoons pizza sauce
½ cup shredded Mozzarella cheese
favorite toppings
Instructions
Preheat oven to 450º F.
Place pita bread on a baking sheet. Spread pizza sauce on top of pita bread and top with cheese and favorite toppings. Place in oven until cheese has completely melted and become a bit bubbly but not browned. Remove and slice or serve whole.
Enjoy!
Robyn xo