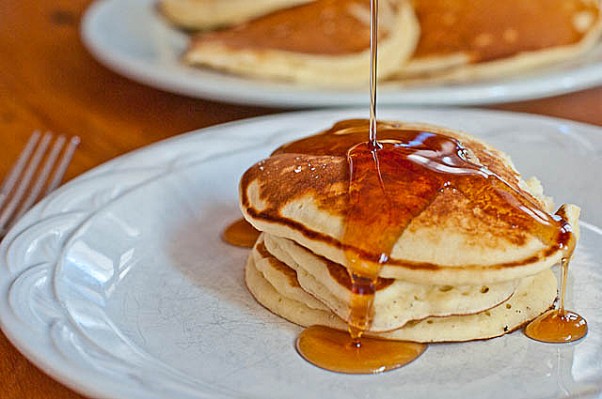 One of my son's favorite breakfasts is buttermilk pancakes. Every morning when I wake him up, I ask him, "what would you like for breakfast – pancakes, waffles or bacon and biscuits?"
More mornings than not, his answer is pancakes. My recipes is a bit sweeter than other pancake recipes I've tried before. It took me a while to finally make a light, fluffy pancake that didn't taste like baking powder. Now, I love baking powder, but bleh, I don't want my pancakes to taste like it.
Anyway, since today is his birthday, I'm sharing his favorite recipe for buttermilk pancakes. Which is now my favorite. Funny how that works.
I still can't believe my baby is nine already! We spent all day yesterday celebrating his last day being eight. I love doing that each year on the day before his birthday. It's a great way to make sure we pay attention and savor the lasts as much as we do the firsts.
By bedtime, we've said goodbye to the past year and are ready to ring in a new one. And for all you sentimental parents out there, it's a great way to get nearly all of your tears out the day before their birthday!
That's my little tip for you.
And while I'm sharing tips, here's how I make Little Buddy's favorite Buttermilk Pancakes.
Buttermilk Pancakes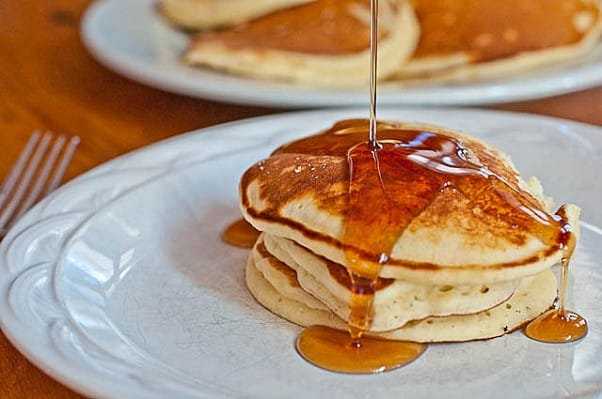 The perfect recipe for buttermilk pancakes.
Ingredients
4

cups

flour

self-rising

1/2

cup

sugar

1 1/2

teaspoon

salt

3

teaspoons

baking powder

3

teaspoons

baking soda

3

large

eggs

2

teaspoons

vanilla extract

4

cups

buttermilk

1/2

cup

melted butter

melted
Instructions
Combine dry ingredients and gently whisk through to mix.

Mix together buttermilk, butter and eggs.

Gently combine wet ingredients into the dry ingredients. Do not over mix.

Heat griddle over medium heat.

Drop ¼ cup scoops of batter onto griddle.

Flip once.

Top with a touch of butter while still piping hot.

Serve hot with your favorite maple or pancake syrup.
Make-Ahead Tip:
You can easily freeze extra pancakes. Simply place cooled pancakes in a zip top bag, mark them with the date prepared, and place them in your freezer. When ready to cook, wrap them in a damp paper towel and microwave them for about 30 seconds. (Time warmed depends entirely on the wattage of your microwave.)
Enjoy! I'm off celebrating Little Buddy being nine!