Deviled eggs make the perfect appetizer or side dish for family meals, parties, holidays, potlucks, picnics and more. This simple and classic deviled eggs recipe is a family favorite!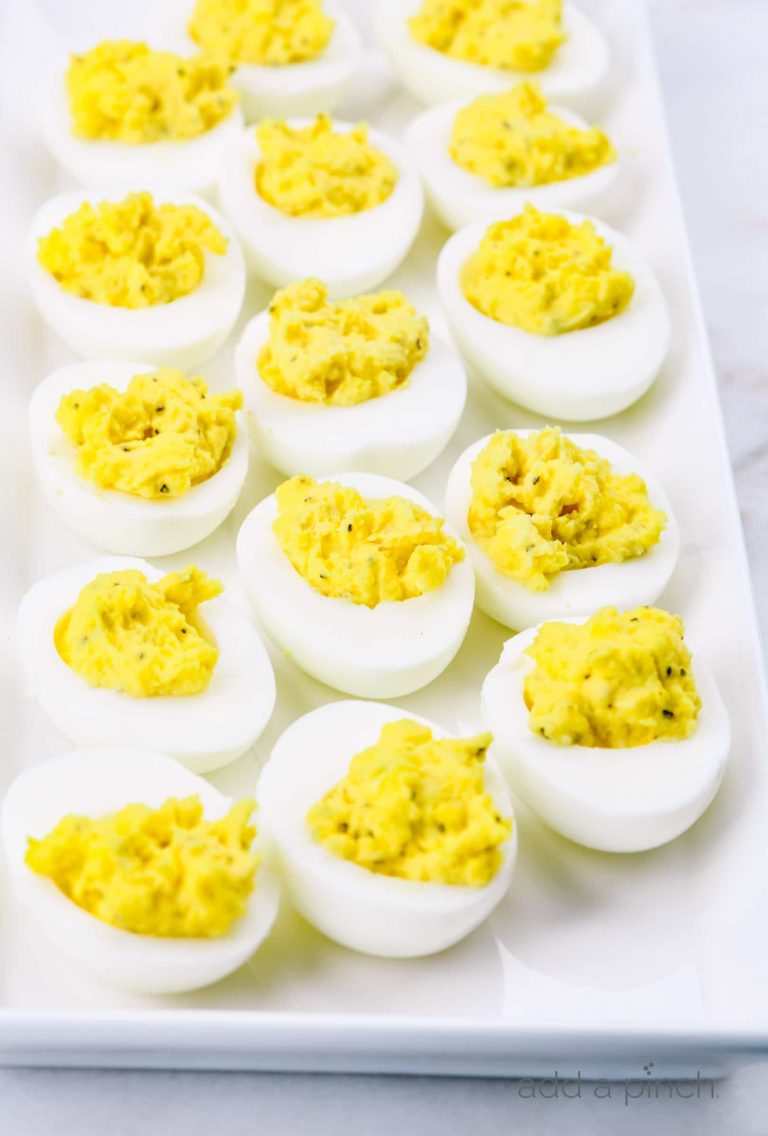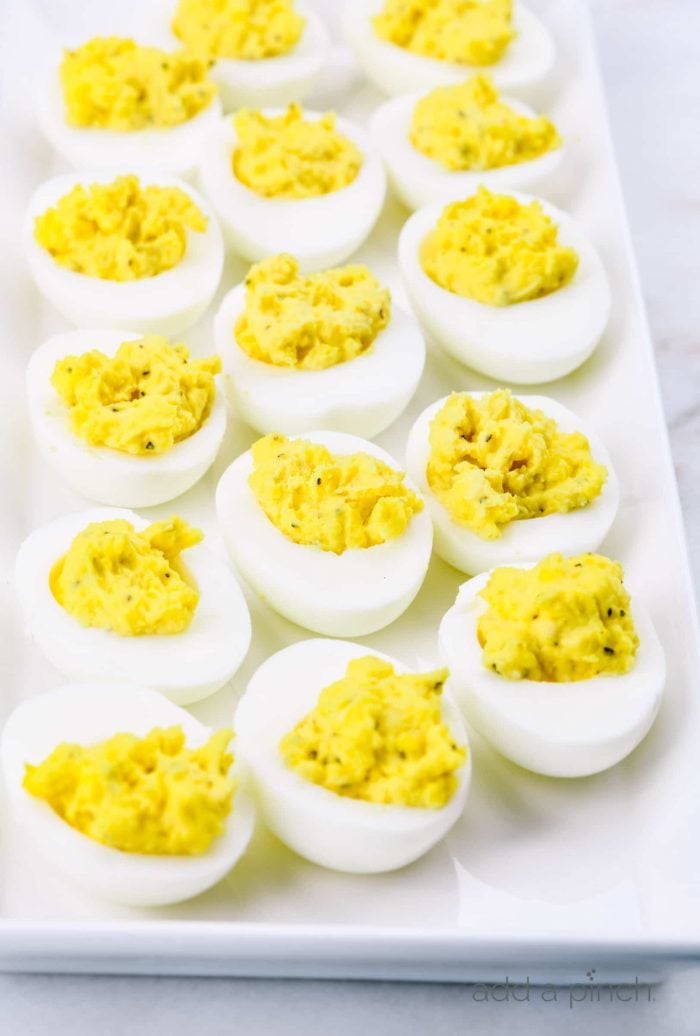 Deviled eggs are a year-round favorite and a definite must for family suppers and holidays in my house! At most every gathering, you'll find deviled eggs gracing the table.
They are popular for Easter and other holidays, as well as summer picnics and potlucks. No matter where they are served, they are always a favorite menu item. And it seems always hard for people to eat just a couple of them – at least it is for me!
Deviled Eggs Recipe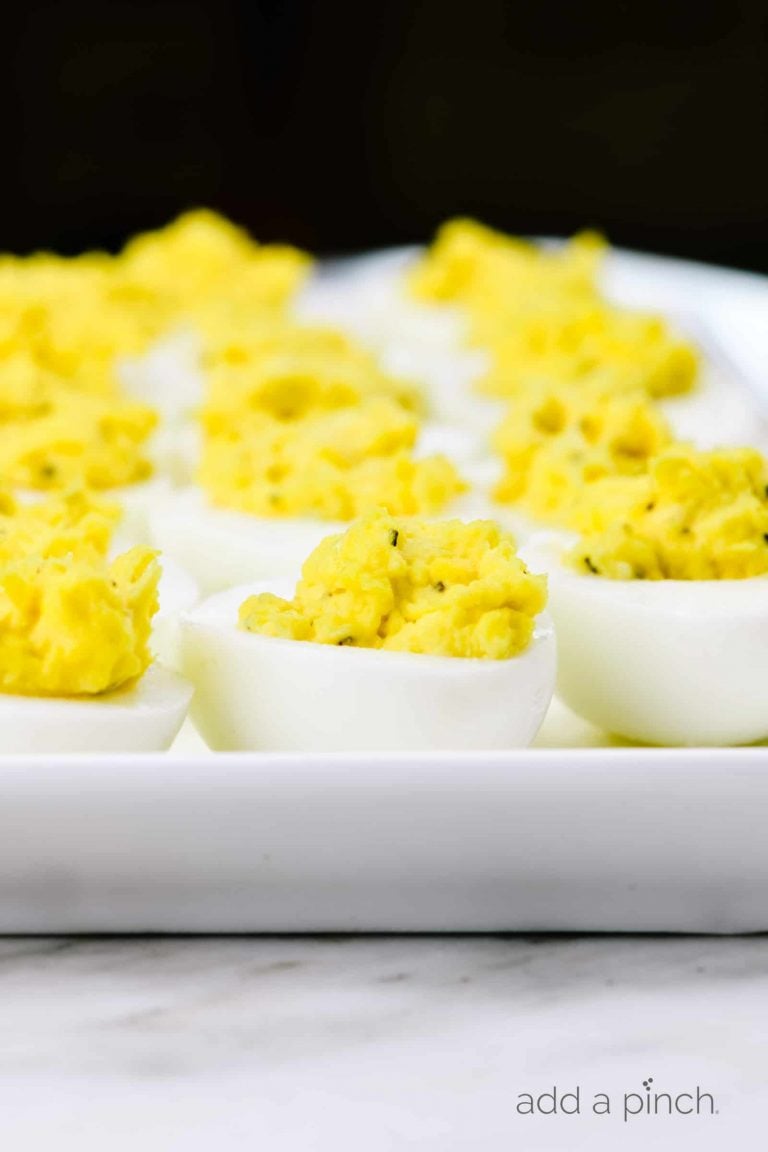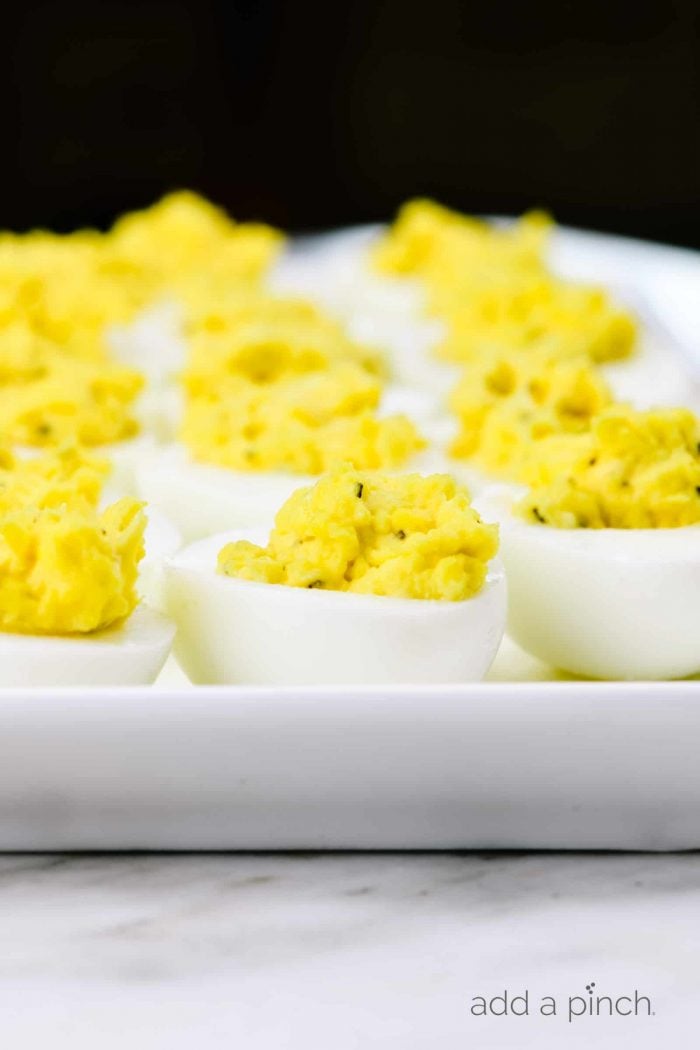 What are Deviled Eggs?
Deviled Eggs, also called stuffed eggs, are hard boiled eggs that have been peeled, halved, the yolks removed and mixed with other ingredients and then stuffed back into the indention of the egg white.
There are so many ways to make deviled eggs. Some have relish, others add vinegar or mustard. But I make mine the way my grandmother and mother always made them. And I think these are so good because they are simple and classic and perfect anytime.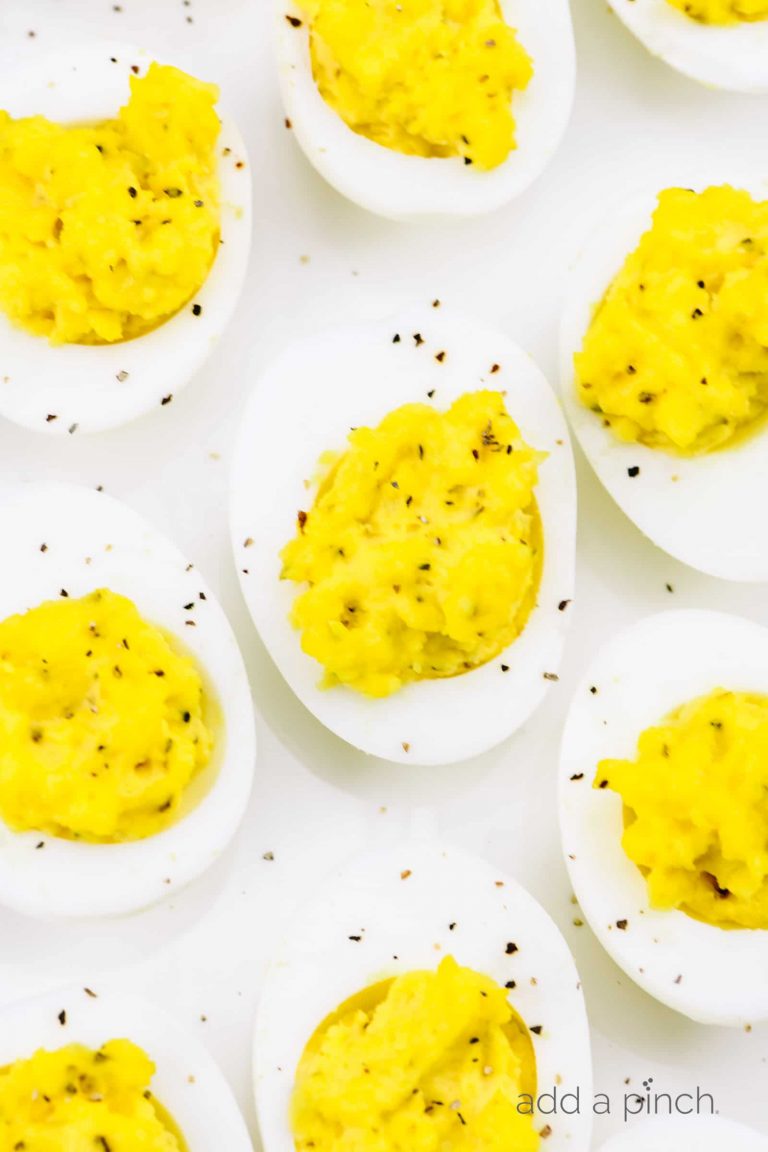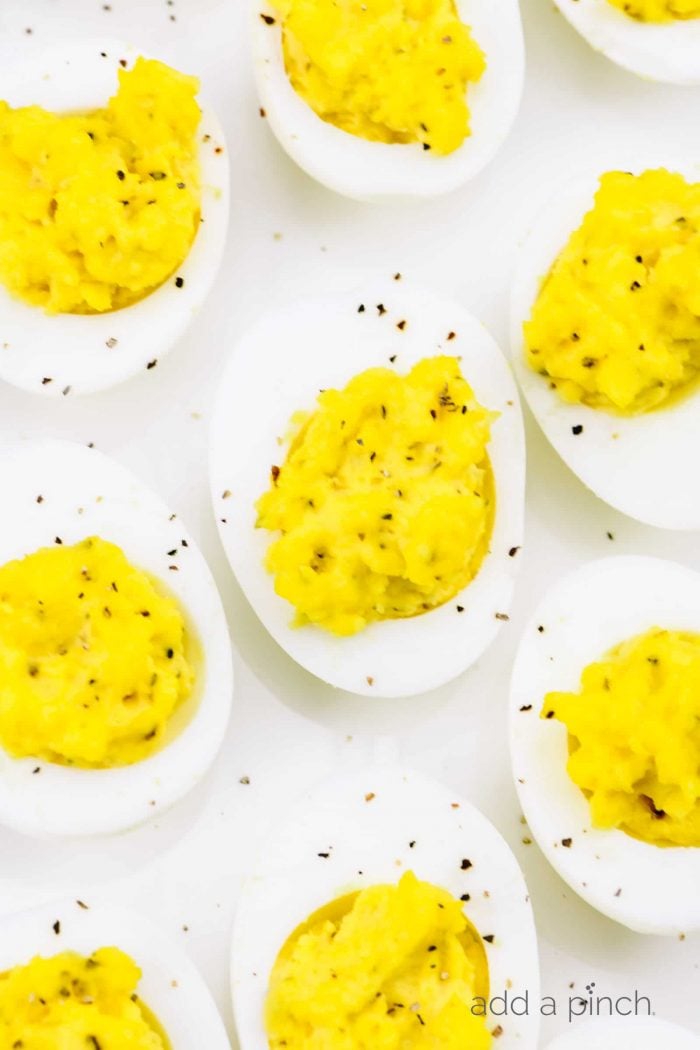 How to Make Classic Deviled Eggs
1. Hard Boil the Eggs
To make deviled eggs, you'll start with hard boiled eggs. There are a few ways to make them.
2. Peel and Chill the Eggs
After you've made your boiled eggs with the method you prefer, you'll peel them. I give some tips for easy peeling with each of those methods.
After you peel them, you will want to chill them for at least an hour to overnight. Place the peeled eggs in a bowl, cover them tightly, and place them in the refrigerator. This is important because they are much easier to slice when they are cold. I generally do this the night before or even a couple of days before I am going to make my deviled eggs.
3. Slice the Eggs
Slice the cold eggs lengthwise.
4. Prepare the Deviled Egg Filling
Next, remove the yolks from each egg half and place into a bowl. Place the white halves of the eggs on your egg plate and set aside. Grab a fork and mash the yolks into little crumbles. Stir in the mayonnaise, salt and pepper until creamy.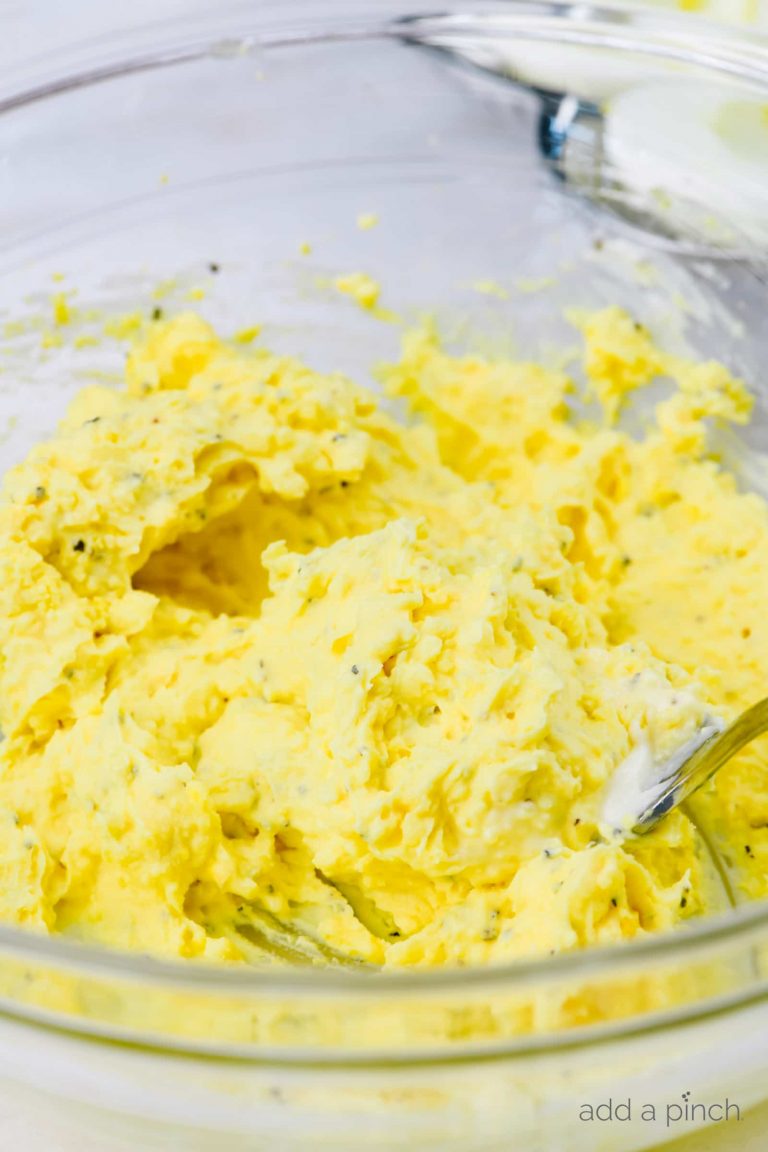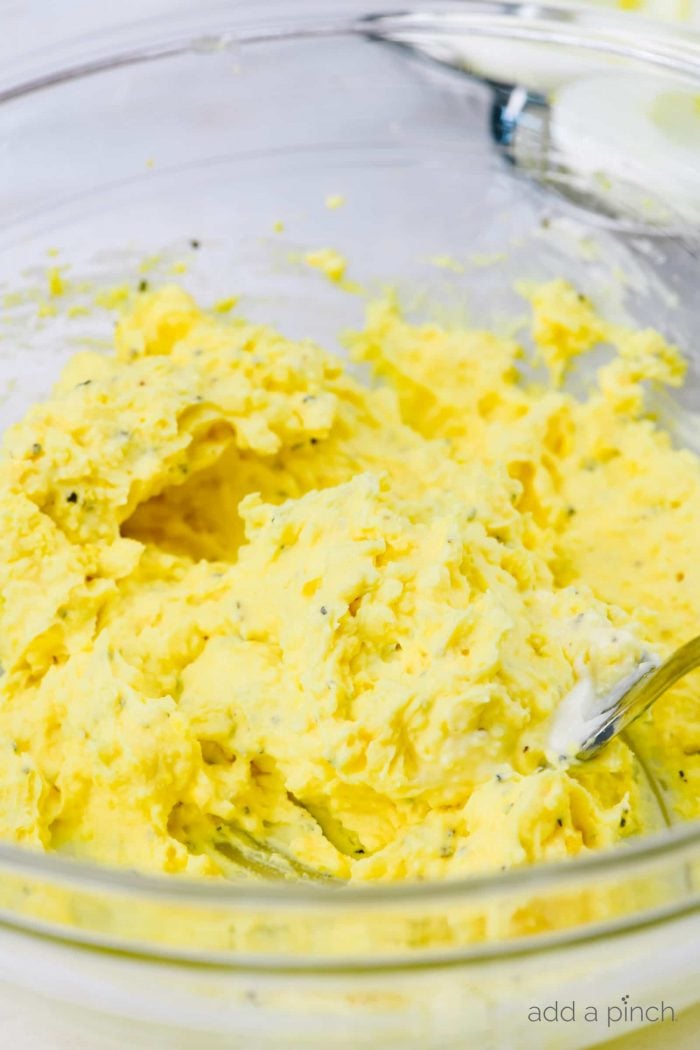 5. Fill the Egg Whites
Finally, you will grab two spoons for the quickest way to fill your eggs. After you've filled the eggs, place them in the refrigerator until serving.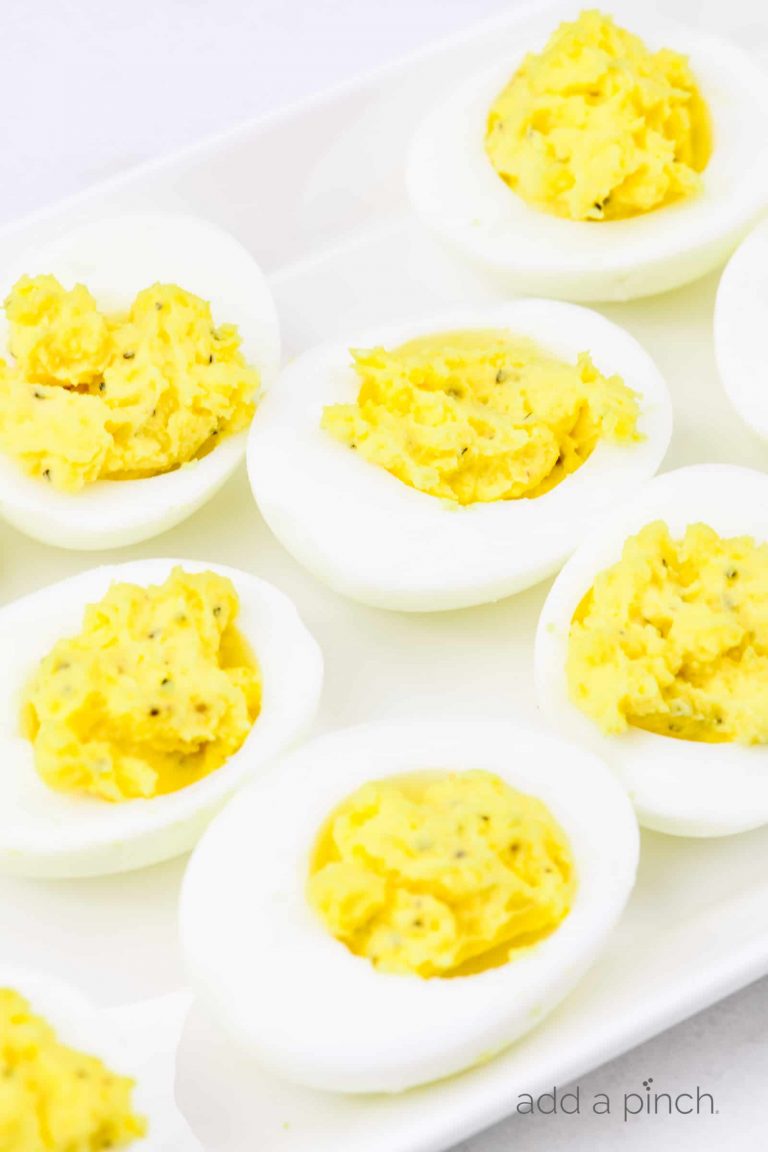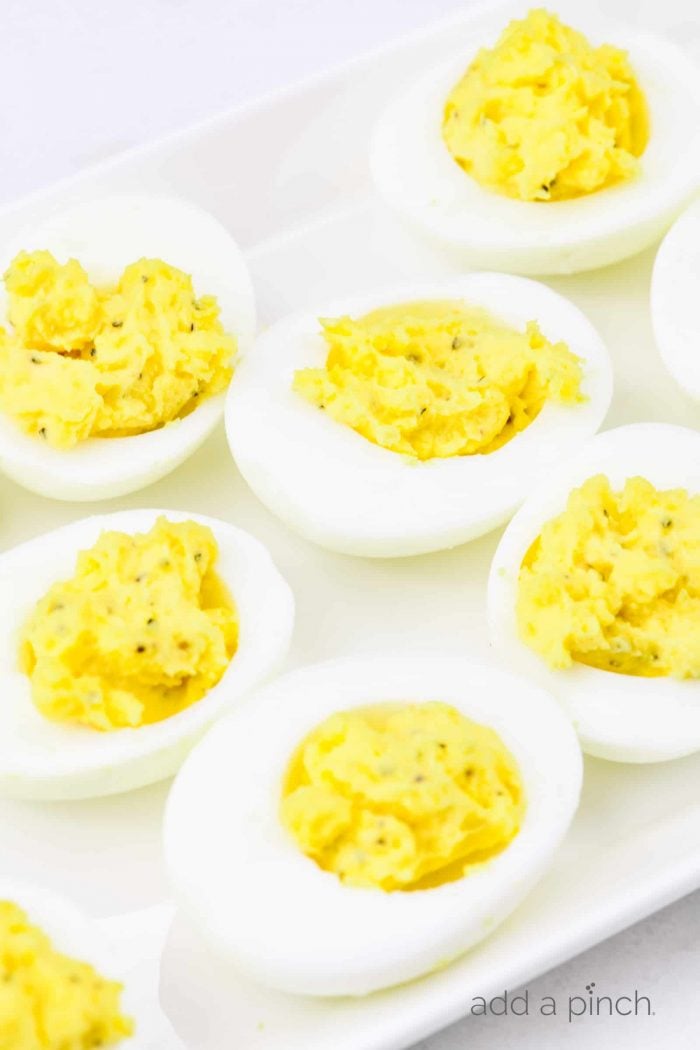 You can also make more decorative eggs if you wish. If using this method to fill your eggs, you will need to put your egg yolk mixture back into the refrigerator for at least an hour. Then, spoon the egg mixture into a pastry bag and use a decorator tip to pipe the mixture into your egg whites. Again, make sure to refrigerate until ready to serve.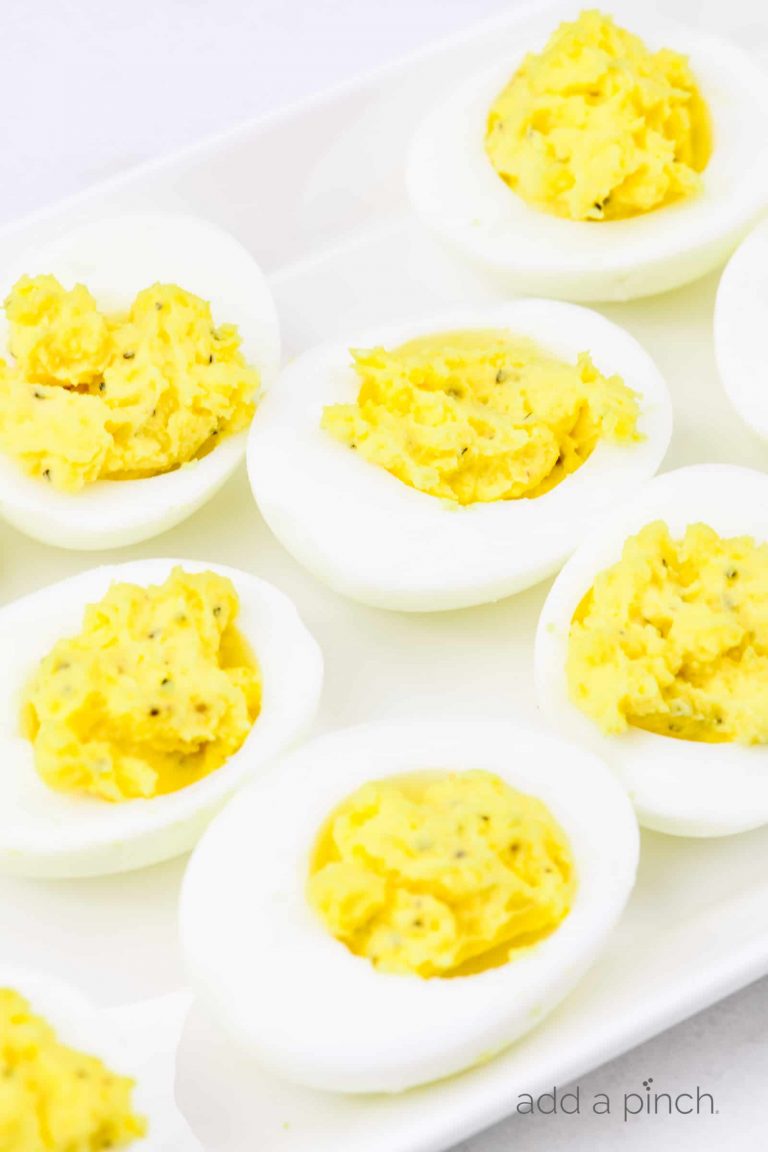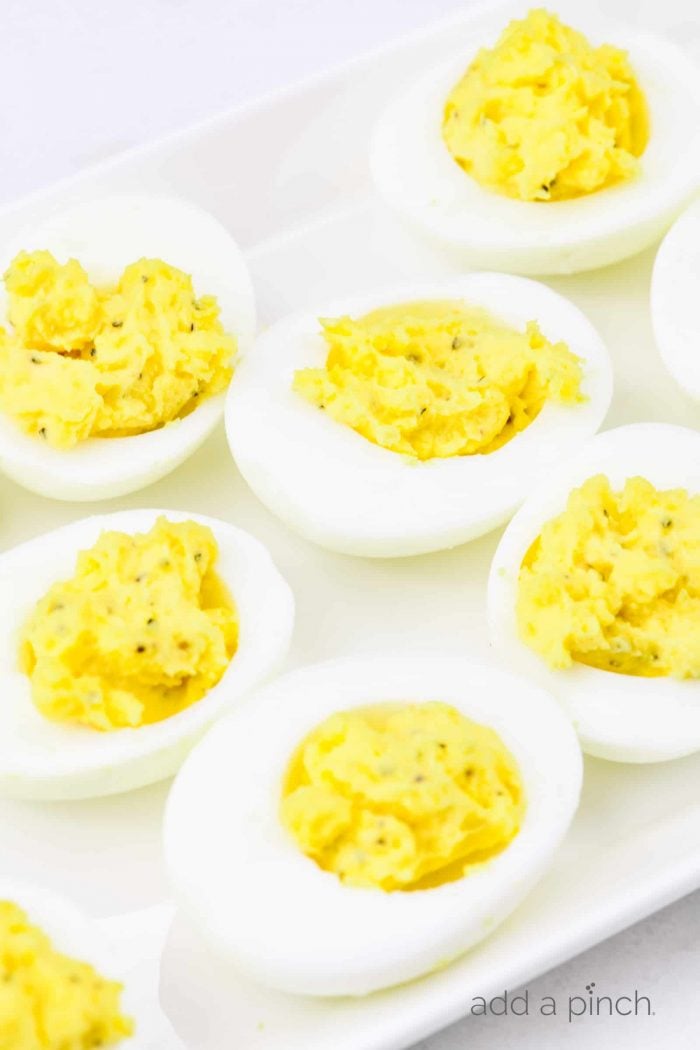 How to Serve
I enjoy using my deviled egg plates to serve them. It definitely keeps them from sliding around and makes for a pretty presentation. However, you can also serve them on a large platter. To prevent them from moving on the serving platter, you can place cleaned butter lettuce onto the platter and then place the eggs on top of the lettuce for a pretty presentation.
Ways to Serve Deviled Eggs
You can enjoy with so many other foods and for so many occasions, but here are a few of my favorite foods to partner with them and times to serve them.
How to Make Ahead and Store Deviled Eggs
To Make Ahead – Deviled eggs make the perfect make ahead dish. While you can keep hard boiled eggs in their shells for up to a week in the refrigerator, deviled eggs should be used within three to four days.
To Store – Store in an airtight container or wrapped with plastic wrap in the refrigerator until ready to serve.
Here's my family recipe for classic deviled eggs. I think you are going to love them!
Classic Deviled Eggs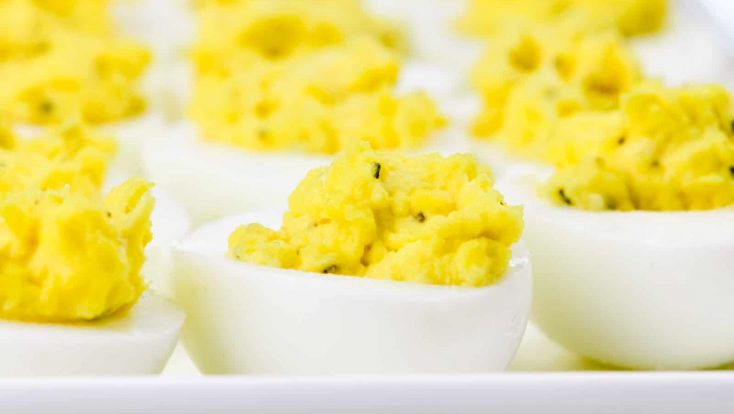 Deviled eggs make the perfect appetizer or side dish for family meals, parties, showers, and other events. Get this family favorite deviled eggs recipe you are sure to love.
Ingredients
12

eggs

hard boiled

1/3

cup

mayonnaise

1/4

teaspoon

salt

1/4

teaspoon

pepper
Instructions
Chill your hard-boiled eggs for at least an hour or overnight.

Slice eggs in half and remove yolk to a bowl.

Mash yolks with a fork until all crumbled.

Add mayonnaise, salt and pepper to egg yolks and mix well.

Spoon egg yolk mixture into egg white.

Refrigerate until ready to serve.
Nutritional Information
Calories:
105
kcal
|
Carbohydrates:
1
g
|
Protein:
6
g
|
Fat:
9
g
|
Saturated Fat:
2
g
|
Cholesterol:
166
mg
|
Sodium:
150
mg
|
Potassium:
61
mg
|
Sugar:
1
g
|
Vitamin A:
240
IU
|
Calcium:
25
mg
|
Iron:
0.8
mg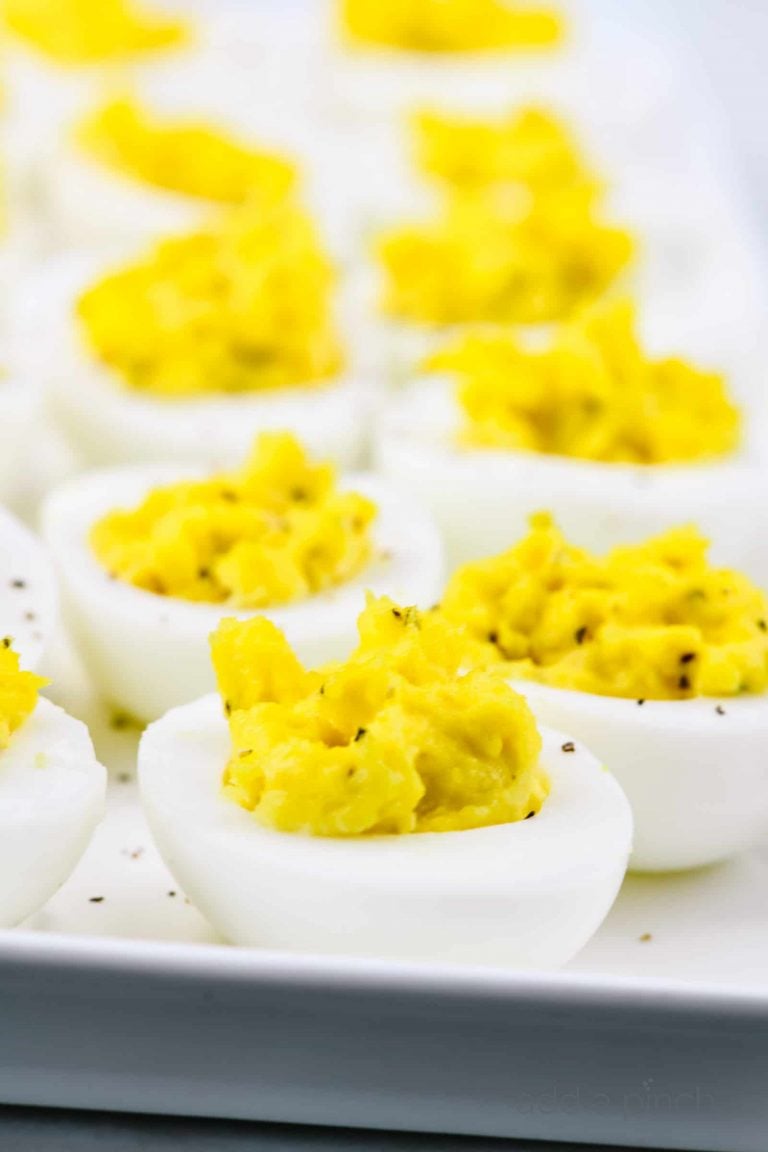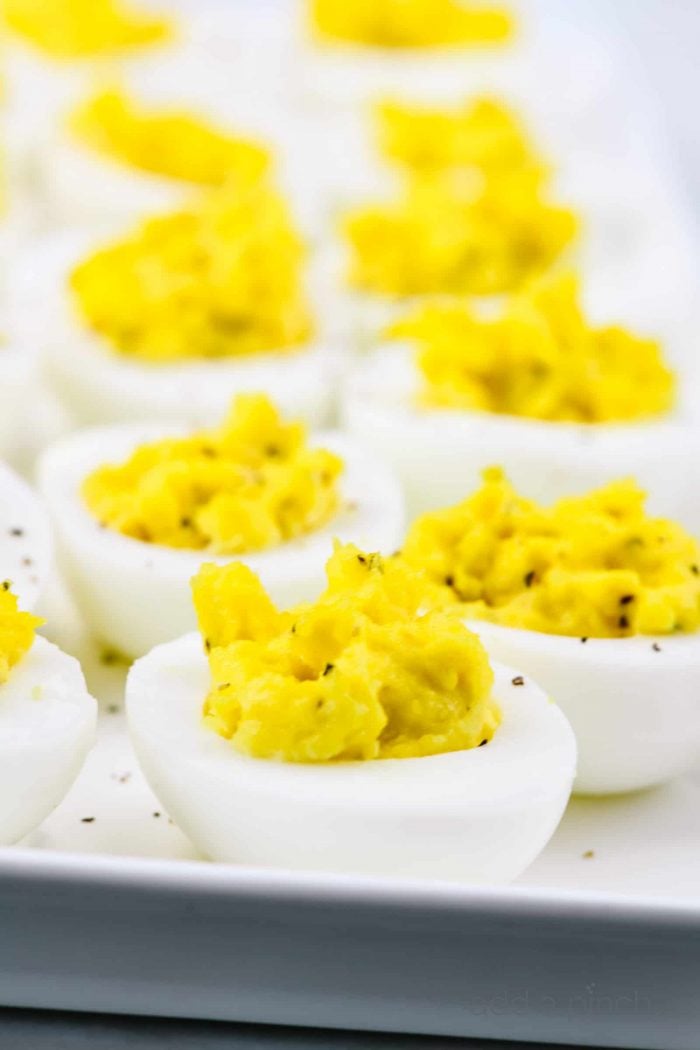 Enjoy!
Robyn xo