Beef Bourguignon makes a classic meal. This simple recipe for making beef bourguignon will quickly become a family-favorite.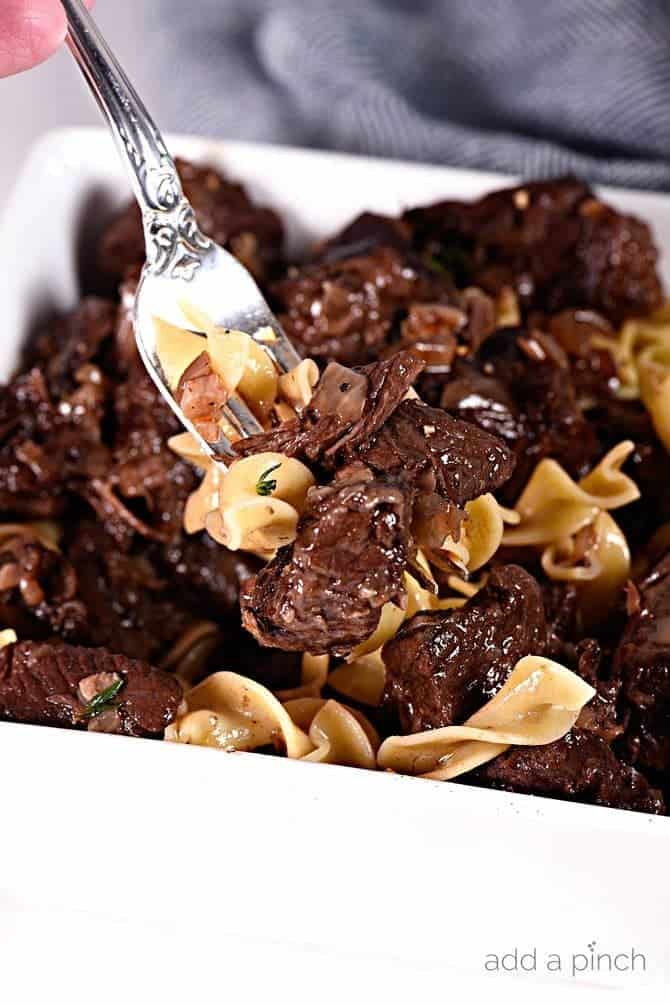 Boeuf Bourguignon, also called beef Burgundy, can seem intimidating, but it's really fairly easy. And so tender and delicious it will be one of your favorite meals.
Especially in the cooler months.
It's the perfect comfort food.
I love Julia Child's legendary recipe in Mastering the Art of French Cooking. Honestly it's how I learned to make Boeuf Bourguignon and is the quintessential perfect recipe.
And she is the quintessential perfect cook in my book.
I grew up watching her with my Grandmother and loving every minute of it. I was mesmerized watching her. I still get that way when I hear her voice on television.
As I made Julia's recipe as a young bride, I changed it slightly and my husband still loved it.
Who knew?
I modified Julia Child's recipe and it was still edible!
That was most likely the moment I realized I didn't have to use a recipe to cook for my family.
I warn you there are a lot of photographs for this recipe. But please don't let that make you think it is in any way a difficult or complicated recipe to follow.
It does take some time, but is so worth it.
Now, let's get down to business.
Here's how I made it.
Start with your favorite beef roast, whatever you normally purchase. I sometimes use a chuck roast and sometimes a sirloin tip.
Either is delicious.
If the meat has a lot of fat in it, go ahead and trim most of the fat off. You don't want it in this recipe.
Trim the meat into about two inch cubes.
In a dutch oven over medium heat, drizzle approximately 2 tablespoons of olive oil.
Place the beef into the Dutch oven and cook until all sides are browned.
Remove the meat from the Dutch oven with a slotted spoon. Pour juices from pan into a small bowl for later use.
Put the meat in a large bowl.
Sprinkle flour, salt and black pepper over meat.
Stir until all meat is well-coated.
Return to Dutch oven over medium heat, turning occasionally until browned.
Pour burgundy or chianti and the juice you put in the small bowl earlier over the meat. The meat should be covered plus about 1 inch. If it is not, you can add beef broth, more burgundy or equal parts of both.
Chop mushrooms, onion, garlic, and throw in. Stir in tomato paste, fresh thyme and cover the Dutch oven.
Place into the oven for 2 hours.
This is when you can go do other stuff and the magic happens.
And you will want to just grab a fork and dig in when you take it out of the oven.
Yep, you sure will. And don't say I didn't warn you.
Serve over rice, noodles, potatoes alongside fresh vegetables. Garnish with fresh parsley or thyme.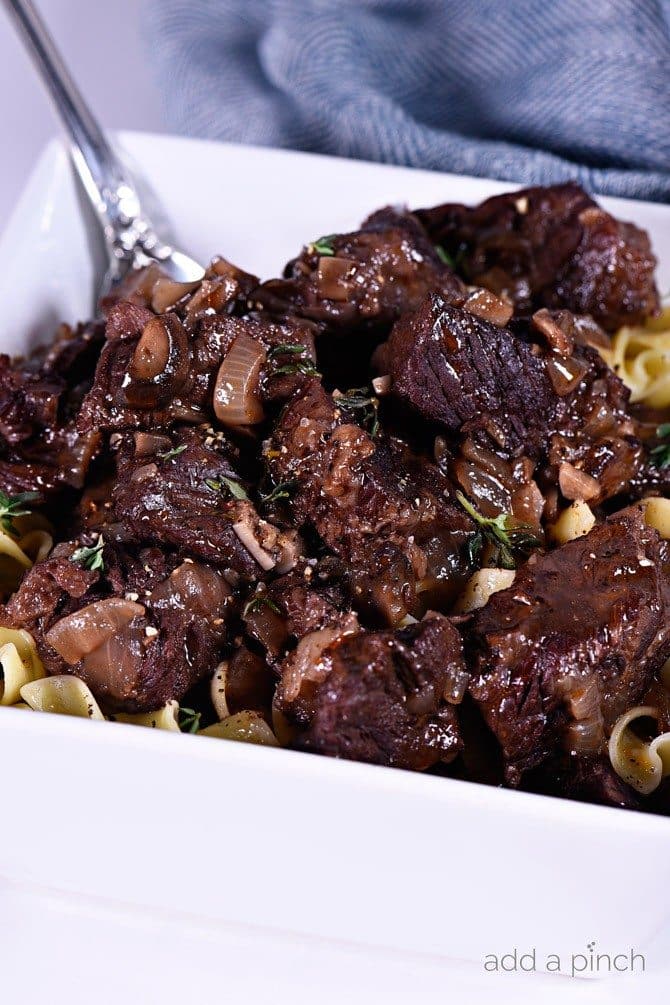 Here's the Beef Bourguignon Recipe. I hope you love it as much as we do!
Beef Bourguignon Recipe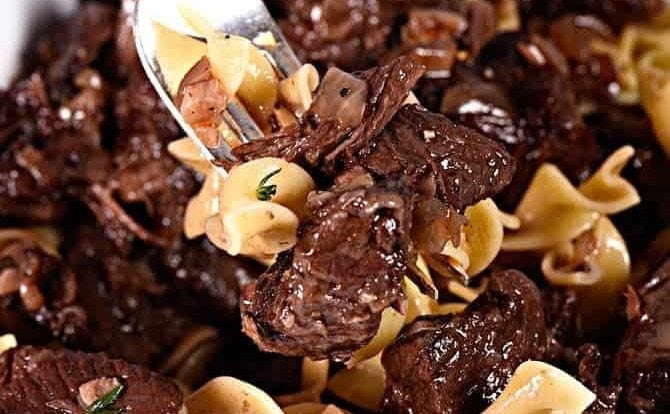 Beef Bourguignon Recipe - Beef Bourguignon makes a classic meal. This simple recipe for making beef bourguignon will quickly become a family-favorite.
Ingredients
2

tablespoons

olive oil

3

pounds

beef roast with most fat trimmed

cut in 2 inch cubes

2

tablespoons

flour

1

teaspoon

salt

1/4

teaspoon

black pepper

3

cups

red wine

such as burgundy or chianti

1

pound

mushrooms

chopped

3

cloves

garlic

chopped

1

medium onion

chopped

2

tablespoons

tomato paste

1

teaspoon

fresh thyme + sprigs for garnish
Instructions
Preheat oven to 325º F.

Drizzle olive oil into Dutch oven over medium heat. Add beef to the Dutch oven and brown. Once browned, remove and place in large bowl. Pour juices from the Dutch oven into a separate small bowl.

Add flour, salt, and pepper to beef, tossing to coat. Return to Dutch oven over medium heat, turning occasionally until browned well. Pour red wine, reserved meat juices into the Dutch oven until meat is covered, plus about 1-inch. Add mushrooms, garlic, onions, tomato paste, and thyme. Stir until well-combined and allow to reach a simmer.

Place in oven and allow to cook for two hours.

Remove from oven and serve.
Notes
While the recipe calls for using burgundy or other red wine, if you prefer, you can also use beef stock in place of the wine.
Boeuf Bourguignon makes a wonderful make-ahead meal and is really better the next day when it is reheated.
I've been known quiet frequently to make a double batch of this delicious dish to share with family or just to make sure we have plenty for another meal.
As Julia famously said, "Bon Appetit!"
Enjoy!
Robyn xo
From the Add a Pinch recipe archives, originally published 2010.