Grilled Okra Recipe
Grilled Okra makes a delicious addition to any meal. Get this simple, yet scrumptious grilled okra recipe to serve soon!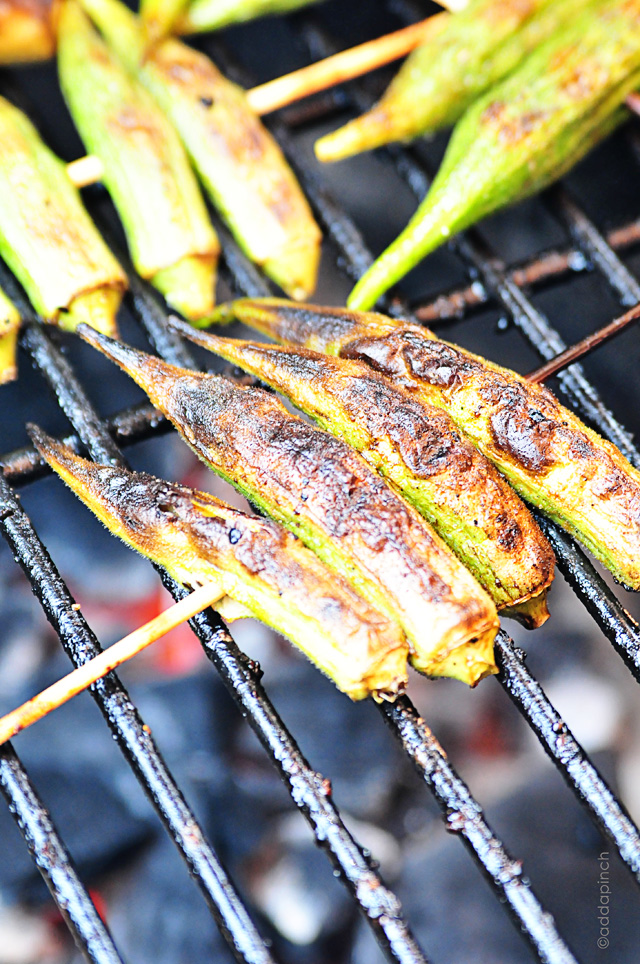 Grilled Okra has to be one of the simplest, yet most fabulous vegetables known to man.
Seriously.
So amazingly easy to prepare and yet folks just can't get enough of it.
They'll ask, "are you sure this is okra? Because, I don't really like okra." To which comes the reply, "yes, this is okra. It has just been grilled. Take one bite and then let me know what you think."
Usually, those are the people that are eyeing the last piece of grilled okra on the plate wondering if they can snatch it before anyone realizes how many they've eaten.
What?
It happened!
I know because I was the one that didn't like okra that much until these babies came along.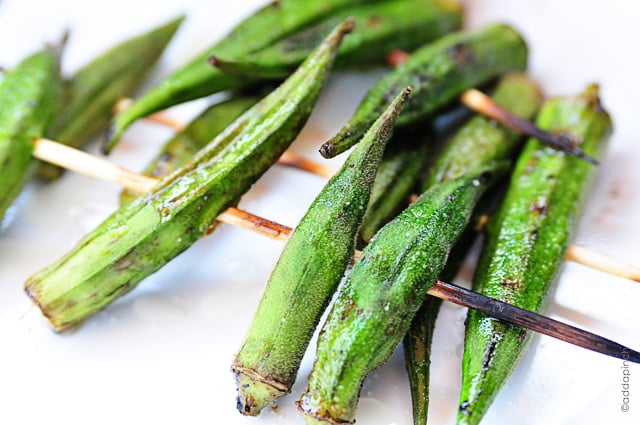 Well, I take that back. I do love my Grandmother's and Mama's fried okra, but raw, pickled or boiled okra just gives me the hibby-jibbies.
Grilled okra on the other hand? I could eat it every single day of my life and be happy!
Thankfully, the rest of my family feels the same.
Wait. Maybe I should wish they hated it so I would have more of it for myself!
Nah! I love that they totally enjoy something so good for them, easy to make, and delicious.
It's just good stuff!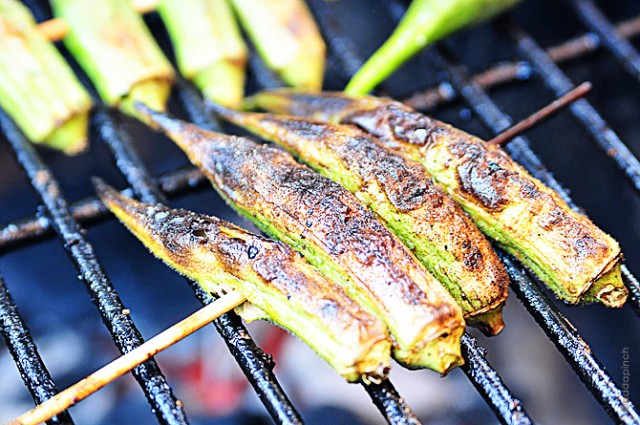 Think about adding some grilled okra to your menu. You'll be amazed at how perfect it is and how quickly it disappears.
They are perfect without a lot of fuss and adornment, but you can also serve them with a bit of Comeback Sauce on the side for dipping. That's amazing!
But, whatever you do, do me a favor and buy more than you think you need. You'll be glad you did.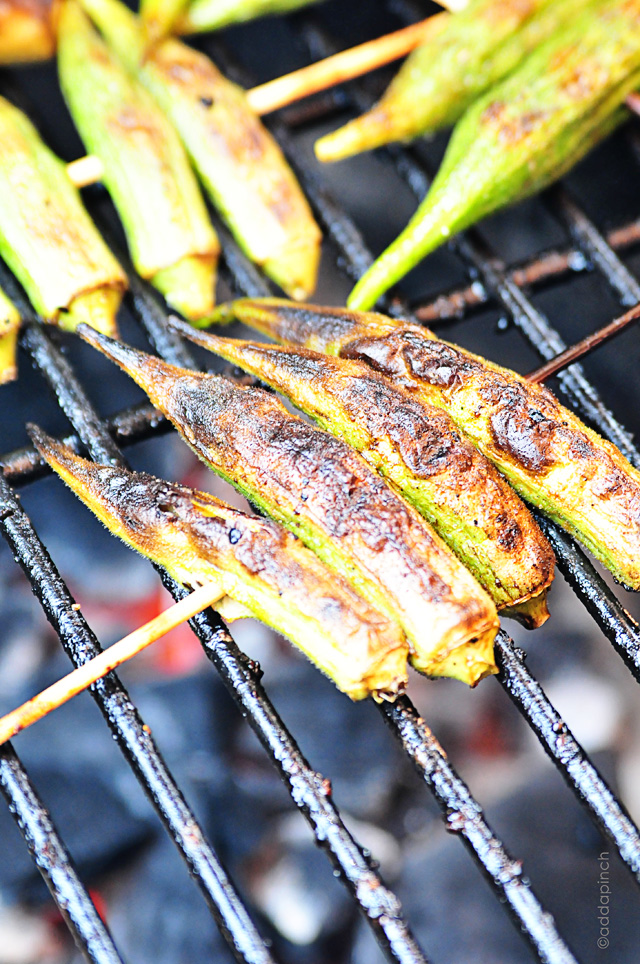 Here's my simple as can possibly be Grilled Okra Recipe. Hope you love it!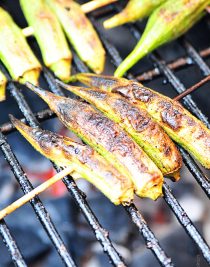 Grilled Okra Recipe
Total Time 15 minutes
Prep Time 5 minutes
Cook Time 10 minutes
Grilled Okra makes a delicious addition to any meal. Get this simple, yet scrumptious grilled okra recipe to serve soon!
Ingredients
1 pound okra washed
2 teaspoons olive oil
salt to taste
ground black pepper to taste
pinch of cayenne pepper optional
Directions
Skewer okra or place in a grill basket to prevent it from going through the grill grates while cooking. Drizzle with olive oil and place onto grill that has been preheated to around 450º F.

Cook until the skin of the okra begins to caramelize and then flip to cook the other side.

Remove from the grill and sprinkle with salt and pepper to taste. Add cayenne pepper, if desired.

Serve warm.
Nutrition Facts
Grilled Okra Recipe
Amount Per Serving
Calories 36 Calories from Fat 9
% Daily Value*
Total Fat 1g 2%
Sodium 5mg 0%
Potassium 226mg 6%
Total Carbohydrates 5g 2%
Dietary Fiber 2g 8%
Sugars 1g
Protein 1g 2%
Vitamin A 10.8%
Vitamin C 21.1%
Calcium 6.2%
Iron 2.6%
* Percent Daily Values are based on a 2000 calorie diet.
All images and text © Robyn Stone for Add a Pinch
Enjoy!
Robyn xo
From the Add a Pinch recipe archives. Originally published 2013.