Meatball Sliders Recipe
Meatball Sliders make a great appetizer, lunch or even supper! Just be sure to make plenty of these meatball sliders!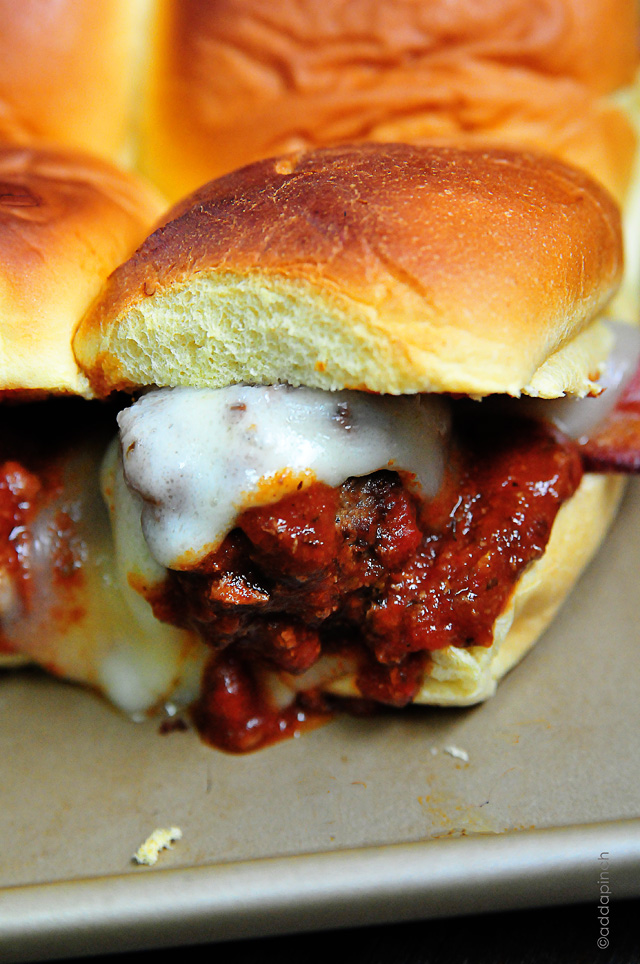 I can't even begin to tell you how crazy good these meatball sliders are. Like seriously, over the top delicious.
And wouldn't they be perfect for tailgating, couch-gating (heh!) or just throwing together on a random Wednesday night for supper?
Yeah.
They are.
Especially if you are having a fun, laid back sort of day.

These meatball sliders are the exact opposite of an uptight dish. So if you know someone who needs something to lighten their mood and fill them up at the same time, these babies are it.
Really.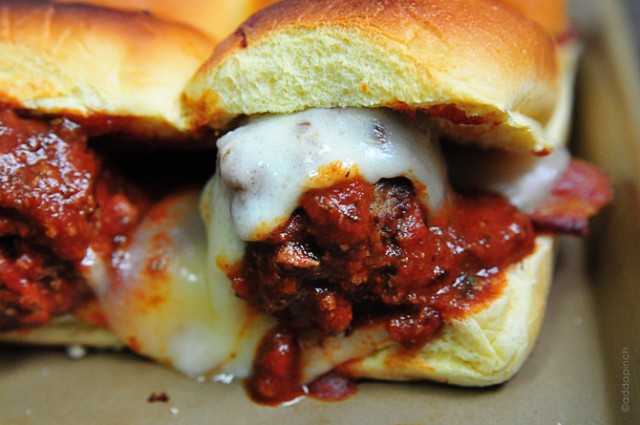 I'm not putting too much pressure on them or anything. They truly work.
Give them a try and see.
Just be sure to have some napkins handy when you serve them.
Oh yeah, and make extras.
Because you'll think they'll be plenty for a party if everyone has just one, but no, no, no. That just won't work. You'll need at least two per person and maybe even three for the guys.
Here's my Meatball Sliders Recipe. Make these babies soon and make someone happy!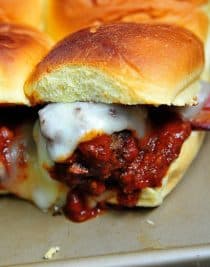 Meatball Sliders Recipe
Total Time 25 minutes
Prep Time 10 minutes
Cook Time 15 minutes
Meatball Sliders make a great appetizer, lunch or even supper! Just be sure to make plenty of these meatball sliders!
Ingredients
For the Meatballs
1 pound lean ground beef
2 cloves garlic chopped
2 tablespoons diced onion
1 large egg
1/2 teaspoon salt
1/2 teaspoon ground black pepper
2 tablespoons bread or cracker crumbs
2 tablespoons chopped fresh parsley optional
For the Sauce:
1 cup tomato sauce
2 teaspoons oregano flakes
For the Sliders:
4 slices thick-cut bacon cut into thirds
12 dinner rolls
12 slices provolone cheese
Directions
For the Meatballs:
Mix together all ingredients for the meatballs. Set aside.

Cook bacon in a 10- to 12-inch skillet over medium heat until cooked crisp. Remove bacon to a paper towel lined plate for later use.

Using a tablespoon scoop or spoon, form meatballs from the ground beef mixture. Drop into the heated skillet, turning occasionally to ensure that all sides of the meatball have been browned, about 7 minutes.
For the Sauce:
Add tomato sauce and oregano to the skillet with the meatballs and reduce heat to a low simmer. All to simmer for about 5 minutes while assembling the slider rolls.
For the Sliders:
Preheat oven to 350º F.

Place dinner rolls on a sheet pan. Split open the dinner rolls and tuck a slice of provolone cheese inside. Add a slice of bacon inside the fold of each slice of cheese and then add a meatball. Spoon sauce from the skillet onto each meatball.

Place sheet pan of sliders into the oven for 5 minutes, just to melt the cheese.

Remove from the oven and serve warm.
All images and text © Robyn Stone for Add a Pinch
I can't wait to hear how you love these!
Enjoy!
Robyn
From the Add a Pinch recipe archives from 2013.