Ranch Oyster Crackers Recipe – Quick, easy and absolutely addictive, these delicious ranch crackers make the perfect nibble or snack!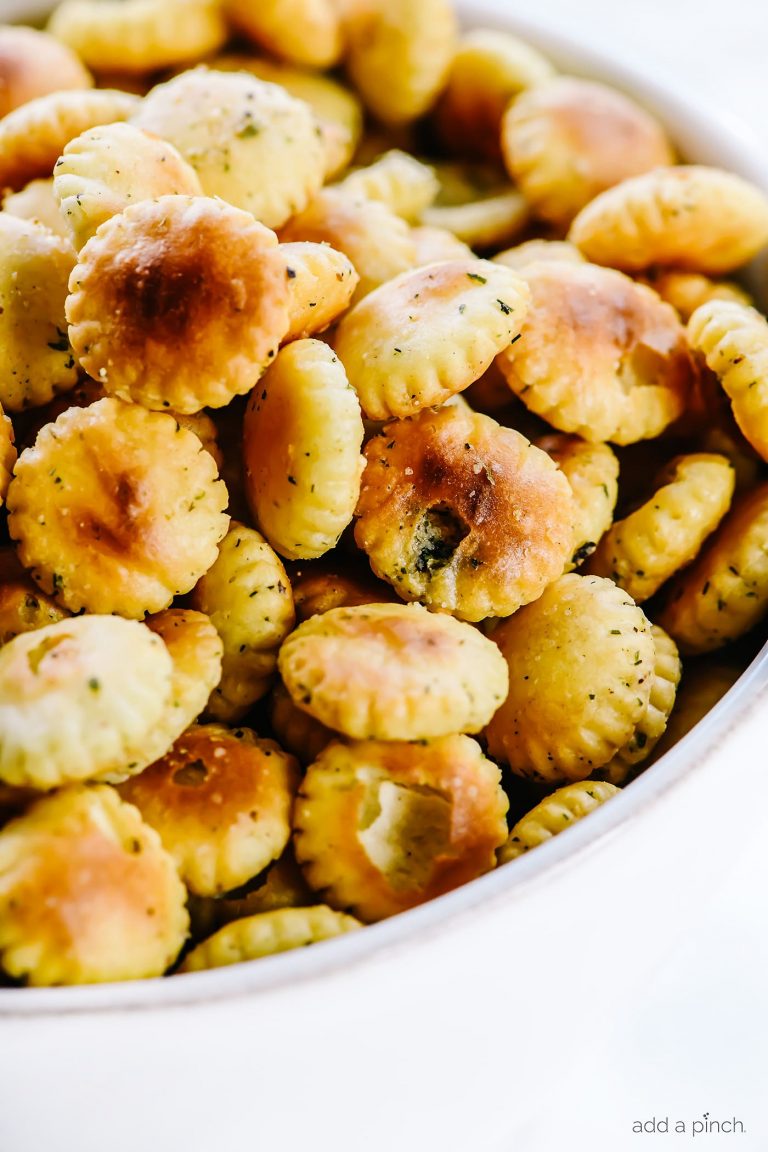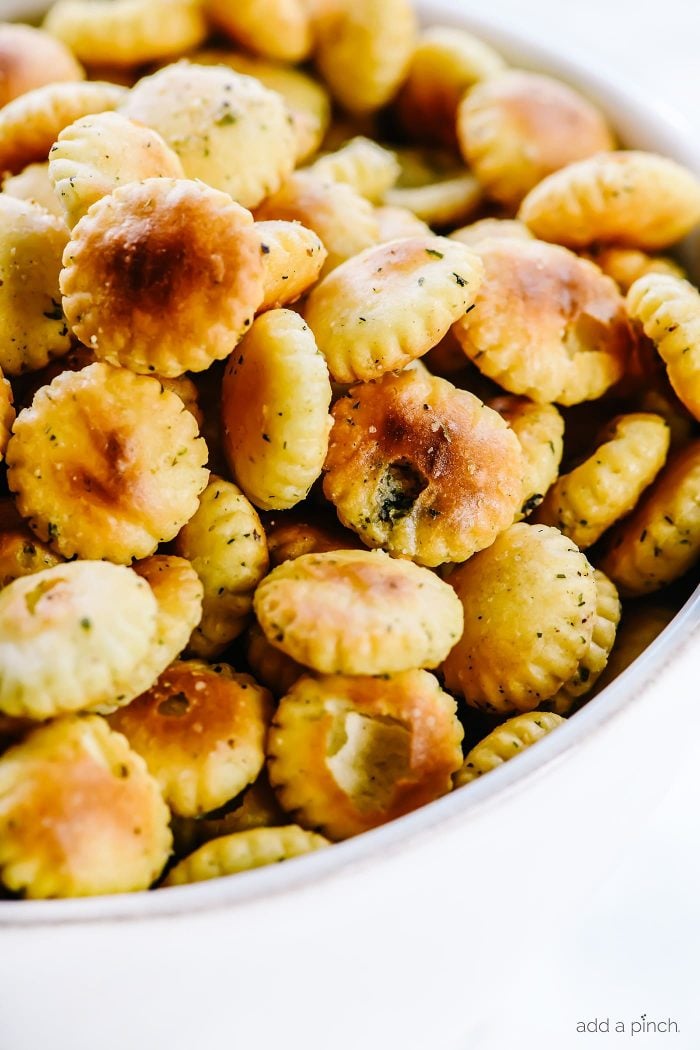 These delicious little seasoned ranch oyster crackers make one more addictive little treat! Using just four ingredients, these crackers will quickly become one of your favorite little go to recipes to make and serve as a nibble for an appetizer or snack or to go along with a bowl of soup!
Ranch Oyster Crackers Recipe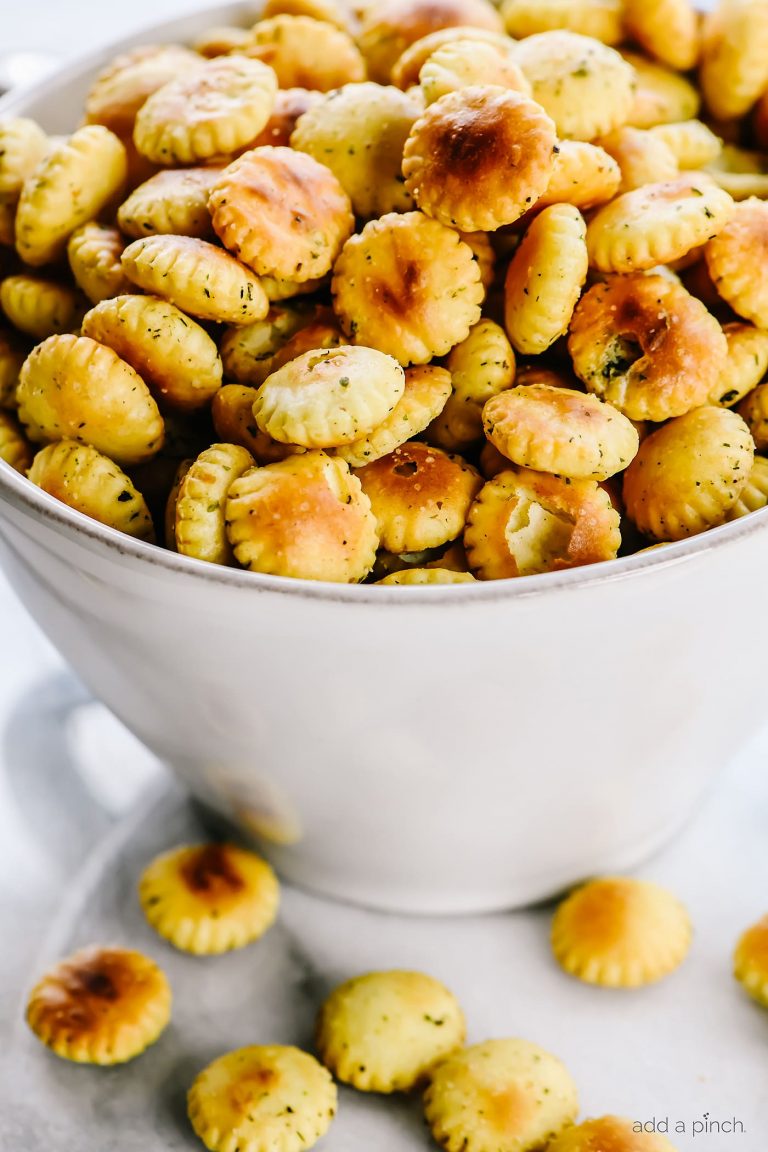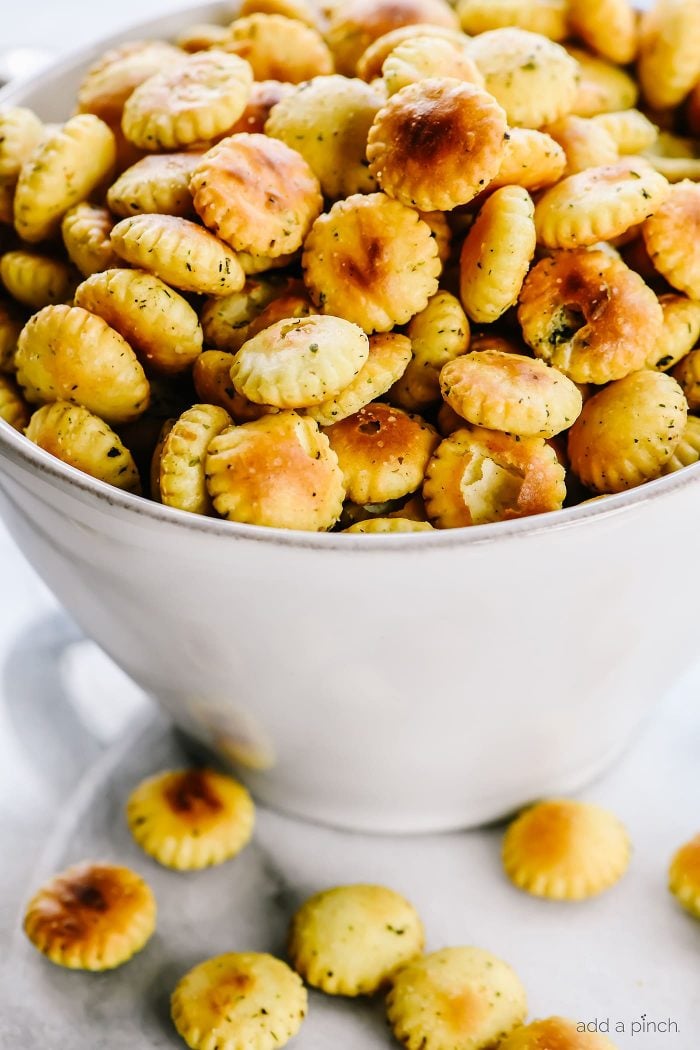 How to Make Ranch Oyster Crackers
To make these delicious little seasoned crackers, I start by preheating my oven and lining a baking sheet with a piece of parchment paper. The parchment paper isn't required in the recipe, but sure does help with easy cleanup! I also place a wire rack onto my baking sheet and set the baking sheet aside while I start my crackers.
Then, I melt a stick of butter in a medium skillet set over medium heat. I add in my homemade ranch seasoning mix and my Stone House Seasoning and whisk to combine these with the melted butter.
A side note about my seasoning mixes. I prefer to use my own homemade seasoning mixes in so many of my recipes so that I know exactly what is in them since I am sensitive to so many preservatives, like MSG. I've found that it only takes a few minutes to mix up a large batch of these seasonings and then I can add flavor to my recipes in a snap!
Now, back to these crackers…
Once I have the melted butter and my seasonings mixed together, I dump in my package of oyster crackers and give them a stir to coat in the seasoned butter.
Then, I spoon them out and place them onto the wire rack lined baking sheet and pop them into the oven to make them even crispier!
Finally, I place them into a serving container and serve or place them into an airtight container and store them for up to 3 days.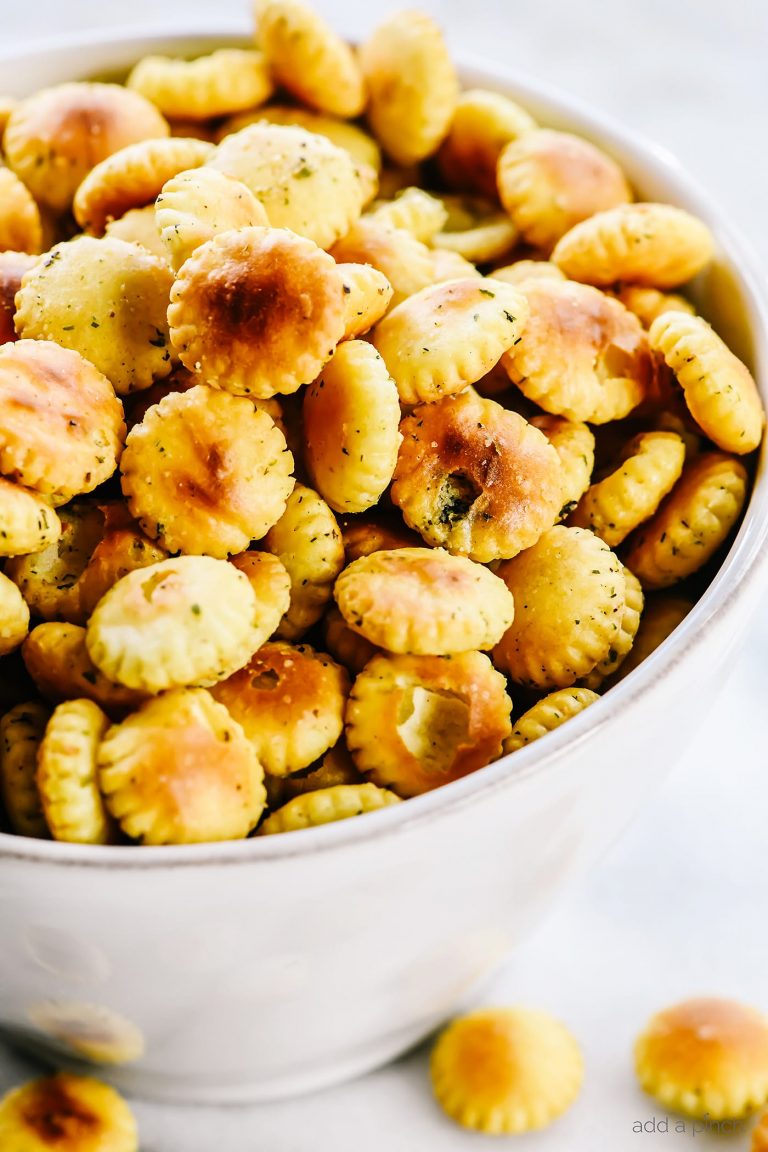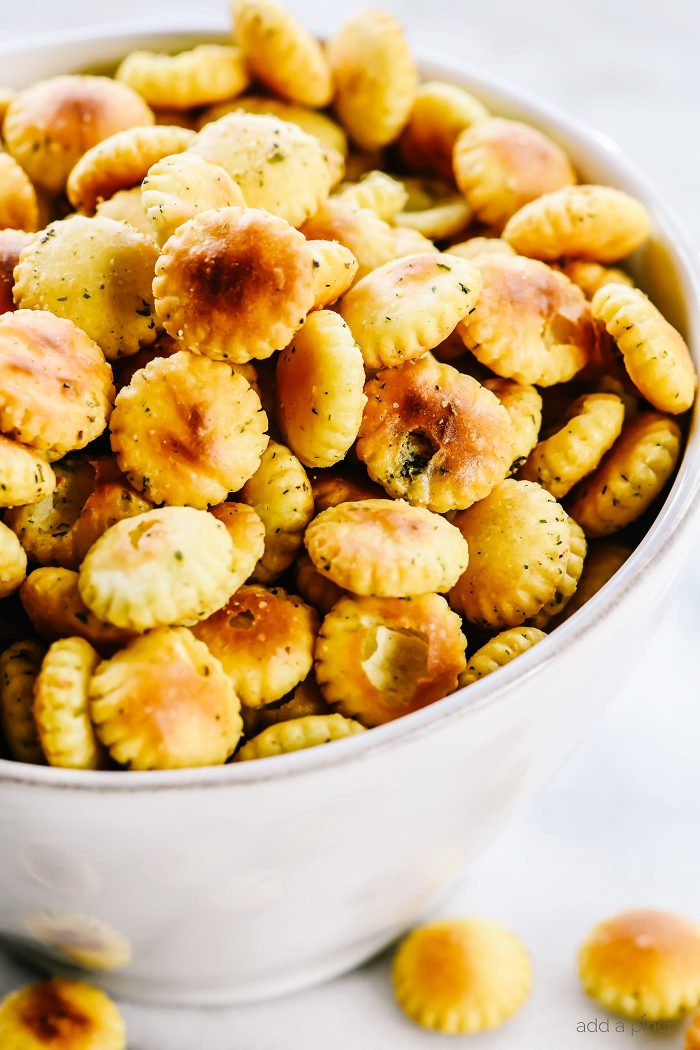 They are delicious right by themselves, but when you serve them with a bowl of soup… oh my gracious! They are out of this world! You will decide right them and there that vegetable soup just can't be served without them! At least, I did!
Ranch Saltine Crackers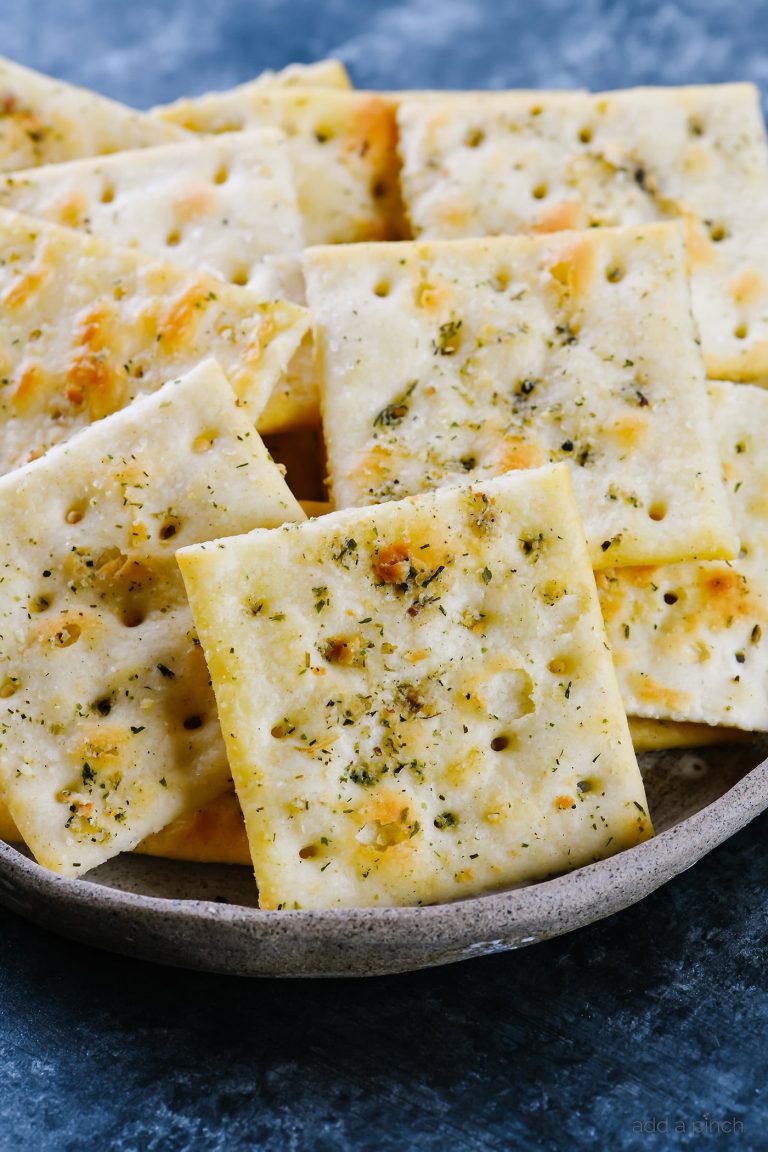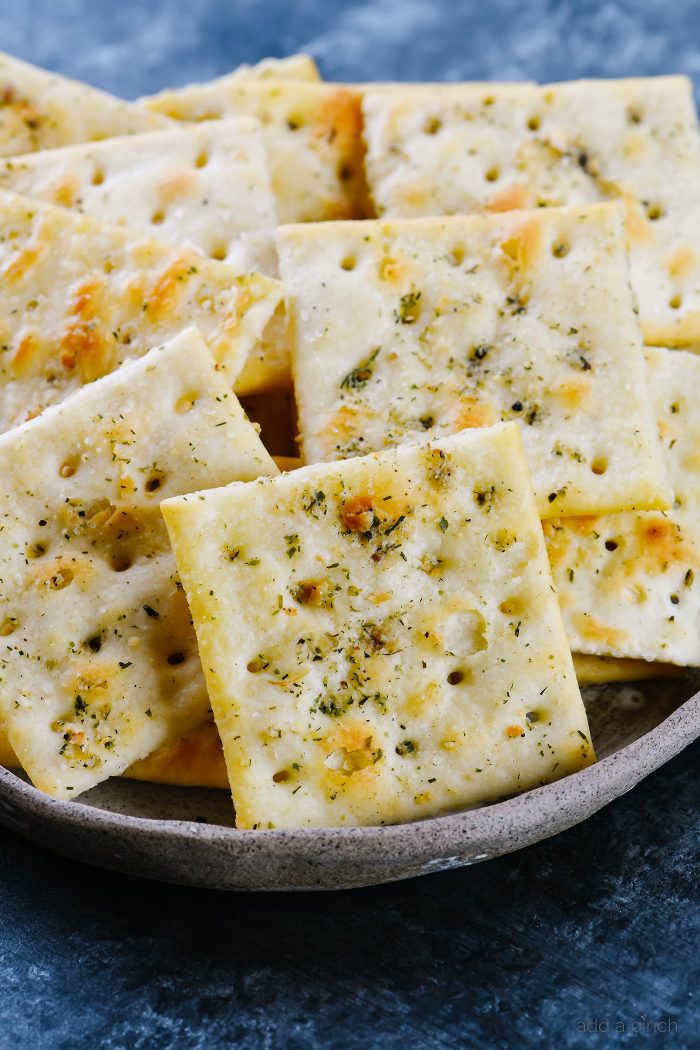 If for some reason you'd prefer to use a larger cracker, like a saltine, by all means do! You'll just want to add the saltines a few at a time to the melted butter in your skillet and then arrange them on the wire rack. It takes a few more minutes to coat each cracker, but they are mighty delicious and worth the time! 🙂
Now you have options!
Here's my Ranch Oyster Crackers Recipe, along with the saltine substitute if you'd like to make those as well. I hope you love them as much as we do!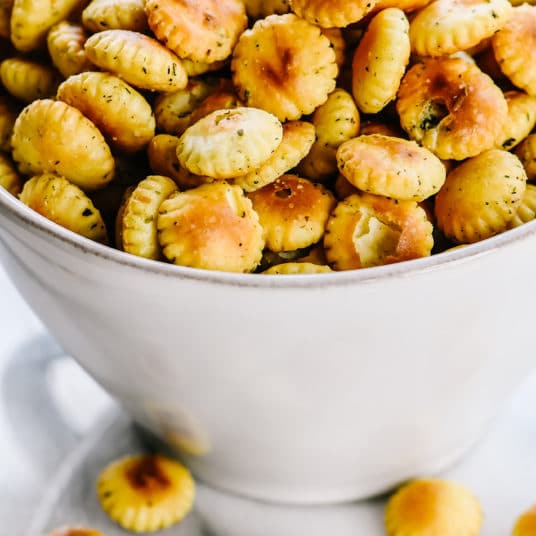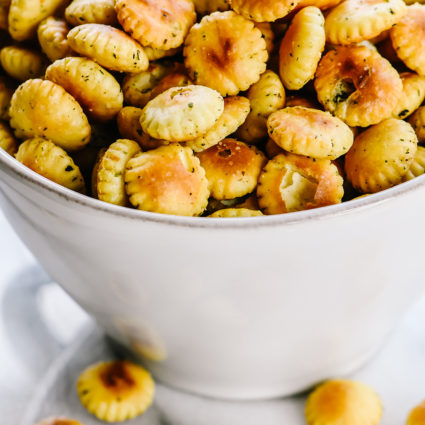 Ranch Oyster Crackers Recipe
Ranch Oyster Crackers Recipe – Quick, easy and absolutely addictive, these delicious ranch crackers make the perfect nibble or snack!
Instructions
Preheat oven to 275º F. Line a baking sheet with parchment paper and arrange a wire rack on top.

Melt the butter in a medium skillet over medium heat. Add in the Ranch Seasoning and Stone House. Whisk until combined.

Arrange the crackers in a large bowl. Pour the melted butter mixture over the crackers, carefully tossing to make sure each cracker is well coated.

Place the crackers onto the wire rack and then bake for 10 minutes. Remove from the oven and allow to cool. Store in an airtight container for up to 3 days.
Notes
You may use 2 sleeves of saltine crackers in place of the oyster crackers called for in this recipe. 
Nutrition
Calories:
81
kcal
|
Carbohydrates:
12
g
|
Protein:
1
g
|
Fat:
3.5
g
Nutrition information is automatically calculated, so should only be used as an approximation.
Enjoy!
Robyn xo