Jump to Recipe • Print Recipe
One of my favorite dishes in the world is a plate of simple seared scallops.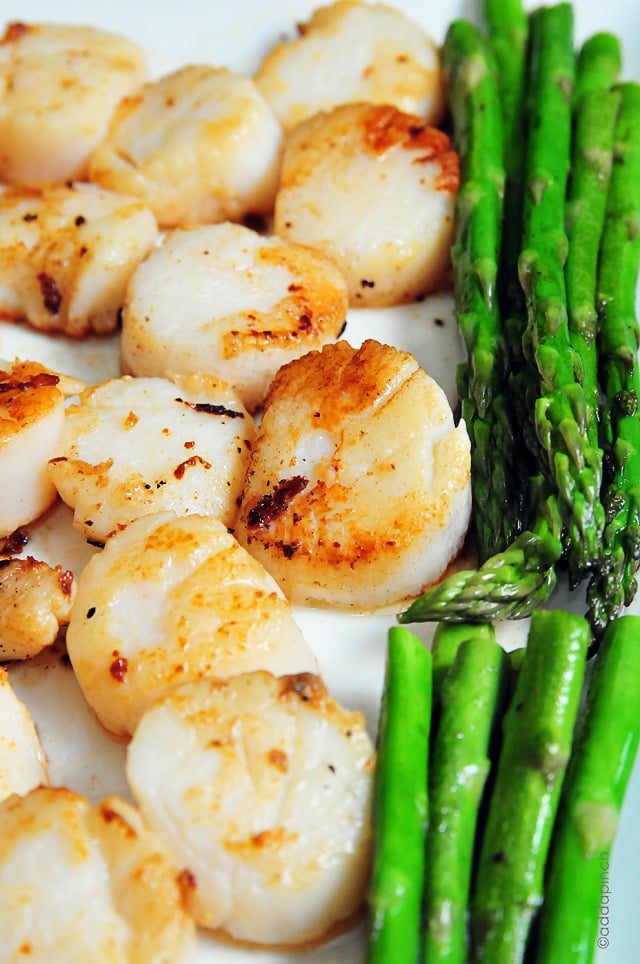 Bright, buttery, delicate, and so tender, I always make sure to order them when we visit restaurants that serve fresh scallops. But you know, even then, sometimes they just don't turn out exactly how I like them.
While they are delicious piled high with pasta, garlic, and sauces layered on top, I still prefer my scallops just seared in a skillet with a touch of butter and olive oil.
Add a pinch of salt at the end and I'm a very happy girl, indeed.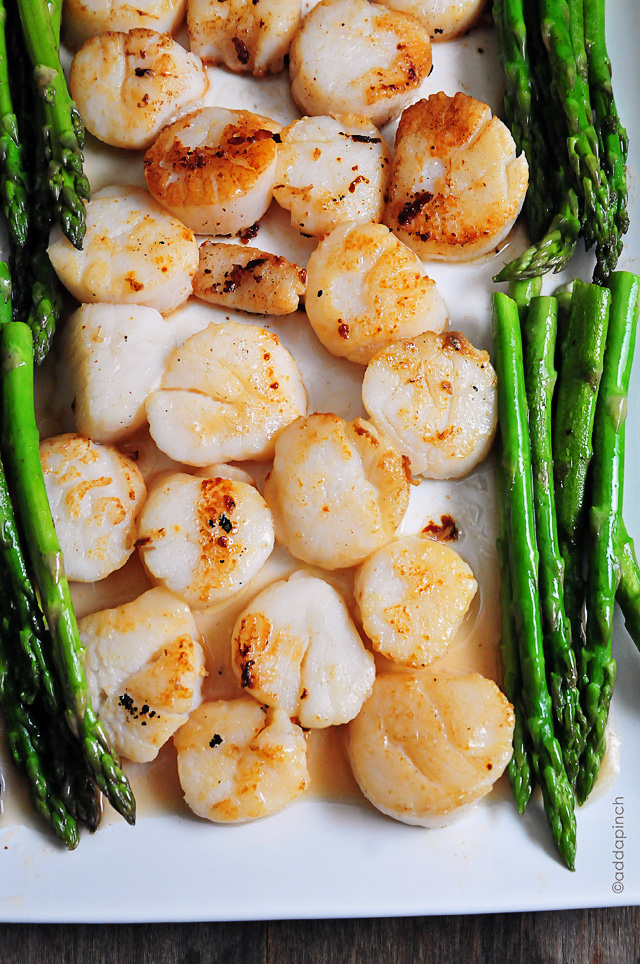 But you know, I've learned that other people in my family actually prefer a light pan sauce over their scallops and weren't too excited when I would always serve them my favorite way.
So, I solved that problem recently by searing my scallops in a skillet, then plating them onto a large platter. Then, I found out how many people preferred a pan sauce for their scallops and whipped one up really quickly from the browned bits left in the skillet from searing.
Once the pan sauce was ready, I spooned it over part of the seared scallops and left the others without.
Problem solved.
Everyone was happy.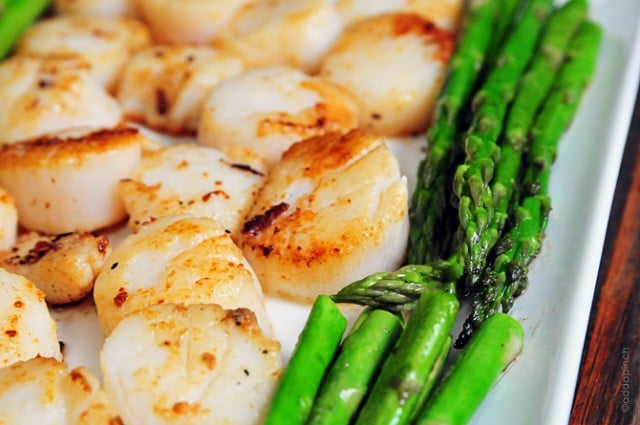 Don't you just love it when things come together?
My recipe for seared scallops makes a simple quick-fix meal that is perfect for serving on special occasions, like a birthday, Valentine's, an anniversary, or to celebrate a great day.
Here's my simple, yet perfect Seared Scallops Recipe.
Seared Scallops Recipe
Seared scallops make a simple, yet delectable meal. Fresh, tender, buttery and delicious, seared scallops are perfect for a romantic meal, too.
Author:
Robyn Stone | Add a Pinch
Ingredients
1 pound large sea scallops
1 tablespoon salted butter
1 tablespoon olive oil
For the pan sauce:
¼ cup dry white wine or chicken stock
2 tablespoons salted butter
1 medium shallot, finely diced
1 clove garlic, minced
salt and pepper, to taste
Instructions
Rinse scallops to remove any potential grit and drain well. Pat both sides of scallops dry with paper towels.
Heat 12-inch skillet over medium heat. Add butter and olive oil into heated skillet and allow butter to melt.
Add scallops to the skillet in a single layer, taking care to leave plenty of room between each scallop. Cook for about 3 to 5 minutes and then gently turn scallop with tongs or a small spatula to sear the second side for an additional 3 to 5 minutes or until the scallop is firm to the touch and well-browned.
Remove the scallops from the skillet to a serving platter and keep warm.
For the pan sauce:
Allow the skillet to cool slightly, about 2 minutes. Add the dry white wine or chicken stock to deglaze the skillet. Using a wooden spoon or whisk, scrap up any browned bits that have formed as the scallops were cooking. Add butter, shallot, and garlic to the white wine, stirring constantly. Cook about 3 minutes, until the shallots have become tender and translucent. Remove the skillet from heat and spoon the pan sauce over the scallops or serve in a separate bowl.
I like to serve my seared scallops with roasted asparagus or a quick spinach salad. Nothing too heavy and always something quick.
Enjoy!
Robyn xoxo