Sharing our Weekly Meal Plan with make-ahead tips, freezer instructions, and ways make supper even easier!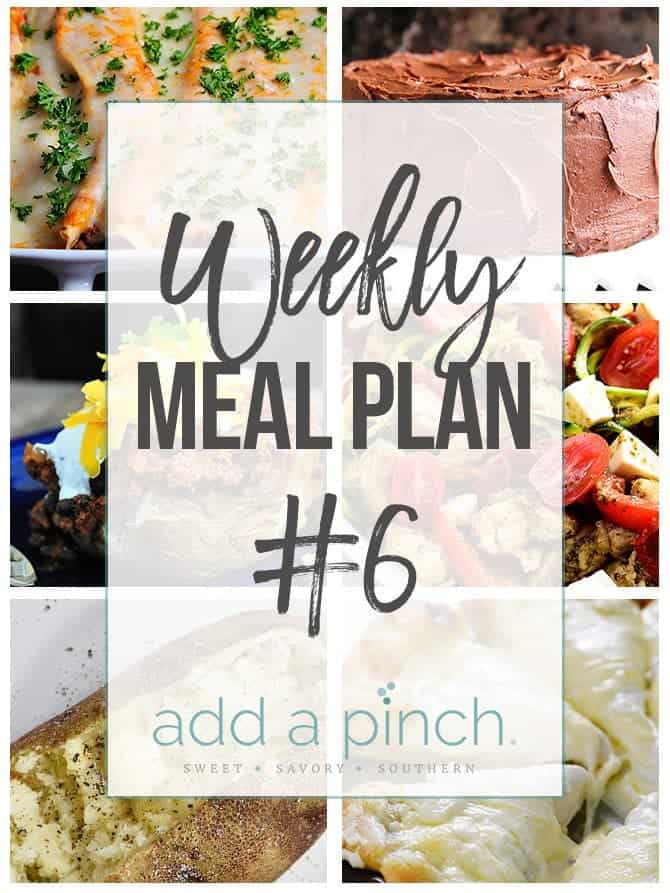 Saturday: Beef Tenderloin, Perfect Baked Potatoes, Salad with Homemade Ranch Dressing, Chocolate Cake (Birthday Dinner)
Sunday: Buffalo Chicken Dip, Spinach Artichoke Dip, Black Bean Chili (Playoff Games!)
Monday: One Pan Pesto Chicken (30 Minute Meal)
Tuesday: Chili Stuffed Baked Potatoes + Salad (Leftover Makeover)
Wednesday: Sam's Easy Weeknight Beef Stew (from the Add a Pinch cookbook) // Guy's night while I'm traveling!
Thursday: Beef Enchiladas + Salad (30 Minutes)
Friday: Three Cheese White Pizza (Family Night In)
Plan Ahead!
Plan ahead when making baked potatoes on Saturday and chili on Sunday so that you have plenty leftover for Tuesday night's Chili Stuffed Baked Potatoes. Then, on Tuesday, simply reheat, add  your favorite toppings and serve!

Thanks so much for your feedback about my weekly meal plans. I've moved them to stand alone posts, making them easier for you to print or search through later.