Baked Chicken Parmesan Recipe
Baked Chicken Parmesan Recipe – This baked chicken parmesan recipe includes everything you love about chicken parmesan without all the guilt!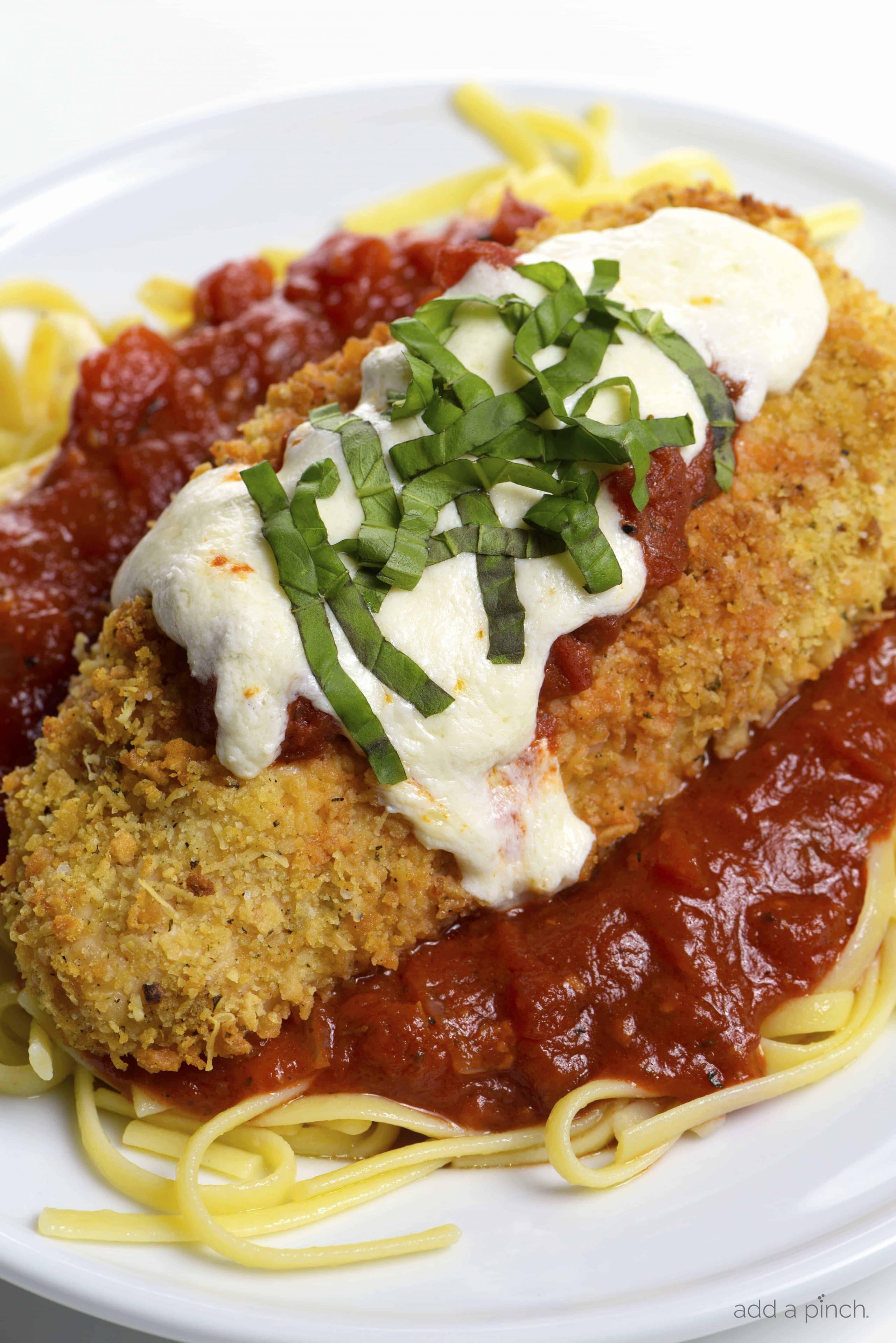 Chicken parmesan. Oh how I do love thee! Seriously though, what's not to love, crispy, crunchy parmesan coated chicken topped with marinara, melty cheese and a bit of  basil all on a bed of slurpy noodles and even more marinara?
But friends, today I have a technique to share with you that will rock your chicken parmesan loving world – baked chicken parmesan. Yes, baked.
With this recipe you get every single bit of the crispy, crunch parmesan chicken that you love made simpler, easier, and I dare say without all the guilt!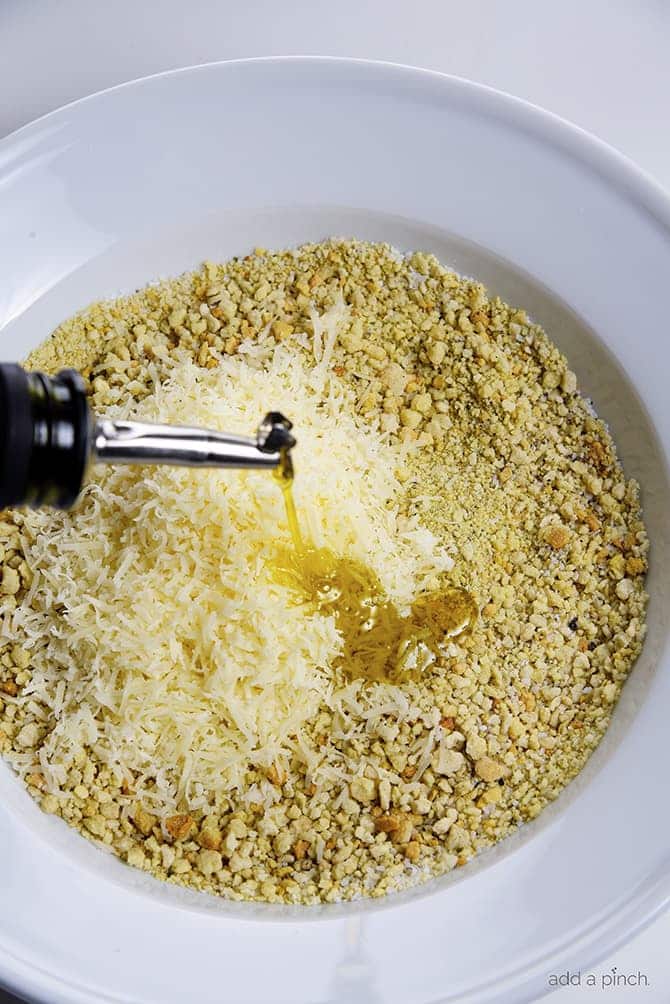 The trick to all that flavor and crunch on the chicken is the parmesan coating. Rather than breading in flour, I used panko crumbs. Panko is lighter and airier than standard breadcrumbs and tends to absorb less oil. I think it makes for a really crisp coating, too. You can use any type of panko that you like. For these, I used my new favorite gluten-free panko that I found. If you are gluten-free, I think you'd enjoy it!
Panko by itself doesn't really have a great deal of flavor (at least to me), so the addition of the parmesan cheese, salt, pepper, and garlic powder give it the perfect amount of seasoning the chicken needs in this recipe.
You'll also notice that I add my olive oil directly to the panko parmesan mixture and stir it until it is well combined. I found that this helps with flavor, crispiness, and also to better adhere to the chicken as the chicken parmesan bakes.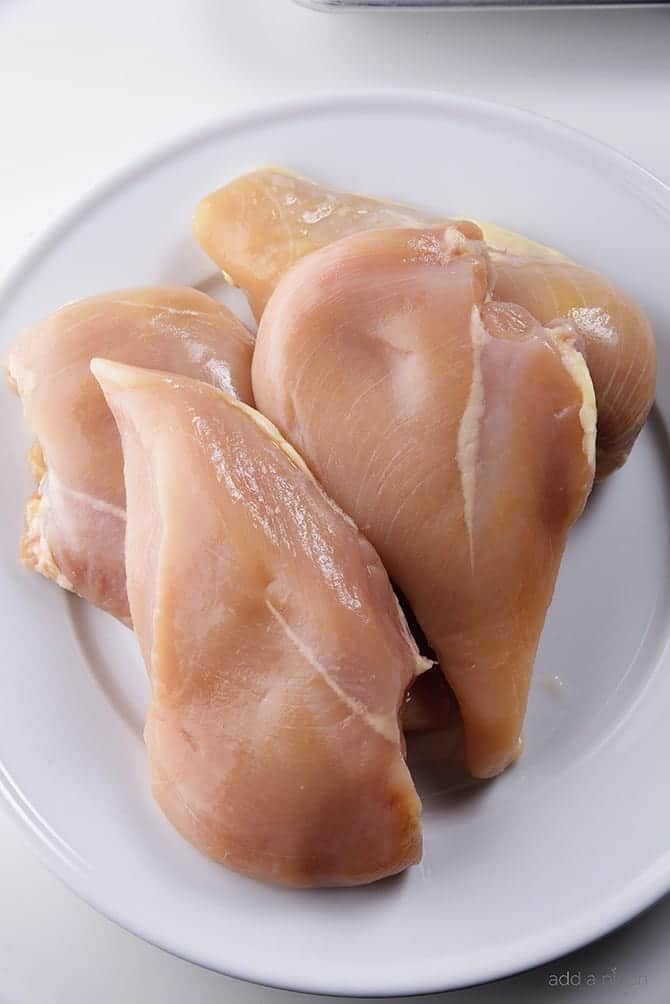 I use boneless, skinless chicken breasts in my recipe. You'll want to be sure to use chicken of similar sizing so that the chicken cooks in the same amount of time. You can even split the breasts in half to make filets or cutlets to reduce the cooking time even further while reducing the serving size, if you'd like.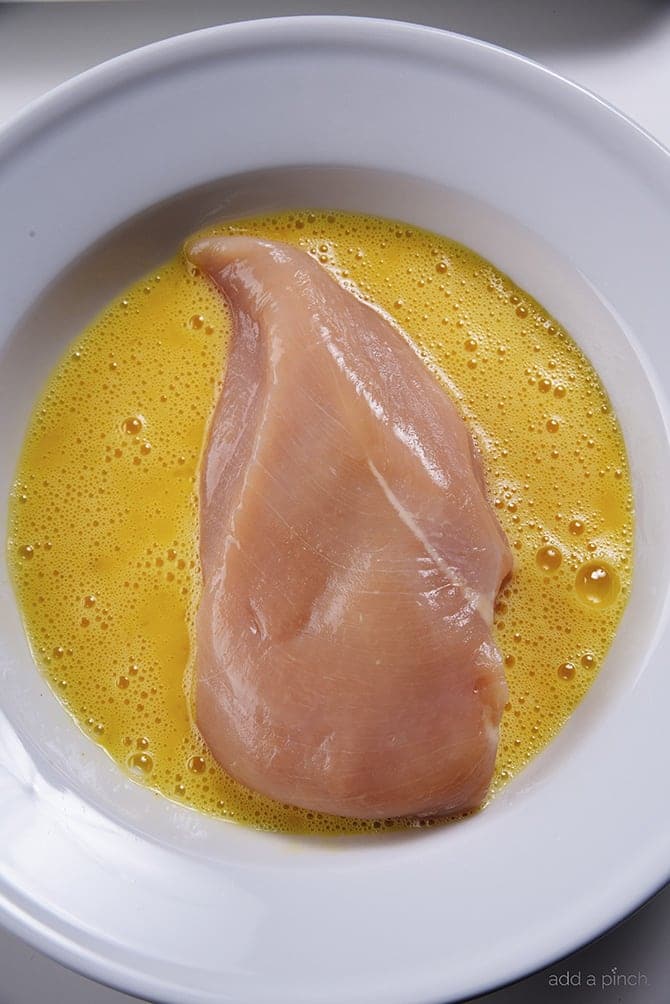 First you'll dredge your chicken breast in eggs. If for some reason you are sensitive to eggs or even allergic, you can use buttermilk instead of the egg for this step. This simply helps the coating stay on the chicken as the chicken cooks.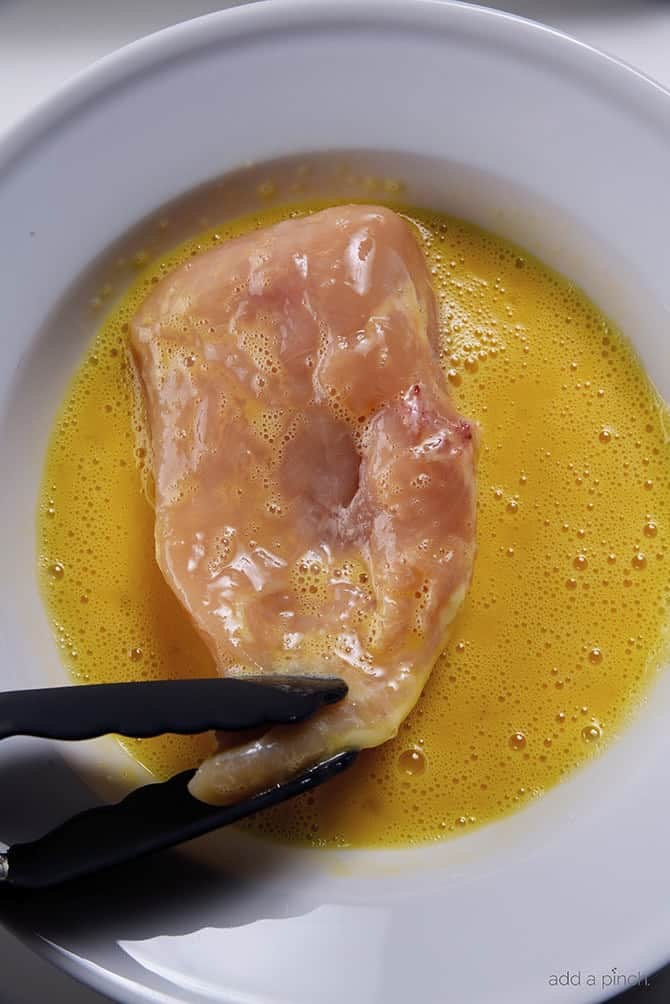 Be sure to turn your chicken in the egg (or buttermilk) to make sure that all of the chicken is well coated.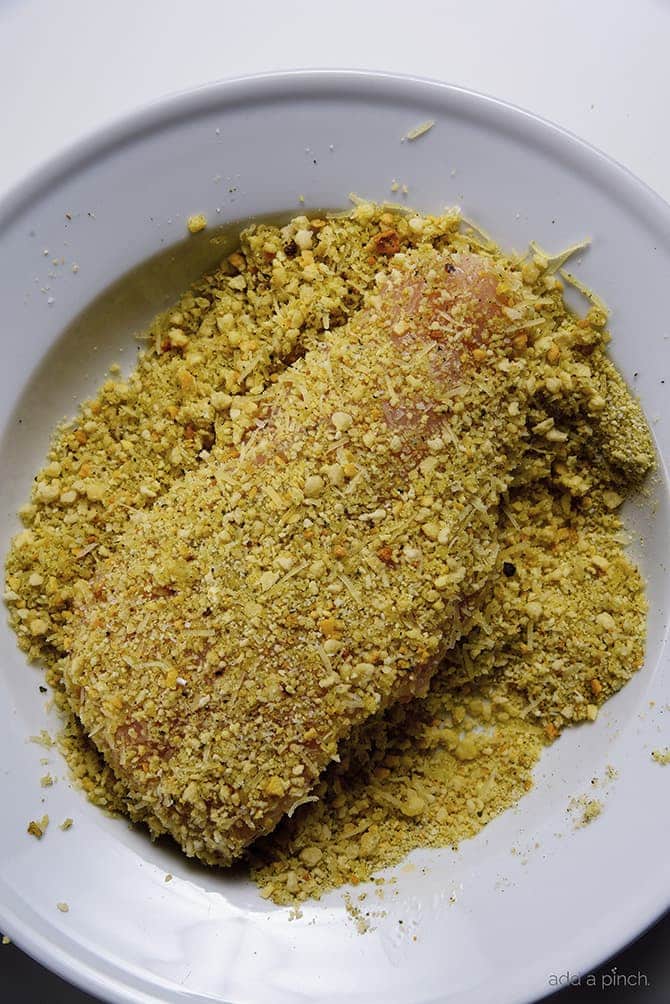 Next, place your chicken into the panko parmesan mixture. You'll want to lightly press the mixture onto the chicken to help it adhere and to make sure that chicken is well coated.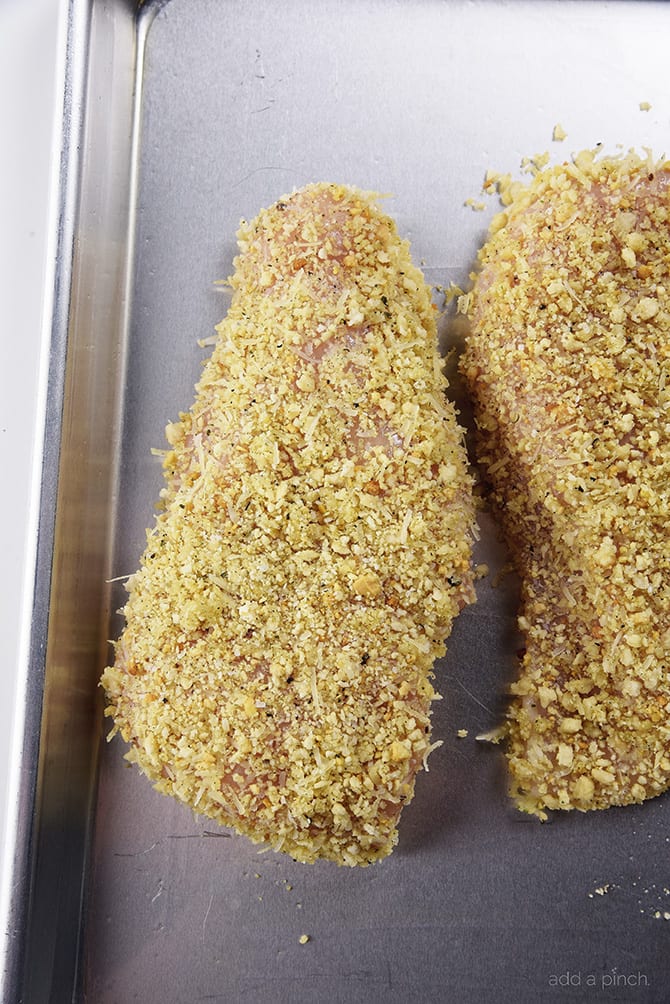 Next, place your coated chicken breasts onto a baking sheet that has been lightly sprayed with cooking spray or olive oil and bake the chicken until the internal temperature registers 165º F when checked with a temperature probe.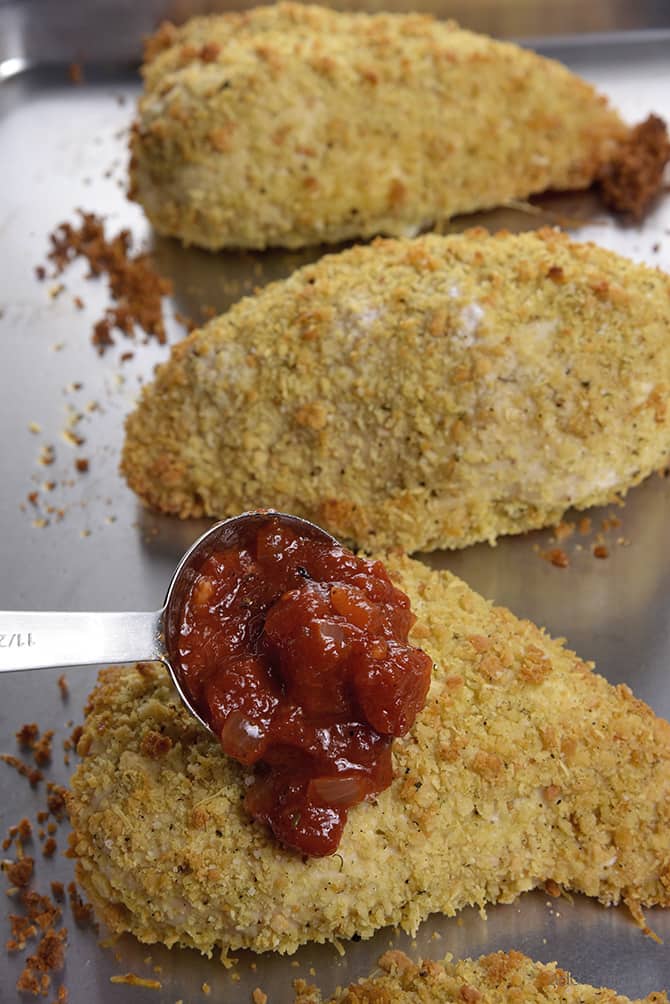 Once the chicken has cooked through, spoon a bit of marinara sauce on top of the chicken. I love to use my homemade marinara sauce, but you can use your favorite recipe or even store bought, if you like.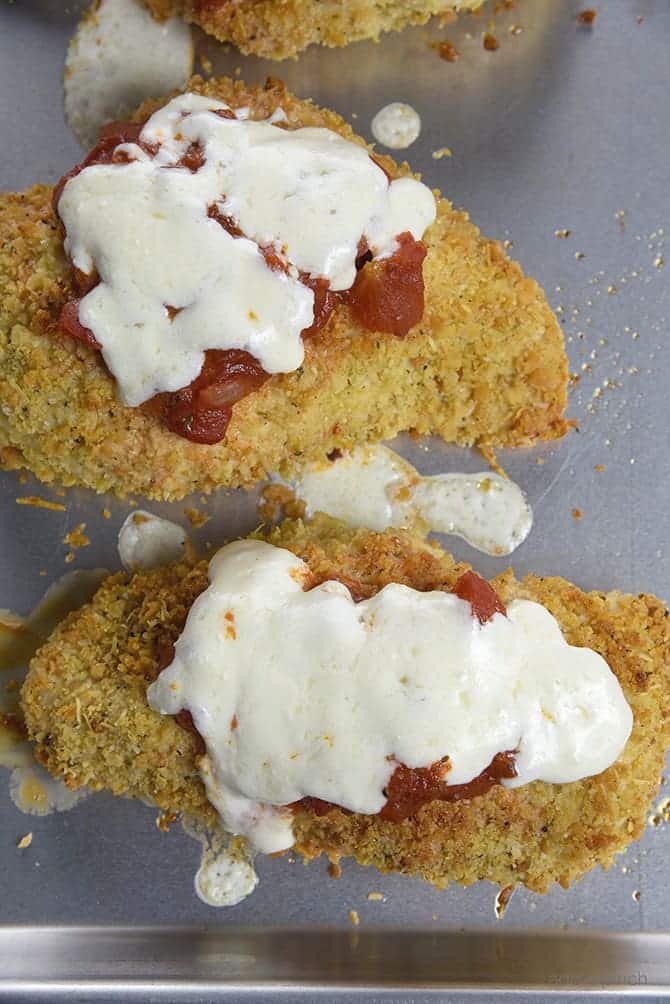 Then, you'll top with shredded mozzarella cheese and return to the oven for just a few minutes for the cheese to melt.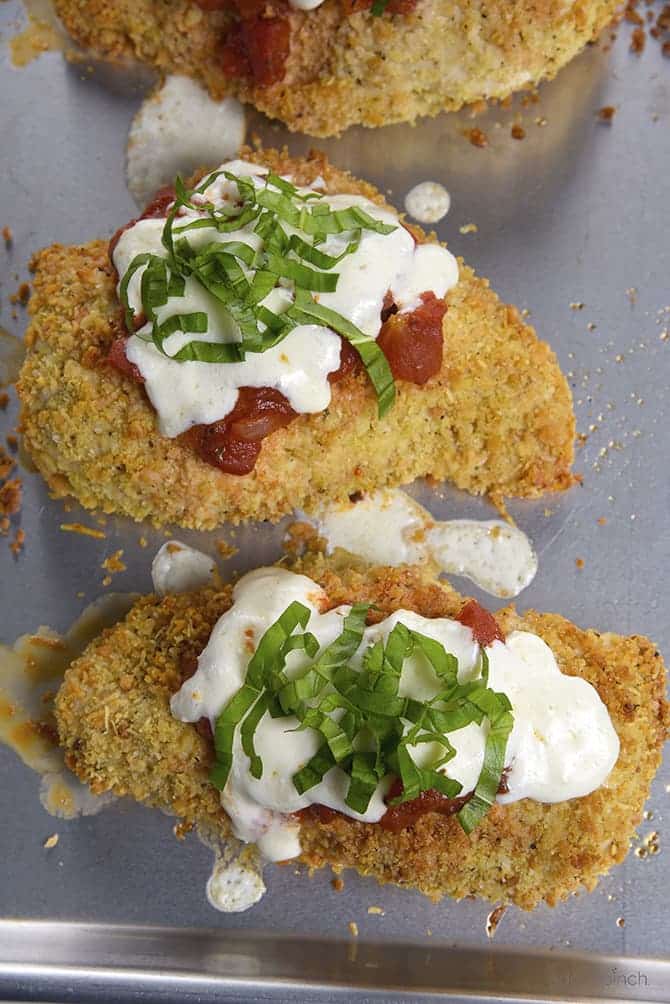 Top with basil and you are ready to serve this baked chicken parmesan! I declare, it is so good that every time I make it I think I might just have to make it again the next night! 🙂
I like to serve my baked chicken parmesan over cooked noodles that have a little more marinara sauce on them. For the noodles, I generally go with a fettuccine and have really been loving the flavor of this gluten-free fettuccine lately. It is also mighty delicious served over zucchini noodles if you want to add more veg to the meal!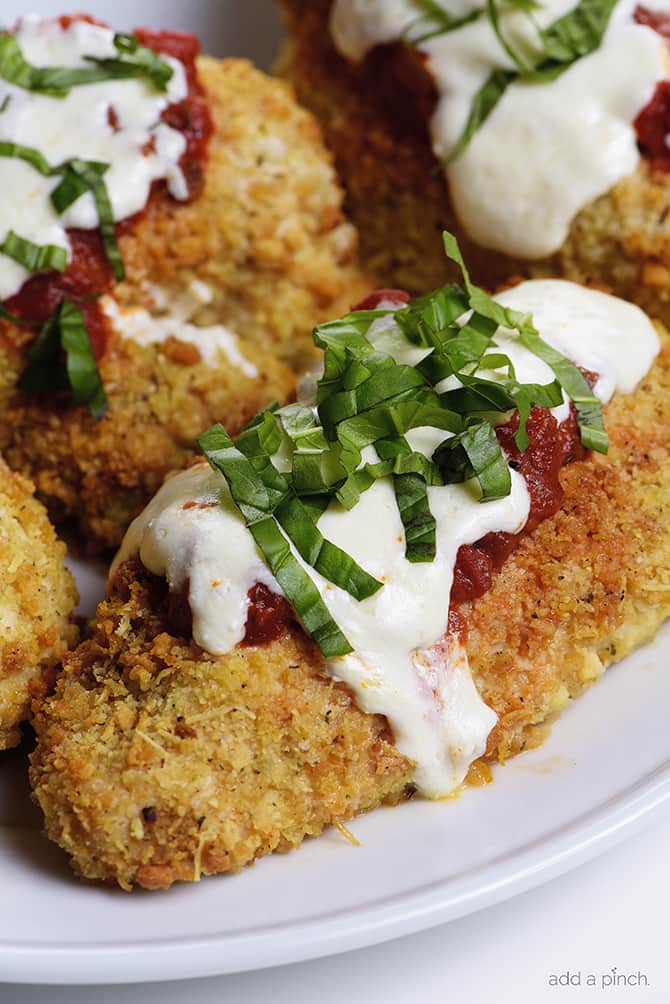 Here's my Baked Chicken Parmesan Recipe. I hope you give it a try soon. Let me know what you think when you do!

Baked Chicken Parmesan Recipe
Baked Chicken Parmesan Recipe - This baked chicken parmesan recipe includes everything you love about chicken parmesan without all the guilt or mess!
Author: Robyn Stone | Add a Pinch
Serves: 4
Ingredients
4 boneless, skinless chicken breast
1 cup Panko breadcrumbs
½ cup freshly grated Parmesan cheese
1 teaspoon kosher salt
½ teaspoon freshly ground black pepper
¼ teaspoon garlic powder
2 tablespoons olive oil
2 large eggs, beaten
1 cup marinara sauce
1 cup shredded mozzarella cheese
fresh basil, for serving
Instructions
Preheat oven to 450° F. Spray a baking sheet lightly with nonstick cooking spray or olive oil.
Combine the Panko, Parmesan cheese, salt, pepper, garlic powder, and the olive oil in a shallow dish until well combined. Whisk the egg in another shallow dish until well beaten.
Dip the chicken breast into the egg and then into the Panko mixture, carefully pressing the Panko mixture onto the chicken. Place the coated chicken breast onto the baking sheet and repeat with the remaining chicken. Bake in the oven until the chicken is golden brown and registers 165º F when checked with an internal temperature probe, about 25 minutes.
Remove from oven, spoon about 1-2 tablespoons of the marinara sauce over each piece of chicken and top each with shredded mozzarella cheese. Bake until the cheese is melted, about 5 more minutes. Top with fresh basil for serving.

Enjoy!
Robyn xo