Pork has to be one of my family's favorite meats to eat. I think any night that I make a great pork recipe, my family gobbles it up.
And, if I can make it in a hurry, like this quick skillet pork chop recipe, then all the better!
Let me tell you how this really easy skillet pork chop recipe came to be a favorite around my house.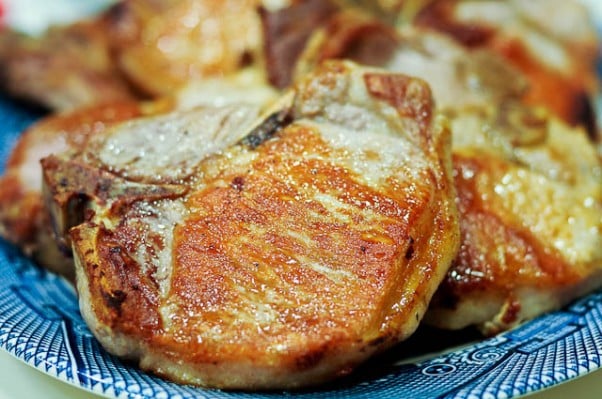 Last week as I was making my list for the grocery store and farm stand, I asked Little Buddy what he would like from the store. His reply included, "chocolate milk, Oreos, and some more maple syrup." While those were items I felt sure he wanted, I decided I needed to ask my question just a bit differently.
So, I quizzed, "Okay, what fruits would you like?"
"Apples, bananas, grapes, and watermelon," he blurted.
Now we're talking! My Mama was right when she told me that it's all in how you ask the question.
We went through the major food groups one by one to get insight into the items that he would like and then we reached the meats. I asked him what meat he'd like for supper this week and he eagerly replied, "pork chops, but without anything on them."
Alrighty then. Now I had a plan. I knew just what items he wanted to eat for the week and he'd even gone so far as to tell me how to prepare on of the meals! I was in business.
I decided to make the pork chops really, really simply with olive oil, salt, and pepper in a big cast iron skillet.
After he'd gobbled up his supper, he said, "Mama, that was exactly what I wanted for supper. Can we have those again sometime?"
Mission accomplished.
Here's how I make my skillet pork chops recipe.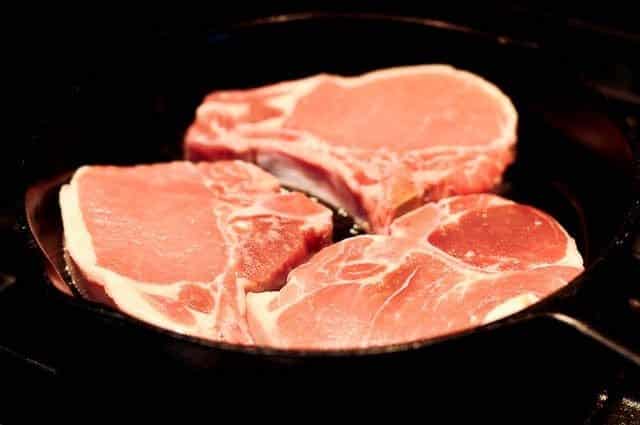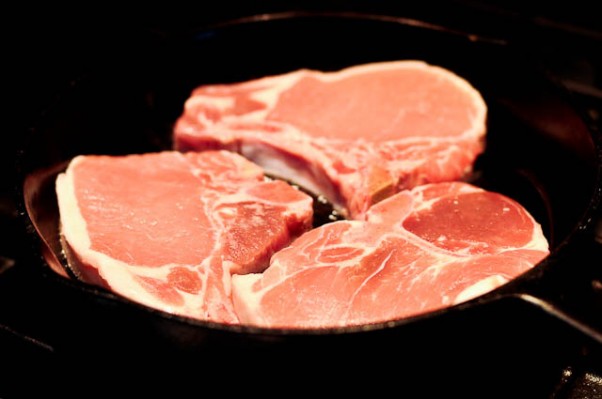 Pour about 2-3 tablespoons of olive oil into a skillet over medium heat.
Add your pork chops and season well with salt and pepper.
Cook on one side for about 3-5 minutes.
Turn and cook other side.
Remove from range and place into an oven preheated to 350. Allow to cook for 15 more minutes.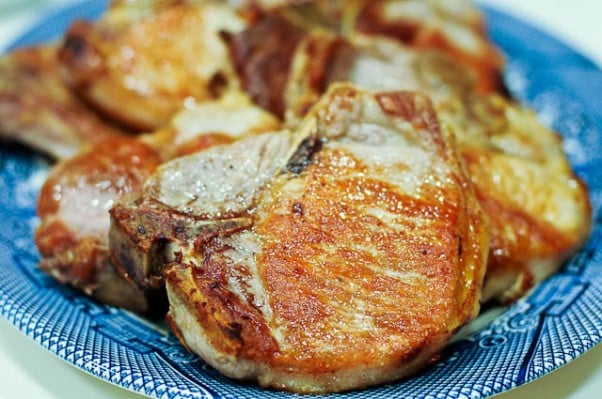 Serve immediately with your favorite side dishes.
Here's my son's favorite pork chop recipe. I hope you love them as much as he does!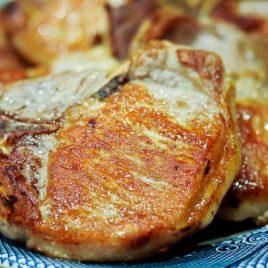 Skillet Pork Chop Recipe
Pork recipes make a great quick-fix meal! Get this easy skillet pork chop recipe for your busy weeknights.
Ingredients
6-8

pork chops

bone in, thick sliced

2-3

tablespoons

olive oil

salt

pepper
Instructions
Preheat oven to 350 degrees.

Pour olive oil into skillet over medium heat.

Add pork chops and season with salt and pepper.

Cook about 3-5 minutes on each side, until each side has browned well.

Place skillet in oven for about 15 minutes.

Serve immediately.

I have to remember the tip of asking my son what he'd like from each of the food groups when making my list for the store or farmer's market.
What would your family say if you asked them?