Stuffed Shells makes a simple, delicious, and comforting recipe. Large pasta shells are stuffed with a flavorful meat mixture and then baked with a rich tomato sauce.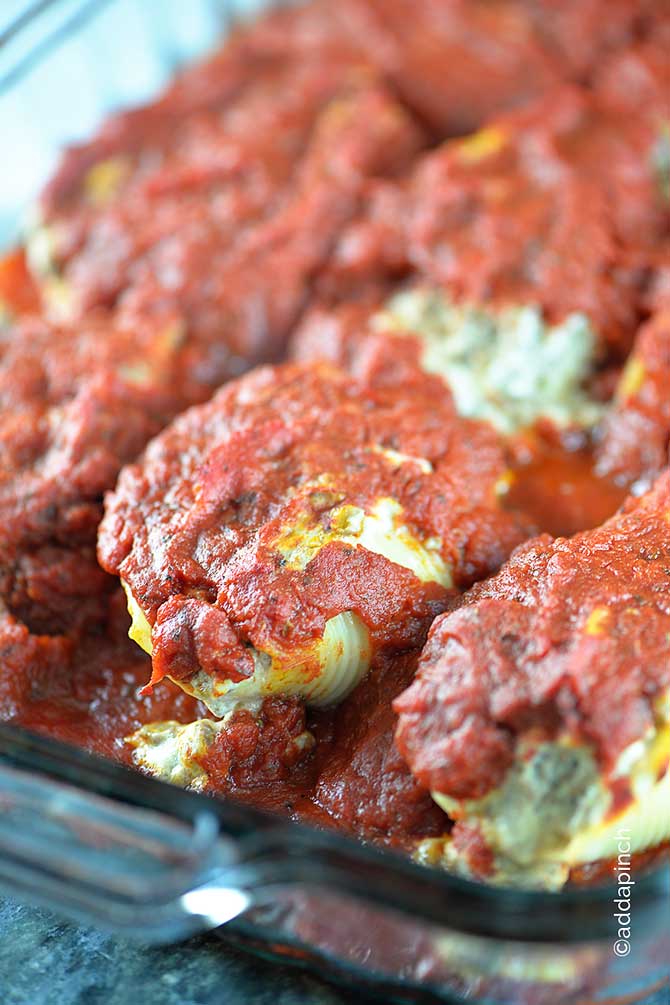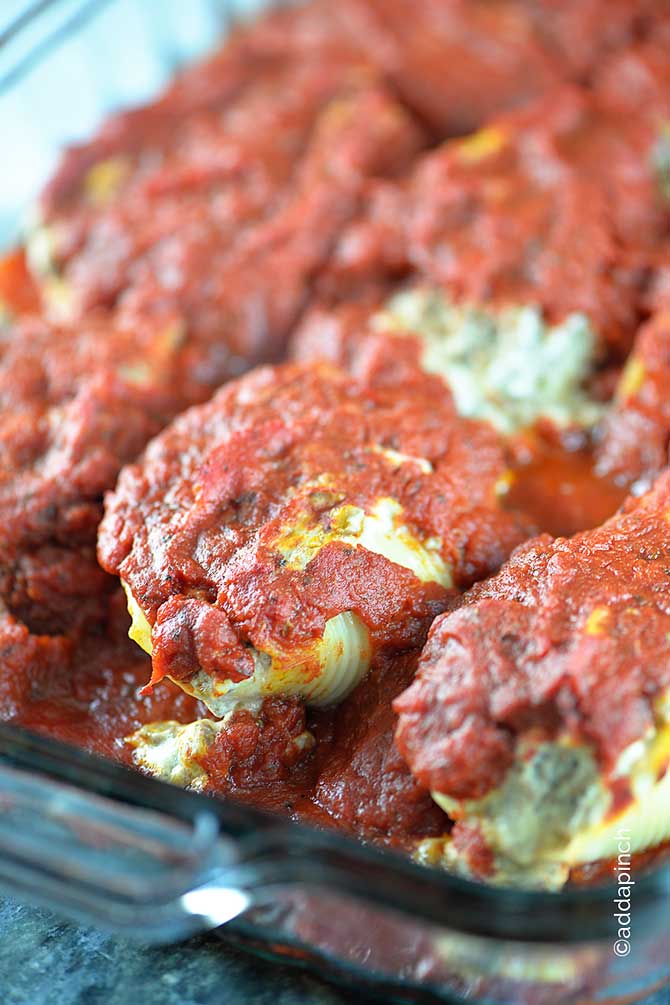 Stuffed Shells make the perfect savory and satisfying meal! These large pasta shells are stuffed full of a delicious meaty and cheesy mixture that has the most incredible flavor! I love to have them assembled ahead of the time so that I can just pop them into the oven for supper.
After a day spent cleaning up around the farm recently, I immediately thought about how delicious these Stuffed Shells would be for our supper. I whipped up a batch, popped them in the oven and headed out for a walk to enjoy the view of our work that day. So after a quick walk, and a making a simple House Salad, we enjoyed this scrumptious pasta dinner!
Stuffed Shells Recipe
I love it when everything looks so neat and tidy around the farm, but I have to admit that I do love the look of the tall grasses as they change colors from lush green in the summer to a golden hue with a tinge of red in the beginning of fall.
As I'm out walking, the grasses will sway with the breeze and it immediately relaxes me. I love that Mama deer will have their babies bedded down in the grasses nearest to the woods, so I watch for them as I'm walking to see if I can catch a glimpse of them. I love seeing the turkey pop their heads up through the grass to see what all the noise is around them, only to quickly jerk it right back down and hide until I go by them.
But then, when the fields are cleared, I love the look of the rolling hills and being able to see more of the land. We wait until the deer are old enough and have moved from the grassy edge to make their home in the woods before we clear the area and now I can even catch peeps into the woods for them.
Speaking of walking, this is a great recipe to whip up, pop in the oven and then head out for my afternoon walk while it bakes. Then, by the time I'm finished walking and come back in the house, the smell greets me at the door! I remove it from the oven and allow it cool as I clean up and set the table, prepare a salad and voila, supper is ready! It's hard to beat that!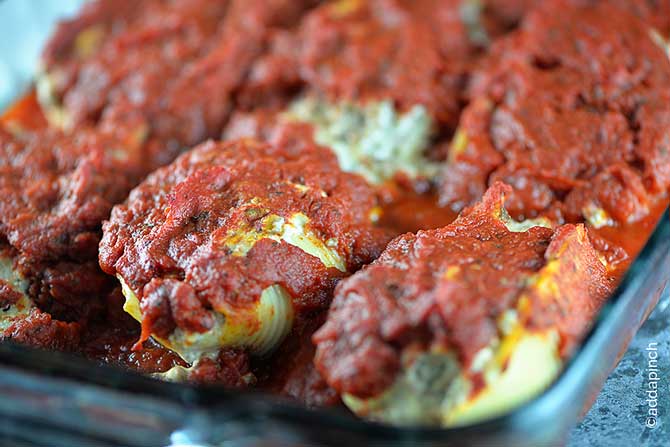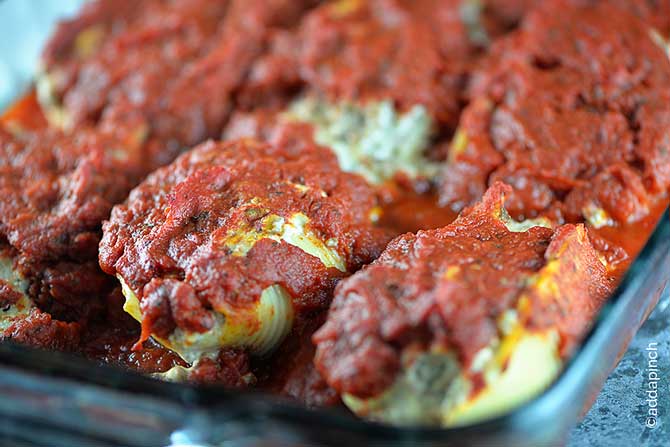 I think you'll love these simple stuffed shells, too!
Stuffed Shells Recipe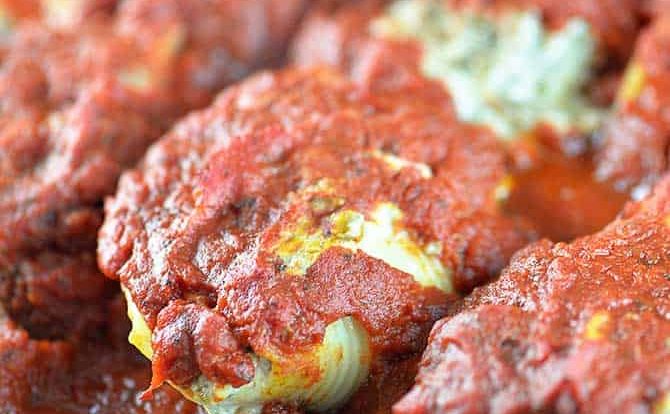 Stuffed shells makes a simple, delicious, and comforting recipe. Large pasta shells are stuffed with a flavorful meat mixture and then baked with a rich tomato sauce.
Ingredients
12

large

shell pasta

1

teaspoon

salt

2

tablespoons

olive oil

1

medium

onion

diced

2

cloves

garlic

minced

1

pound

ground beef

2

teaspoons

dried basil

2

teaspoons

dried oregano

1

(28-ounce) can

crushed tomatoes

2

(6-ounce) cans

tomato paste

1

cup

Greek yogurt

1

(8-ounce) package

cream cheese

1 1/2

cups

shredded Parmesan cheese

1

cup

shredded mozzarella cheese
Instructions
Preheat oven to 350º F. Spray a 9×13 baking dish with nonstick cooking spray. Set aside.

Bring water to boil in a large stockpot. Add salt and 1 tablespoon of olive oil to water. Add pasta to water, stirring often to prevent the pasta from sticking. Boil for about 10-15 minutes or until the shells are al dente. Drain shells from water.

Add remaining tablespoon of oil to a large Dutch oven or deep skillet. Add onion and garlic and cook until lightly browned and tender. Add ground beef and cook until ground beef is cooked thoroughly. Drain away any excess drippings. Stir in Greek yogurt, cream cheese, Parmesan cheese, and mozzarella cheese.

In another saucepan, stir in crushed tomatoes, tomato paste, basil and oregano and cook until heated through, about 10 minutes. Remove from the stove and ladle about 1 cup of mixture into the bottom of baking dish.

Spoon beef mixture into shells and place into baking dish. Ladle remaining tomato sauce over stuffed shells, cover with aluminum foil and bake for 20-25 minutes. Remove foil and bake an additional 10 minutes.
Nutritional Information
Calories:
410
kcal
|
Carbohydrates:
12
g
|
Protein:
27
g
|
Fat:
27
g
|
Saturated Fat:
15
g
|
Polyunsaturated Fat:
1
g
|
Monounsaturated Fat:
12
g
|
Trans Fat:
1
g
|
Cholesterol:
91
mg
|
Sodium:
820
mg
|
Potassium:
737
mg
|
Fiber:
3
g
|
Sugar:
8
g
|
Vitamin A:
259
IU
|
Vitamin C:
1
mg
|
Calcium:
349
mg
|
Iron:
2
mg
Enjoy!
Robyn xo