Tomato Baked Eggs Recipe
Eggs, eggs, eggs. We're covered in them lately and I make every recipe I can think of to use them as much as possible. Like these tomato baked eggs. Oh my goodness, are they ever delicious. And easy, too!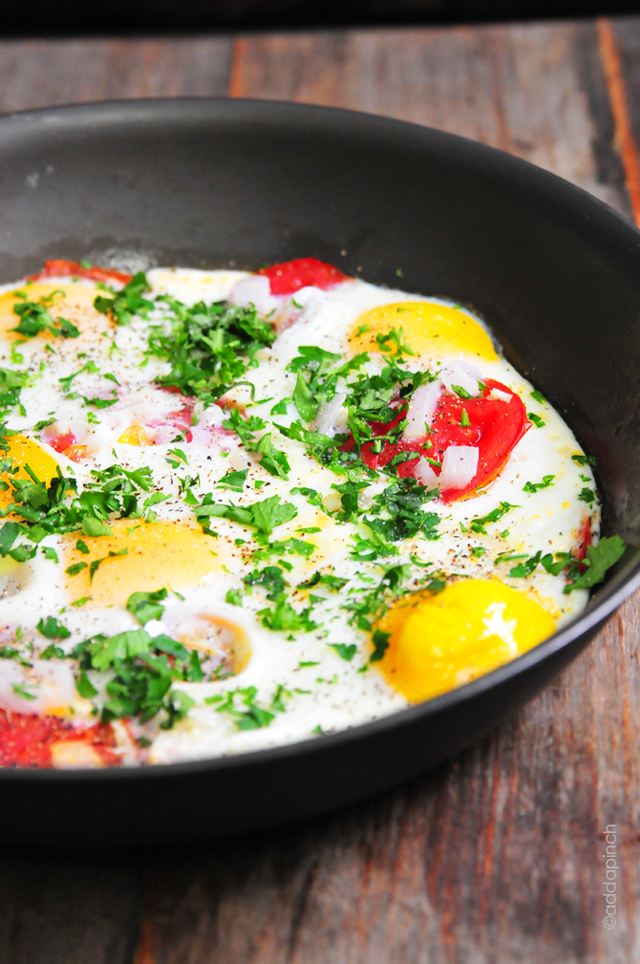 That's a combination I sure love. Easy + delicious = a surefire winner in my book!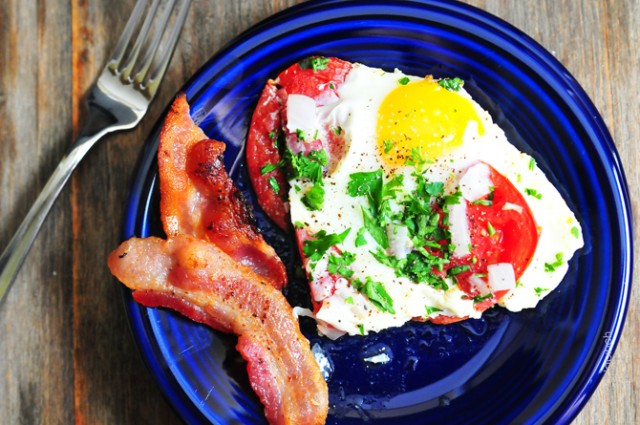 And I love that it is a simple skillet recipe.
I can just layer on the ingredients, pop it into the oven and then serve a filling, amazing breakfast with hardly any effort at all.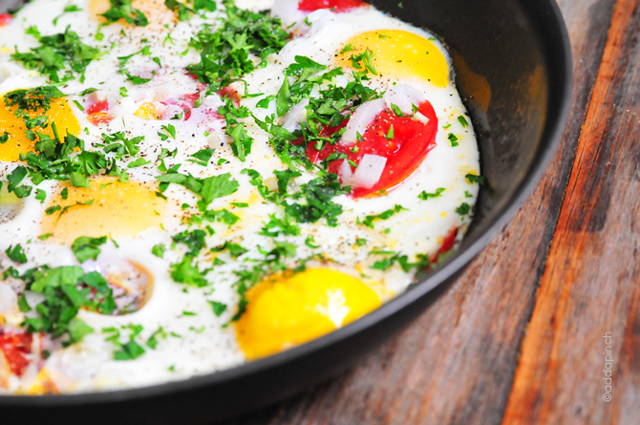 Here's my recipe for Tomato Baked Eggs. I hope you love it as much as we do!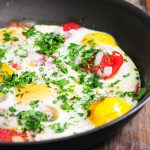 Print Recipe
Tomato Baked Eggs Recipe
Baked eggs make a simple, delicious meal perfect for breakfast, brunch, or a light supper. These tomato baked eggs are hearty and filling.
Prep Time2 mins
Cook Time18 mins
Total Time20 mins
Servings: 4 -6
Calories: 0
Ingredients
2 tablespoons butter
2 medium tomatoes sliced
1/2 medium onion diced
1 clove garlic minced
1/2 cup grated Monterrey Jack cheese
6 eggs
salt and pepper to taste
3 tablespoons chopped cilantro or parsley optional
Instructions
Preheat oven to 350º F. Melt butter in a 12-inch skillet. Swirl butter in skillet to well coat bottom and sides. Add sliced tomatoes, onions, garlic. Top with grated cheese.

Crack each egg and add to skillet on top of other ingredients, evenly distributing in skillet and taking care not to burst yolk.

Bake 18-20 minutes. Remove from oven and run a silicon spatula around the edge of the skillet to help release baked eggs from skillet, if needed. Slide onto a serving platter for serving. Top with chopped cilantro or parsley. Season with salt and pepper, to taste.
If you enjoy this recipe, you might also like these eggs recipes:
Roasted Red Pepper and Parmesan Baked Eggs from Picky-Palate
Enjoy!
Robyn xoxo