Peanut brittle has always been a favorite in my family. I remember my Grandmother would make peanut brittle after peanut brittle right before every Christmas to give to friends as gifts. Then, Mama began making it to take to her office during the holidays and for gifts to friends and neighbors. I'd watch them as they quickly made their peanut brittle, standing at a safe distance away from the molten magic until it had cooled enough for sampling.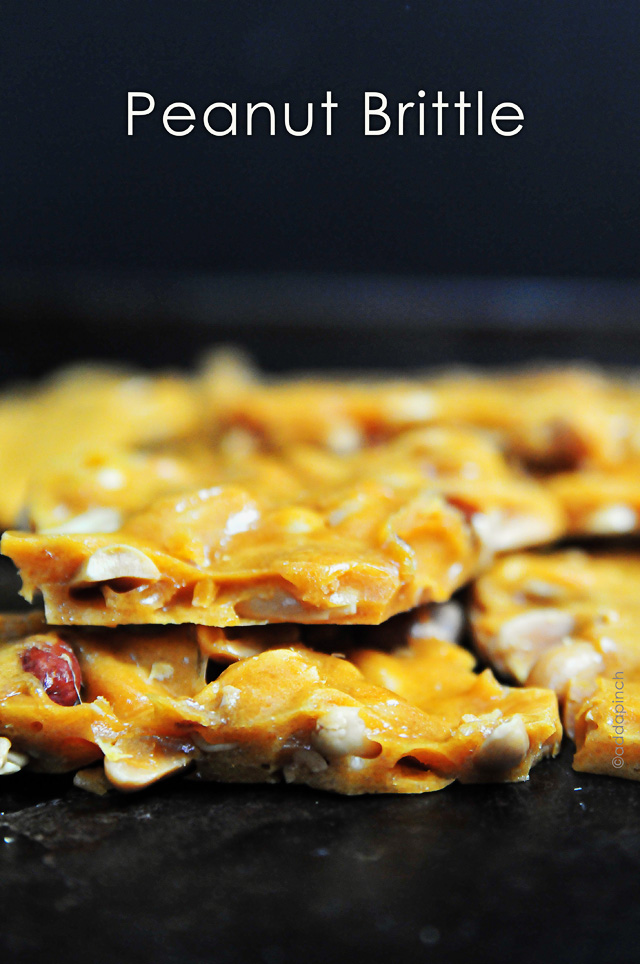 The peanut brittle making tradition has now come full circle.
I've started making it before Christmas for my family as well as to give as gifts to friends early in the holiday season. As I do, Little Buddy stands at the edge of the kitchen counter watching as a few simple ingredients quickly become a delicious, hard concoction.
He loves to be the first one to break the brittle once it has cooled and nibble on small bites, letting them melt in his mouth instead of crunching down on them like I do impatiently.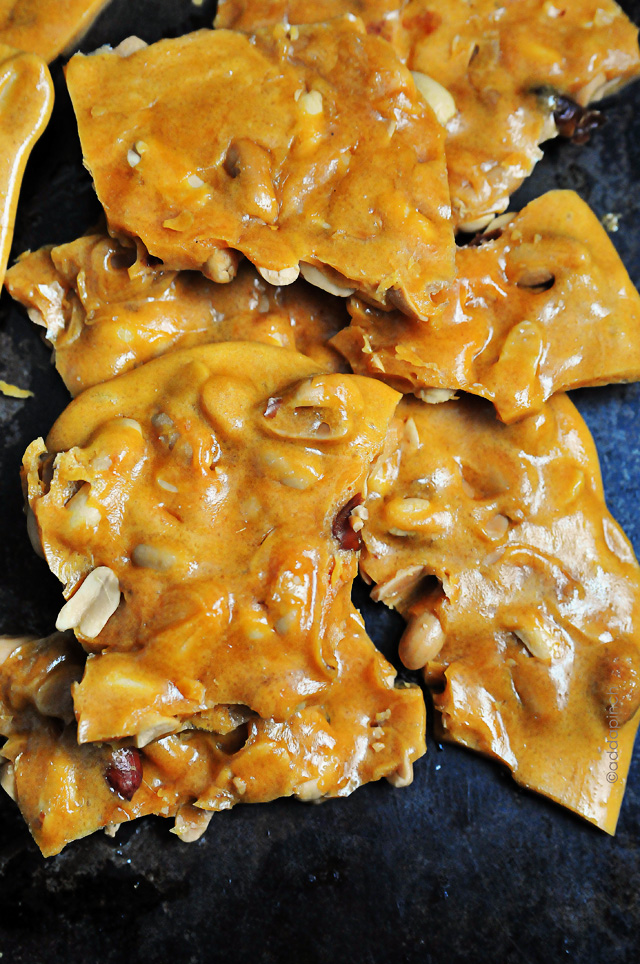 Rich, buttery and absolutely delicious, this peanut brittle recipe is one that my family loves. The original recipe includes to use raw peanuts in your brittle, but I've started cheating just a bit and using cocktail peanuts instead. I have to admit, I think I love that version even more than the original. You can decide which you prefer when you make it, but give the cocktail peanuts a try if you can.
I also recommend having a candy thermometer to make this peanut brittle. They just make candy making all that much easier.
Here my family's heirloom recipe for peanut brittle. I hope you enjoy it as much as we do!

Peanut Brittle Recipe
Peanut Brittle is a delicious, buttery treat.
Author:
Robyn Stone | Add a Pinch
Ingredients
2 cups granulated sugar
1 cup light corn syrup
1 cup water
pinch of salt
2 tablespoons butter
2 teaspoons baking soda
2 teaspoons vanilla
1½ cups cocktail peanuts (or raw peanuts)
Instructions
Lightly butter a rimmed baking sheet and set aside.
Add sugar, corn syrup, water, and salt to a medium, heavy-bottomed saucepan. Stir to combine and then cook over medium heat about three minutes, do not stir. Continue to cook, stirring occasionally until mixture reaches 300º F on a candy thermometer. Immediately remove from heat and add butter, baking soda, vanilla and peanuts. Stir quickly to combine and then pour onto buttered baking sheet.
Spread with the back of a silicon spatula. Allow to cool completely, about 15 minutes.
Notes
Store in an airtight container for up to 2 weeks.
For other family-favorite candy recipes, you may enjoy:
Enjoy!