Baked Salmon with Parmesan Herb Crust Recipe
Baked salmon makes a weeknight meal that is easy enough for the busiest of nights while being elegant enough for entertaining. This oven baked salmon with a Parmesan herb crust is out of this world delicious! (Now with VIDEO!)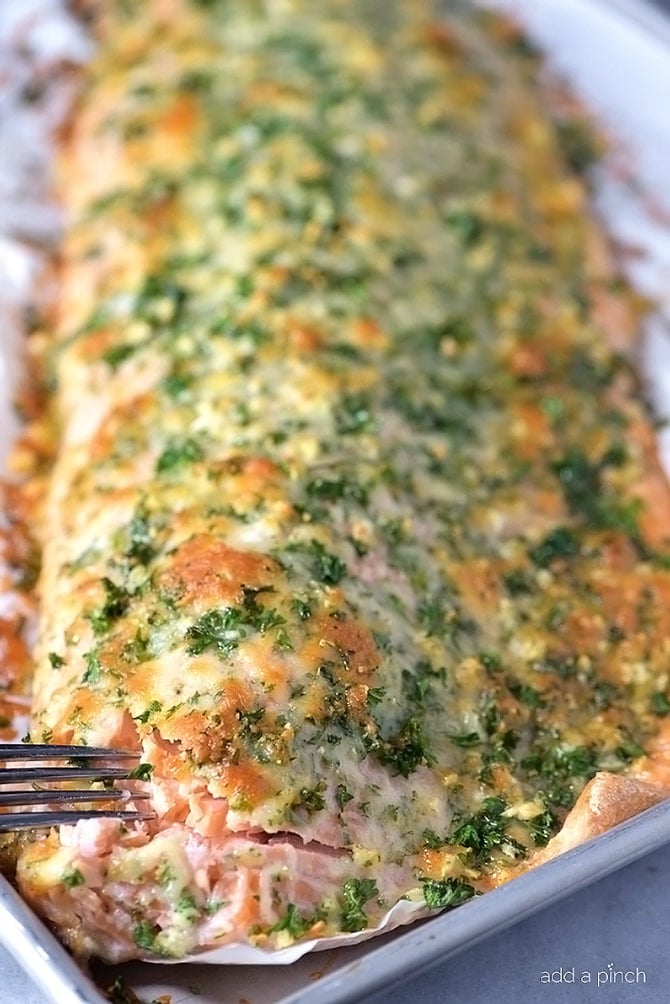 I've raved time and again about my love for salmon recipes. I could happily eat it for breakfast, lunch, and supper multiple times a week without complaint. It doesn't hurt that I can always depend on my whole family enjoying it as much as I do.
This oven baked salmon with Parmesan herb crust is definitely one of our favorites. Let me just say, it rivals any salmon I've ever eaten at a restaurant. And believe me, I've ordered more than my fair share!
It is so quick and easy to prepare, too!
While my oven preheats, I line my rimmed baking sheet with parchment paper and then place my salmon on the sheet pan. I cover the salmon with another piece of parchment paper and then bake it in the oven for about 10 minutes. While it bakes, I mince my garlic and chop the parsley and Parmesan cheese and mix it all together. Next, I remove the salmon from the oven and top it with the mixture of the Parmesan, garlic, and parsley, pop it back into the oven uncovered and bake until the Parmesan melts and is lightly browned.
The salmon should register 135º F on an internal temperature probe. Then, I remove it from the oven and allow it to rest for about 5 minutes.
There's nothing like a quick and easy recipe to get you through those busy weeknights, but I especially love this salmon recipe when we have guests. Everyone loves it!
Here's my Baked Salmon with Parmesan Herb Crust recipe. I think you are going to absolutely love it!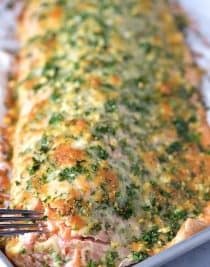 Baked Salmon with Parmesan Herb Crust Recipe
Total Time 17 minutes
Prep Time 2 minutes
Cook Time 15 minutes
Baked salmon makes a weeknight meal that is easy enough for the busiest of nights while being elegant enough for entertaining. This oven baked salmon with a Parmesan herb crust is out of this world delicious!
Ingredients
1 salmon filet about 2 pounds, left whole
Parmesan Herb Crust:
3 cloves garlic finely minced
1/4 cup chopped parsley
1/2 cup chopped Parmesan cheese
Directions
Preheat oven to 425º F. Line rimmed baking sheet with parchment paper or aluminum foil for easiest cleanup.

Place salmon, skin side down, onto lined baking sheet. Cover salmon with another piece of parchment paper. Bake salmon for 10 minutes. Remove from oven and remove top piece of parchment paper. Top with garlic, Parmesan and parsley mixture. Return to oven uncovered and allow to bake until registers 135º F when checked with an internal thermometer probe. The Parmesan cheese should have melted and lightly browned..

Allow to rest about 5 minutes and serve.
All images and text © Robyn Stone for Add a Pinch
Enjoy!
Robyn xo