This Best Chocolate Cupcakes recipe makes decadent, moist, rich and delicious cupcakes! These chocolate cupcakes, from my Best Chocolate Cake Ever, are so quick and easy to make and always favorites!

Chocolate cupcakes. Not just any cupcakes…but the best chocolate cupcakes. Like my chocolate cake, they are the most moist, rich, and delicious chocolate cupcakes I've ever tasted. They practically melt in your mouth. They are the perfect chocolate lover's cupcake!
The Best Chocolate Cupcakes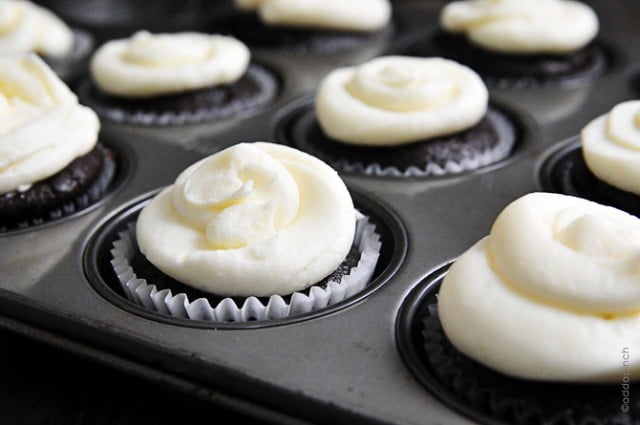 How to Make the Best Chocolate Cupcakes
Not only does this recipe make the best chocolate cupcakes in my book, they are also so quick and easy.
Ingredients for Moist Chocolate Cupcakes
all-purpose flour
sugar
unsweetened cocoa powder
baking powder
baking soda
salt
espresso powder – Optional, but I highly recommend adding espresso powder to your chocolate recipes.
milk – you can also use buttermilk, almond milk, oat milk, or coconut milk
oil – you can use vegetable, canola or melted coconut oil
eggs – when baking, I like to use room temperature eggs
vanilla extract
boiling water
There are a couple of ingredients that make my cake – and these cupcakes – different and the best I've ever had. One of these is the boiling water. It's so important to my recipe, so please don't skip it even though you may think it sounds strange. It will make the cake batter thinner compared to most other batters, but it results in a very tender and moist cupcake.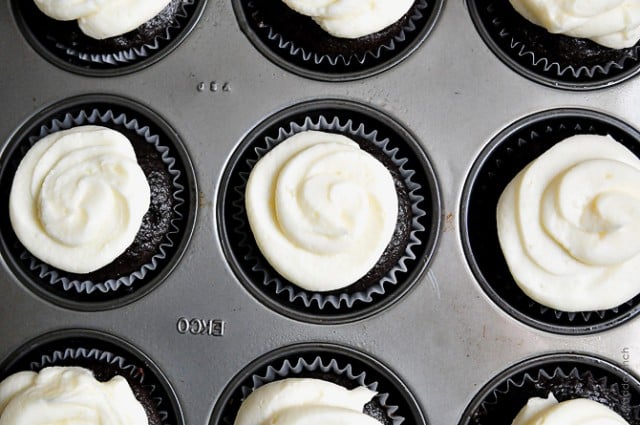 This cupcake recipe is so simple. The batter can easily be mixed in a single bowl without using a mixer.
How Many Cupcakes Does this Recipe Make?
This recipe is sized to make exactly a dozen cupcakes. You can easily multiply the recipe to increase it when you are baking for a party or a larger crowd.
Chocolate Cupcake Modifications
Gluten-Free Chocolate Cupcakes:
Substitute with your favorite gluten-free flour that you use for baking.
Dairy-Free Chocolate Cupcakes:
Substitute with your favorite dairy-free milk such as almond, coconut, rice, oat, or soy milk.
Egg-Free Chocolate Cupcakes:
To make the cake an egg-free chocolate cake recipe, use ⅓ cup of unsweetened applesauce in place of the large egg in the recipe. You will note that you may have to bake the cake just a few minutes more. Be sure to check with the skewer for doneness.
I've also used Bob's Red Mill Egg Replacer as well as a flax egg with great success.
To Use Butter and Other Oils:
I have tested the chocolate cake and cupcakes recipes with additional oils, as well as butter. I've tested using an equal amount of melted coconut oil to the vegetable oil called for in the recipe. I've also tested using the same volume of melted butter in place of the oils in the chocolate cake. While it does make the texture slightly different, it is still delicious and worth trying if you'd prefer to use butter in place of oils in your chocolate cake.
Vegan Chocolate Cupcakes
Use the dairy-free and egg-free recommendations above.
Chocolate Cupcake Frosting
You have several delicious options when it comes to frosting for these cupcakes. You'll notice that I've photographed them with my Vanilla Buttercream Frosting. The combination of the rich chocolate with the creamy vanilla is absolutely amazing.
But you know, it is also incredible with the frosting options as well.
Chocolate Buttercream Frosting
For each of these frosting options, you'll need ½ of the full recipe for a dozen cupcakes.
To decorate the cupcakes, you have a few options as well. You can swirl the frosting on top of the cupcake with a spoon or spatula, place the frosting into a zip top bag and snip the corner to use as a quick frosting bag, or use a frosting bag fitted with a 1M tip (or open star).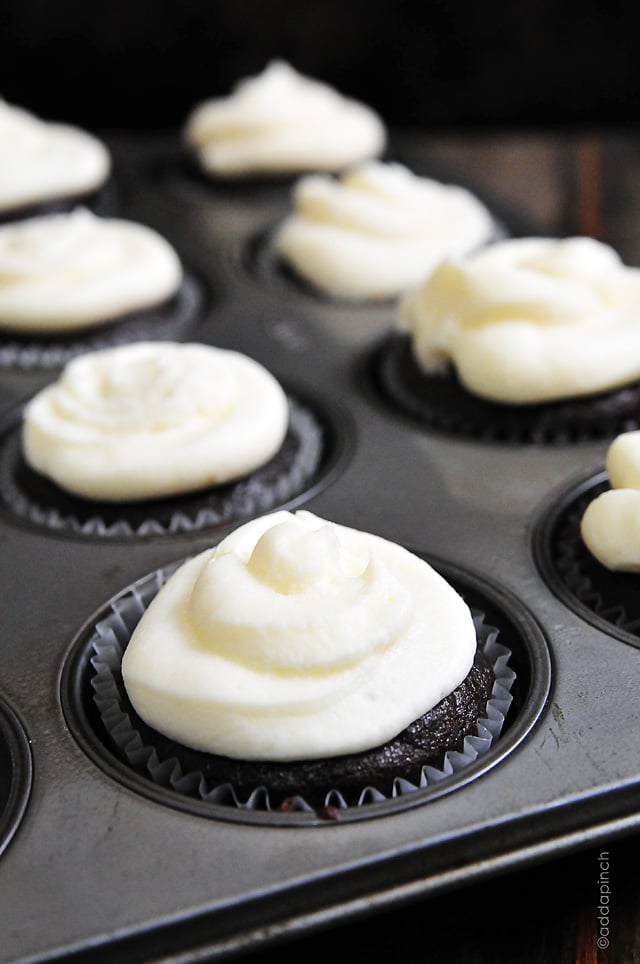 How to Make Ahead and Store the Homemade Cupcakes:
Both the cupcakes and the frostings can be made ahead. Allow the cupcakes to cool completely, place them into an appropriate sized freezer-safe, airtight container. Freeze the cake layers for up to one month.
To frost the cupcakes, simply remove from the freezer and allow to thaw in the refrigerator. Then, frost once they have completely thawed.
Store the cake at room temperature on the counter. I like to store under a cake dome or in a cupcake carrier to keep fresh. I do not recommend storing in the refrigerator unless you use a frosting that requires refrigeration, such as the cream cheese frosting.
Here's my best chocolate cupcakes recipe with vanilla buttercream frosting. I hope you love them as much as we do!
Chocolate Cupcakes with Vanilla Buttercream Frosting Recipe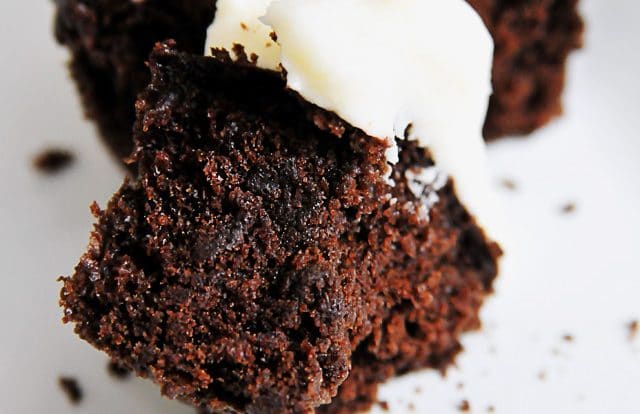 Get this easy recipe for Chocolate Cupcakes with Vanilla Buttercream Frosting.
Ingredients
1

cup

all-purpose flour

1

cup

sugar

1/2

cup

unsweetened cocoa powder

1

teaspoon

baking powder

1/2

teaspoon

baking soda

1/2

teaspoon

salt

1/2

teaspoon

espresso powder

homemade or store-bought

1/2

cup

milk

buttermilk, oat milk, or other favorite plant-based milk

1/4

cup

vegetable oil

canola oil or melted coconut oil

1

large

egg

1/2

teaspoon

vanilla extract

1/2

cup

boiling water

Vanilla Buttercream Frosting

half of full recipe
Instructions
Prep. Preheat oven to 325º F. Place cupcake liners in muffin pan. Spray lightly with cooking spray.

Whisk dry ingredients. Add flour, sugar, cocoa, baking powder, baking soda, salt and espresso powder to a large bowl. Whisk to combine.

Add wet ingredients. Add milk, vegetable oil, egg, and vanilla extract to the flour mixture and mix until well combined. Carefully add boiling water to the cupcake batter. Mix until well combined and the batter smooth. Note that the batter will be very thin.

Bake. Evenly distribute the cupcake batter. Each cupcake liner should be about ½ full. Place in the oven and bake until a toothpick inserted in the center comes out clean, about 20 minutes. You can follow my tips for how to tell when your cake is done. Remove from the oven and allow the cupcakes to cool completely.

Frost and serve. While the cupcakes are cooling, prepare the frosting according the recipe instructions. Note that you'll need ½ of the frosting recipe for a dozen cupcakes. Frost the cupcakes and serve.
Notes
The nutritional values are for one cupcake without frosting.
Nutritional Information
Serving:
1
cupcake
|
Calories:
162
kcal
|
Carbohydrates:
27
g
|
Protein:
3
g
|
Fat:
6
g
|
Saturated Fat:
4
g
|
Cholesterol:
15
mg
|
Sodium:
154
mg
|
Potassium:
118
mg
|
Fiber:
1
g
|
Sugar:
17
g
|
Vitamin A:
36
IU
|
Calcium:
34
mg
|
Iron:
1
mg
Enjoy!
Robyn xoxo