This Best Chocolate Cupcakes recipe makes decadent, moist, rich and delicious cupcakes! These chocolate cupcakes, from my Best Chocolate Cake Ever, are so quick and easy to make and always favorites!

Chocolate cupcakes. Not just any cupcakes…but the best chocolate cupcakes.
But I guess it just makes sense that I would share my recipe for the Best Chocolate Cupcakes. Especially since I'd been talking about my chocolate cake, the best chocolate cake ever , so much before sharing this cupcake recipe. So many of you had told me how much you loved the cake too, but you have Claire to thank for these cupcakes.
Best Chocolate Cupcakes
A while back, Claire emailed me and said she needed some help. She wanted to make a special treat for her fiance and wanted to make a dozen cupcakes like the cake.
When someone sends me an email asking for my help, I try to do everything I can to help them. And, sometimes that results in my family eating more chocolate. They really love that.
Since I'd only doubled the recipe to make chocolate cupcakes for a crowd, I wasn't entirely sure I could tell her without a shadow of a doubt that she could only make 12 from the recipe. So I went to work.
As a side note, whenever you can say that testing for the best chocolate cupcakes is work, you know you are pretty lucky.
Anyway, I also wanted to be sure to size a frosting recipe to work perfectly with the amount of chocolate cupcakes. Even though having extra buttercream frosting doesn't seem like a bad idea, I always try to keep the recipes even when I share them.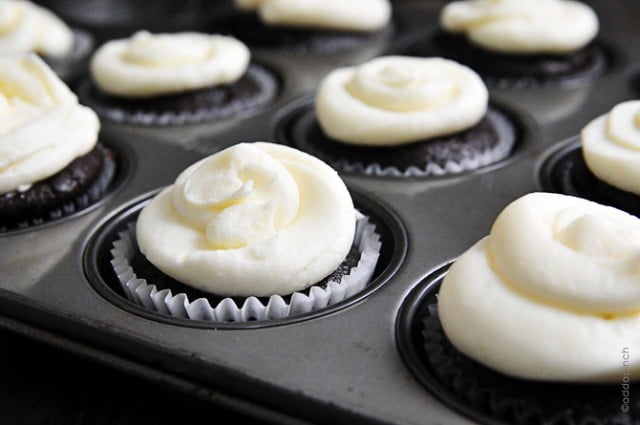 Making the Cupcakes
These are not only the best chocolate cupcakes in my book, but also about the easiest ones I've ever made. Since I used my amazing chocolate cake to create this recipe, I knew these were going to be the most moist, rich and delicious chocolate cupcakes.
There are a couple of ingredients that make my cake – and these cupcakes – different and the best I've ever had. One of these is the boiling water. It's so important to my recipe, so please don't skip it even though you may think it sounds strange. It will make the cake batter thinner compared to most other batters, but it results in a very tender and moist cupcake.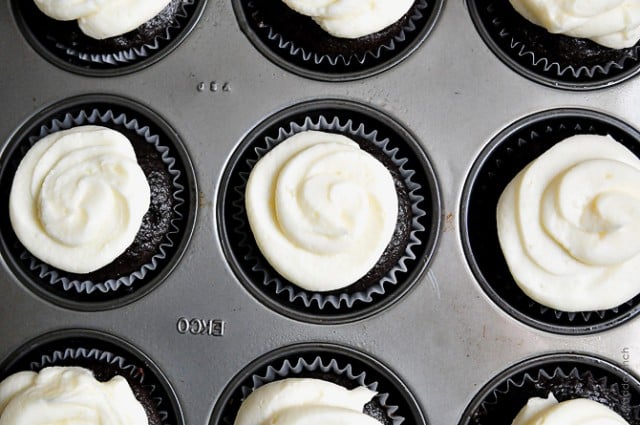 Like I said, this recipe is so simple. The batter can easily be mixed in a bowl without using heavy duty stand mixers. This makes it great to throw together after your family has gone to bed or bright and early in the mornings. Can you tell I've done that a time or two?
Frosting the Cupcakes
I kept it simple, yet scrumptious when frosting these cupcakes. They are topped with my delicious Vanilla Buttercream Frosting. The taste combination of the rich chocolate and creamy vanilla is amazing!
You can also use my Chocolate Buttercream Frosting, or Cream Cheese Frosting, or even my delicious Peanut Butter Frosting. They are all great on these cupcakes.
I just put all of my buttercream frosting into a zip top bag, snipped off the corner and went around on top for a generous bit of frosting. Of course, you can get fancy with them if you like, but I know that my family just likes things good and simple.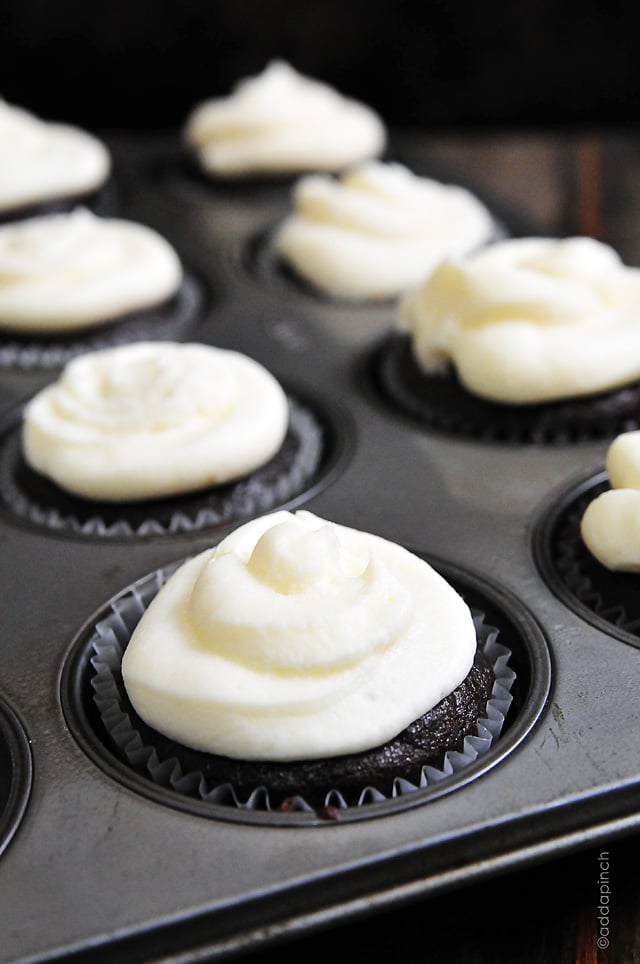 So, if you love chocolate and are looking for what my family calls the best chocolate cupcakes, this is your recipe. It's also perfect if you enjoy my recipe for the best chocolate cake ever and just don't need a whole cake. And if you know someone who needs a little bit of cheer or has some celebrating to do, this is great. Let's just declare it chocolate cupcake day and go make them!
Here's my best chocolate cupcakes recipe with vanilla buttercream frosting. This recipe yields 12 cupcakes and can easily be doubled.
Chocolate Cupcakes with Vanilla Buttercream Frosting Recipe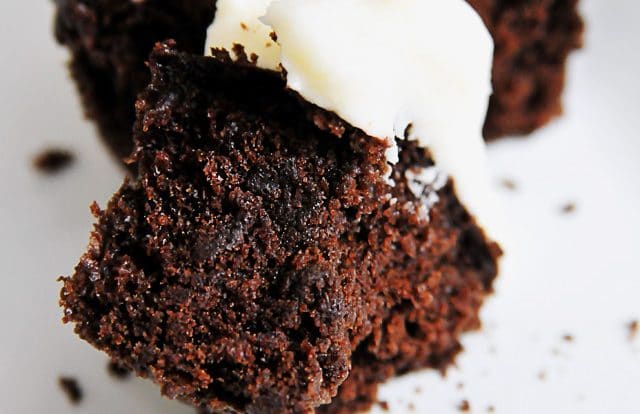 Get this easy recipe for Chocolate Cupcakes with Vanilla Buttercream Frosting.
Ingredients
1

cup

all-purpose flour

1

cup

granulated sugar

1/2

cup

cocoa

1

teaspoon

baking powder

1/2

teaspoon

baking soda

1/2

teaspoon

salt

1/2

teaspoon

espresso powder

1/2

cup

milk

1/4

cup

vegetable oil

1

large egg

1/2

teaspoon

vanilla

1/2

cup

boiling water

Vanilla Buttercream Frosting

half of full recipe
Instructions
Preheat oven to 325º F.

Place cupcake liners in muffin tin. Spray lightly with cooking spray.

Add flour, sugar, cocoa, baking powder, baking soda, salt and espresso powder to a large bowl or the bowl of a stand mixer. Whisk through to combine or, using your paddle attachment, stir through flour mixture until combined well.

Add milk, vegetable oil, egg, and vanilla to flour mixture and mix together on medium speed until well combined. Reduce speed and carefully add boiling water to the cake batter. Beat on high speed for about 1 minute to add air to the batter.

Evenly distribute cake batter. Each cupcake liner should be about ½ full.

Place in the oven and bake until a toothpick inserted in the center comes out clean, about 20 minutes

Remove from the oven and allow the cupcakes to cool completely.
Notes
The nutritional values are for one cupcake without frosting.
Nutritional Information
Serving:
1
cupcake
|
Calories:
162
kcal
|
Carbohydrates:
27
g
|
Protein:
3
g
|
Fat:
6
g
|
Saturated Fat:
4
g
|
Cholesterol:
15
mg
|
Sodium:
154
mg
|
Potassium:
118
mg
|
Fiber:
1
g
|
Sugar:
17
g
|
Vitamin A:
36
IU
|
Calcium:
34
mg
|
Iron:
1
mg
I hope you enjoy these as much as we do!
Enjoy!
Robyn xoxo