Chocolate Zucchini Bread Recipe
Chocolate Zucchini Bread makes a moist, delicious recipe perfect for serving for breakfast, brunch, a snack or even dessert!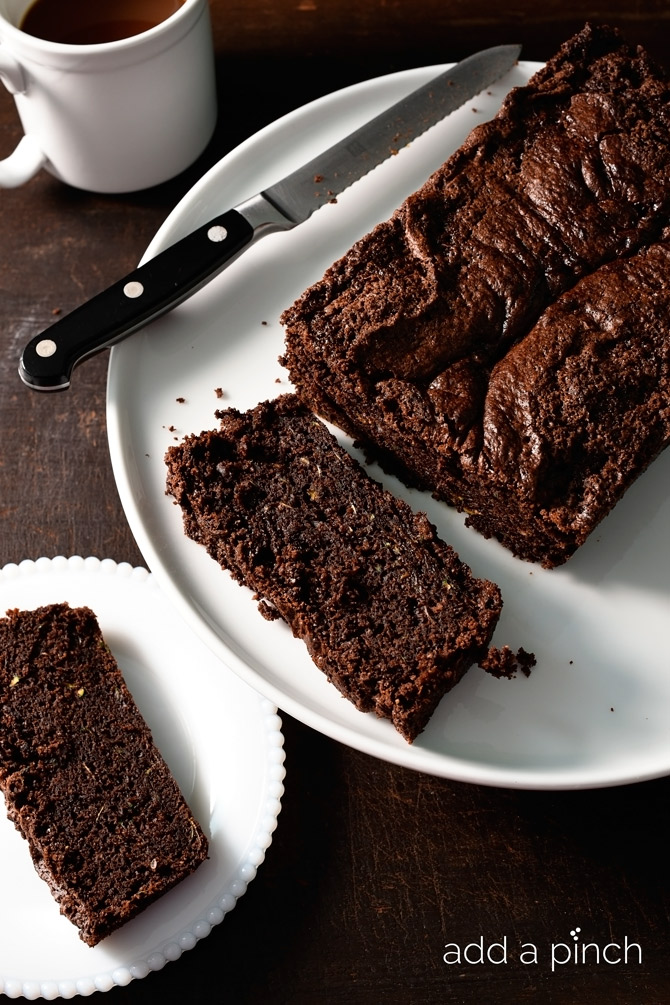 One of my favorite ways to incorporate a little bit of green into our baked goods is with zucchini. I remember growing up, Mama would make her zucchini bread throughout the summer and I always thought it was absolutely delicious and never questioned why in the world she included zucchini into it! It was too good to worry about those little details.
Chocolate Zucchini Bread Recipe
Now that I'm a good bit older, I still don't question the logic. I just know that it makes for an ultra-moist bread recipe that can easily pass for cake and makes a great way to get more vegetables into my teenage son while using that most prolific green vegetable!
This chocolate zucchini bread definitely is moist and tender and depending on how finely you grate your zucchini, you could sneak it right past the most finicky of eaters – if you are into that sort of thing. Maybe you could wait until the second bite for the full disclosure. Ha!
My chocolate zucchini bread also uses melted coconut oil which does leave a slight coconut scent and flavor to the bread. You can substitute softened butter and cream it with the sugar if you prefer or could even use a lighter flavor oil such as grapeseed instead.
Here's my chocolate zucchini bread recipe. I think your whole family will go nuts over it!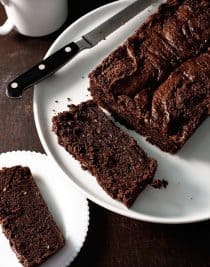 Chocolate Zucchini Bread Recipe
Total Time 1 hour 10 minutes
Prep Time 10 minutes
Cook Time 1 hour
Chocolate Zucchini Bread makes a moist, delicious recipe perfect for serving for breakfast, brunch, a snack or even dessert!
Ingredients
2 eggs
1/2 cup coconut oil melted
1/2 cup granulated sugar
1/2 cup brown sugar
1 cup all-purpose flour
1/2 cup cocoa powder
1/2 teaspoon salt
1/2 teaspoon baking soda
¼ teaspoon baking powder
1/4 teaspoon espresso powder
1 1/2 cups finely grated, unpeeled zucchini (about 2 medium zucchini)
1 teaspoon vanilla extract
½ cup chocolate chips optional
Directions
Preheat oven to 325º F. Prepare a loaf pan with butter or shortening and lightly flouring. Set aside. Cream together coconut oil and sugars until well combined. Add eggs one at a time, making sure well combined before adding the next. Add flour, cocoa powder, salt, baking soda, baking powder, and espresso powder and slowly combine with egg mixture. Stir in grated zucchini, vanilla and chocolate chips, if using.

Pour batter into prepared loaf pan and bake until a toothpick comes out clean when inserted in the center, about 1 hour. Allow bread to cool in the pan for about five minutes before turning out onto a serving tray.

Store under a cake dome or in an airtight container. Freezes well.
Nutrition Facts
Chocolate Zucchini Bread Recipe
Amount Per Serving (1 slice)
Calories 243 Calories from Fat 108
% Daily Value*
Total Fat 12g 18%
Saturated Fat 9g 45%
Cholesterol 28mg 9%
Sodium 162mg 7%
Potassium 136mg 4%
Total Carbohydrates 33g 11%
Dietary Fiber 1g 4%
Sugars 22g
Protein 3g 6%
Vitamin A 1.7%
Vitamin C 3.4%
Calcium 3.3%
Iron 7.3%
* Percent Daily Values are based on a 2000 calorie diet.
All images and text © Robyn Stone for Add a Pinch
Enjoy!
Robyn xo