Greek Chicken Pasta Salad Recipe
Greek Chicken Pasta Salad Recipe – This easy pasta salad recipe is so easy and delicious! Made with grilled chicken, pasta, an assortment of vegetables and topped with feta cheese and a delicious Greek dressing!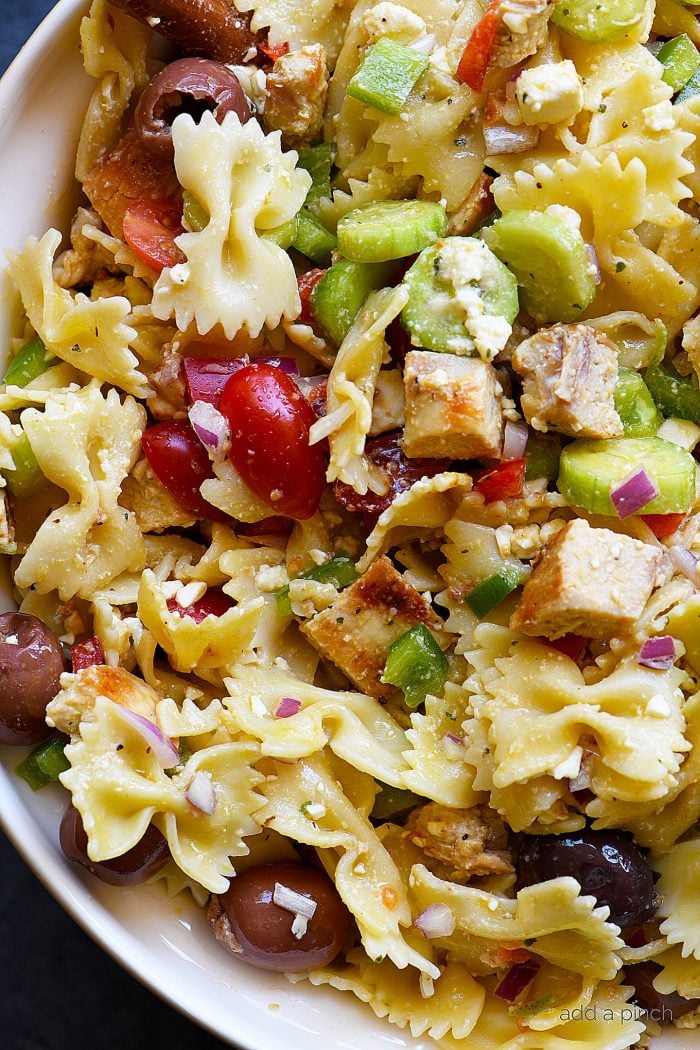 Oh my stars! Do I have a super easy, scrumptious pasta salad to share with you all today! It is this Greek Chicken Pasta Salad that has been on repeat around here lately and is sure to be the pasta salad dish that I make for everything all summer long! 🙂
Not only is it flavorful with all of the delicious vegetables, olives, and feta added to it, but the dressing brings it all together for a dish that everyone raves over!
Greek Chicken Pasta Salad Recipe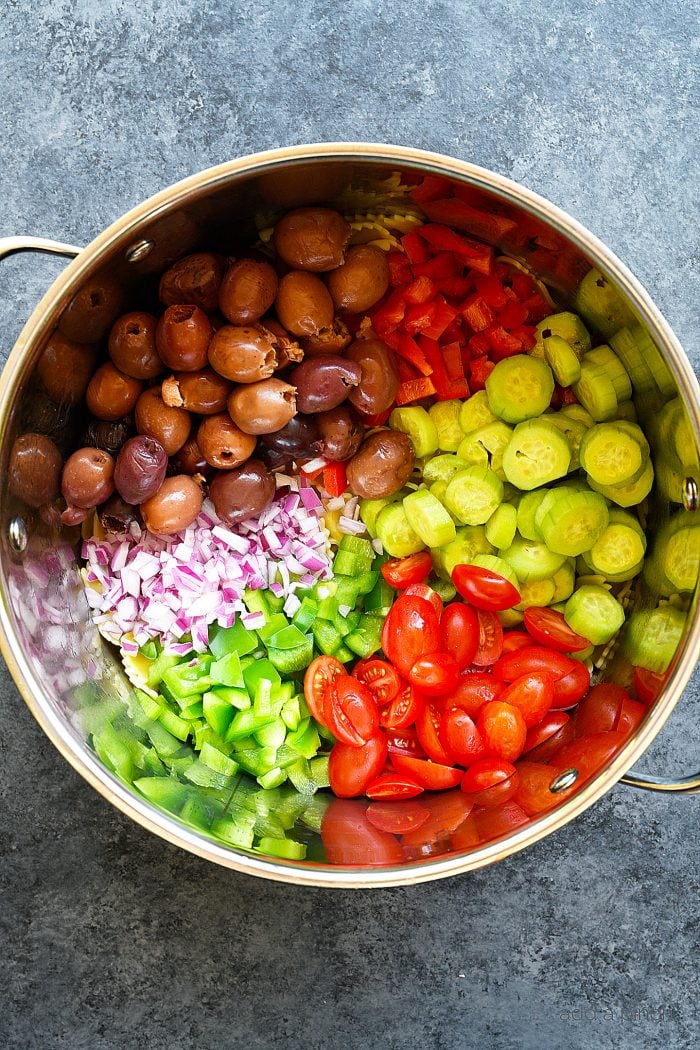 How to Make Greek Chicken Pasta Salad
Hidden underneath all of these delicious add-ins is my cooked pasta. For this pasta salad, I love to use farfalle pasta. It is shaped like a bowtie or little butterfly wings. It's crinkles and crevices are just perfect for holding onto the dressing and bits of feta in the pasta salad.
Once I've cooked and drained my pasta, I like to let it cool a bit before I add in my vegetables and olives.
For the vegetables, I like to use a mixture of diced red and green peppers (crunch, color, and flavor), sliced cucumber, halved grape tomatoes, and diced red onion. Then, I add in my Greek black olives.
Lately for my olives, I've been buying my olives with the pits still in them. Call me crazy (ok, please don't!), but I think they have more flavor than already pitted olives. I just use my trusty cherry pitter and pit my olives before adding to the salad.
Now, if you don't notice that big of a difference in the flavor or don't want to deal with pitting olives (even though it is easy as can be!), by all means, use a jar of olives where they've already handled that for you!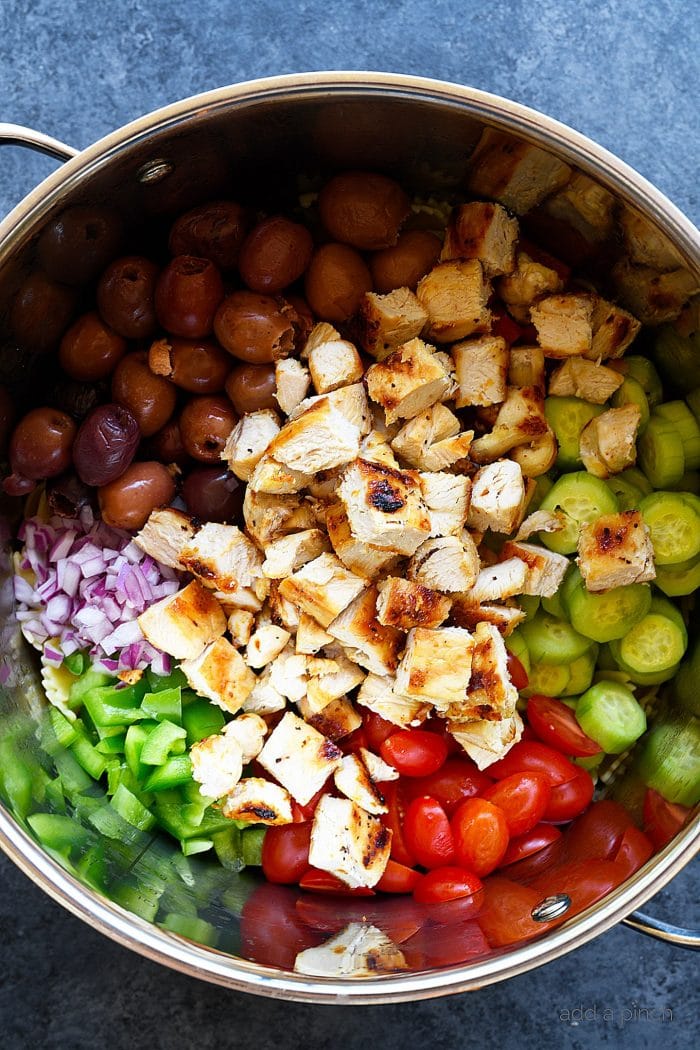 I love to served this pasta salad as a meal during lunch or even as supper throughout the warmer months and while it is perfectly delicious without, I definitely love it with grilled chicken added to the mix.
It reminds me of a salad that was served at a bridal luncheon before Bart and I were married.
Can you believe that I still remember the salad that Mrs. Judy Smith made and served at my bridal luncheon more than 23 years ago! Don't ask me what I had for lunch yesterday, but I can definitely remember that! 🙂
And friends, this is as close as I've gotten to her recipe in all these years!
And let me tell you, I've made plenty of them in all these years including my mother-in-law's pasta salad, my tortellini pasta salad, pesto pasta salad and my chicken caprese pasta salad. They are ALL fabulous!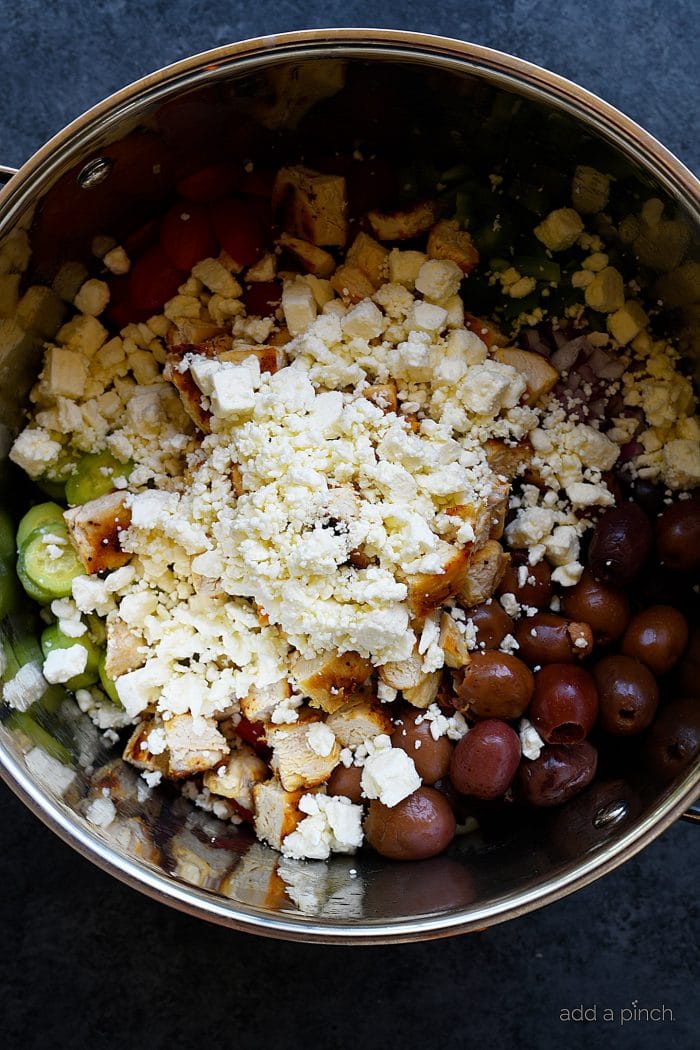 I also just love the flavor that feta cheese adds to this dish.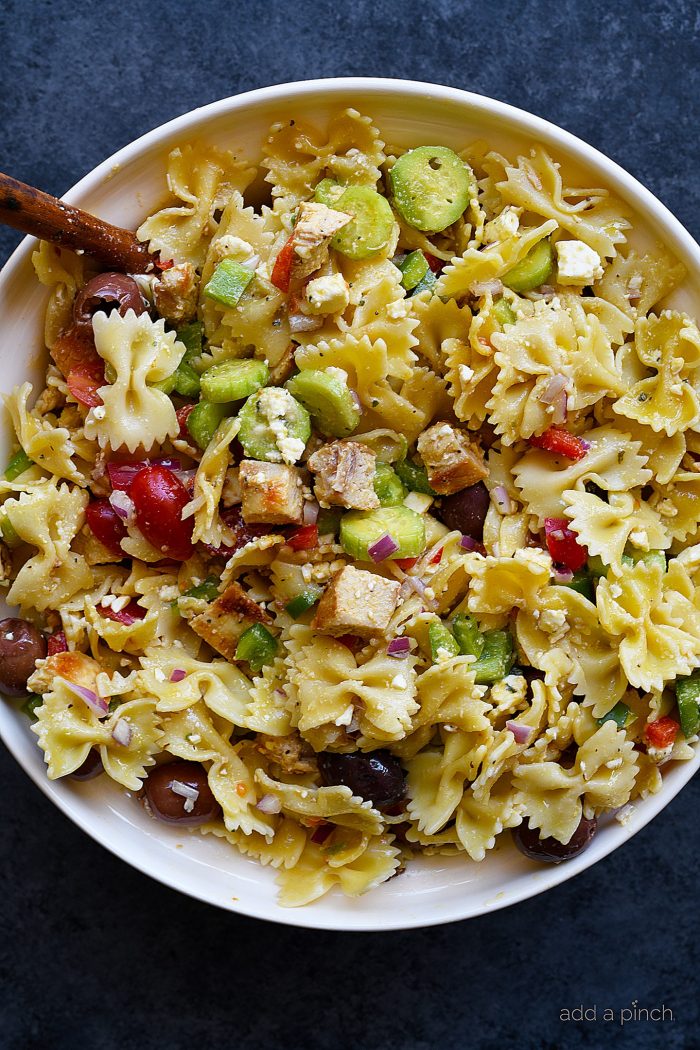 This recipe makes a generous portion (it serves 12 large portions) perfect for serving large groups when entertaining or taking as part of a pot luck, reunions, tailgating, or for summer picnics. You can easily scale this recipe to suit your needs for smaller or even larger groups.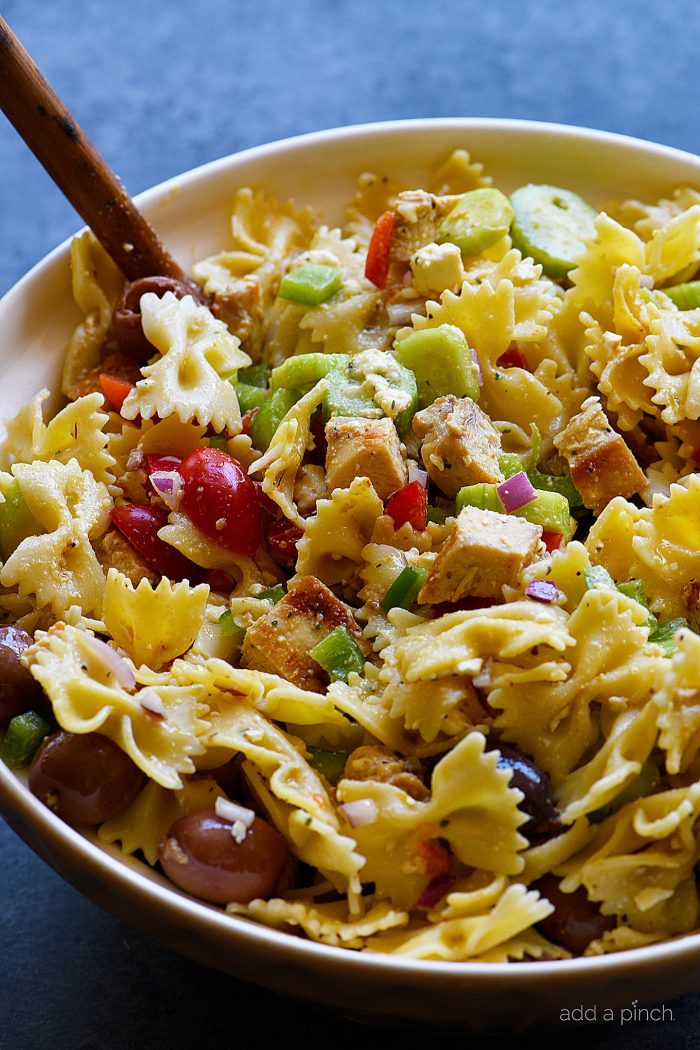 And I love how well it keeps in the refrigerator making it a great make ahead meal!
Served cold, it is perfect for the hottest of summer days! And since we went from highs in the 60's one week to nearly 90's the next, it couldn't be more perfect!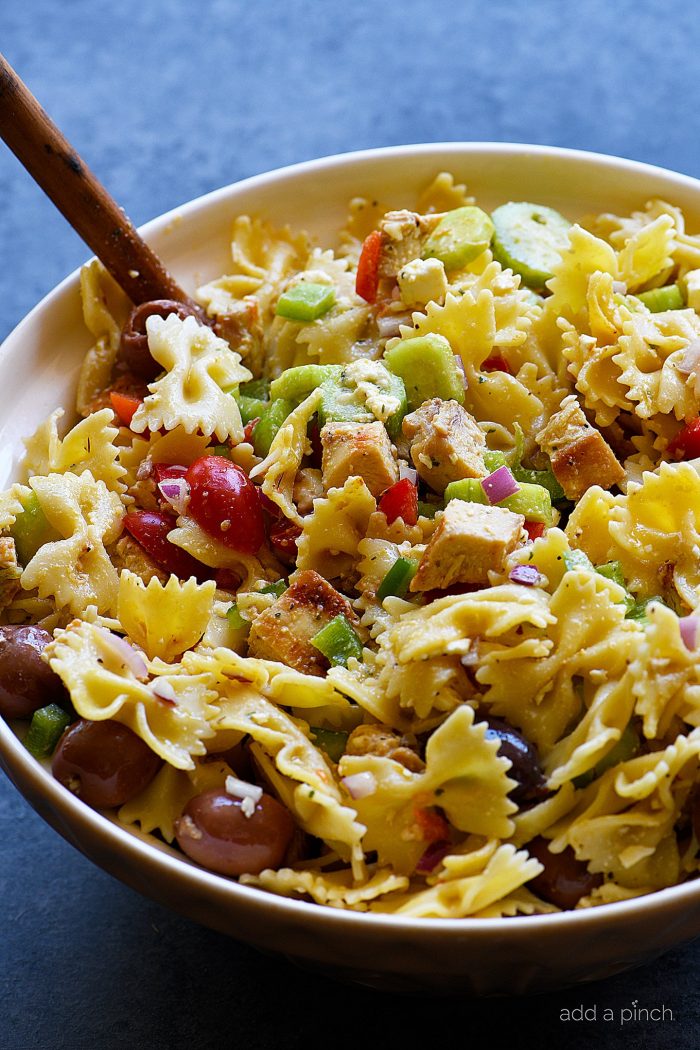 Here's my Greek Chicken Pasta Salad Recipe. I hope you love it as much as we do!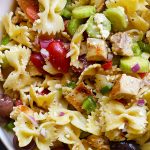 Print Recipe
Greek Chicken Pasta Salad Recipe
Greek Chicken Pasta Salad Recipe - This easy pasta salad recipe is so easy and delicious! Made with grilled chicken, pasta, an assortment of vegetables and topped with feta cheese and a delicious Greek dressing!

Prep Time10 mins
Cook Time10 mins
Total Time20 mins
Servings: 12 servings
Calories: 192kcal
Ingredients
1 (16-ounce) package farfalle pasta
2 medium chicken breasts boneless and skinless
1 teaspoon Stone House Seasoning
1 pint grape tomatoes halved
1 large english cucumber peeled and sliced
1 small green bell pepper diced
1 small red bell pepper diced
1/2 small red onion diced
1 (8-ounce) jar Greek black olives drained and pitted
1 (6-ounce) package feta cheese crumbles
For the Greek Pasta Salad Dressing:
1/4 cup olive oil
1/4 cup red wine vinegar
1/2 teaspoon Stone House Seasoning
1/2 teaspoon dried oregano
1/2 teaspoon dried basil
1 teaspoon Dijon mustard
Instructions
Cook the pasta according to package instructions, drain and allow to cool.

Meanwhile, spray a grill pan with olive oil and set over medium heat. Cut chicken breasts in half lengthwise and arrange the four pieces on the grill pan. Sprinkle with Stone House Seasoning and cook on one side for 4 minutes. Turn over and cook on the other side until the chicken is cooked throughout and registers 165º F when checked with an internal thermometer, about 4 more minutes. Remove the chicken from the grill pan and cut into 1/2-inch pieces.

Add the halved grape tomatoes, cucumber slices, diced peppers and onions, pitted olives, diced chicken and the feta cheese to the pasta.
For the Greek Pasta Salad Dressing:
Whisk together the olive oil, vinegar, Stone House Seasoning, oregano, basil, and Dijon mustard until well combined.

Pour the Greek Pasta Salad Dressing over the pasta salad and toss to combine.
Notes
Make-Ahead:
Prepare the Greek Chicken Pasta Salad recipe as instructed. Store in an airtight container in the refrigerator for up to 3 days. 
Nutrition
Calories: 192kcal | Carbohydrates: 30g | Protein: 5g | Fat: 5g | Sodium: 12mg | Potassium: 201mg | Fiber: 1g | Sugar: 2g | Vitamin A: 545IU | Vitamin C: 18.2mg | Calcium: 13mg | Iron: 0.7mg
Enjoy!
Robyn xo