Parmesan Black Pepper Zucchini Chips Recipe
Zucchini chips make an easy, delicious snack, side or appetizer! These Parmesan Black Pepper Zucchini Chips are full of flavor and so light and crispy!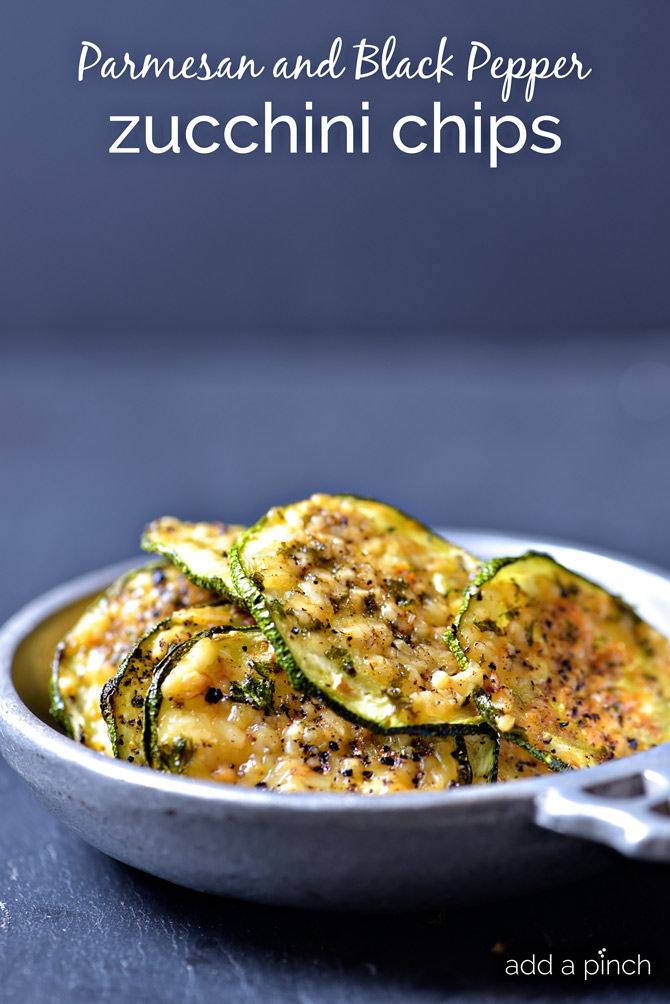 A while back, we were at a restaurant that served oil and vinegar zucchini chips as a side dish with their sandwiches. They were out of this world delicious and I knew right then and there that they were something I wanted to make for my family at home.
Let me just say now – we are addicted to these things! 
While their zucchini chips were definitely deep fried, I knew that when I made them at home, I wanted to bake them instead. I used a spritz of cooking spray to help all of the toppings adhere and to help the zucchini chips to crisp and brown even more. If you prefer though, you can simply brush them with olive oil or your favorite cooking oil.
The key to making these zucchini chips is the thin slice. I recommend using a mandoline or a food processor to make sure you get even, thin slices every single time.
The black pepper adds a little kick to the flavor of my zucchini chips, but it is absolutely perfect with the zucchini and the Parmesan. It just makes the flavors stand out! Of course, you can take a lighter hand than I do when you add your black pepper to your zucchini. I definitely recommend that you adjust the amount to your personal preferences on this one!
If you have anyone in your family or company coming that are trying to watch their carbs, they will absolutely adore you for making these little nibbles for them. Promise.
So, be sure to save this recipe for this summer when you have all that glorious zucchini practically coming out your ears.
Wait, is that just me?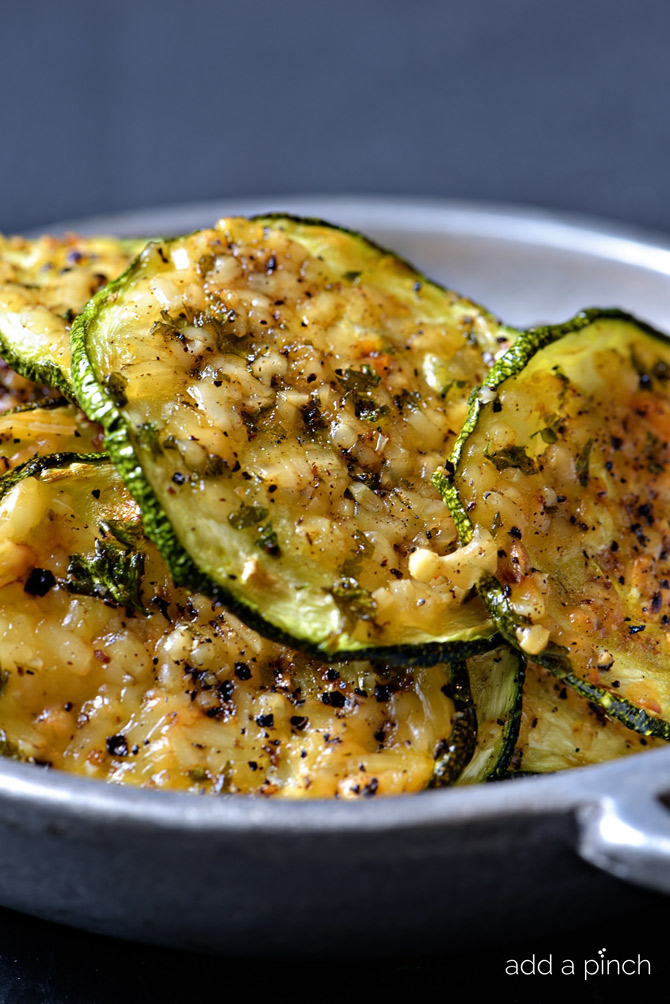 Here's my Parmesan Black Pepper Zucchini Chips. Make 'em soon!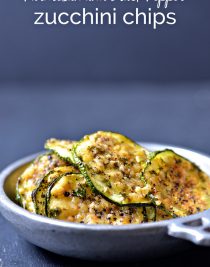 Parmesan Zucchini Chips Recipe
Total Time 35 minutes
Prep Time 5 minutes
Cook Time 30 minutes
Ingredients
3 medium fresh zucchini sliced into 1/4-inch rounds
cooking spray
3 tablespoons grated Parmesan cheese
1 tablespoon chopped fresh parsley
freshly cracked black pepper to taste
pinch of Kosher salt
Directions
Preheat oven to 425º F and line a rimmed baking sheet with parchment paper. Arrange zucchini slices on the parchment paper and spray lightly with cooking spray. Mix together Parmesan, parsley, black pepper, and salt. Sprinkle with Parmesan mixture. Bake for until cheese has melted and zucchini slices have become crisp, but not burned, about 30 minutes.

Remove from oven and serve.
All images and text © Robyn Stone for Add a Pinch
Enjoy!
Robyn xo