Peach Tart Recipe – an easy tart recipe made and on the table in less than 30 minutes! Always a favorite!
One of my favorite things about summertime is the bounty of fruits and vegetables. The other day when I walked into the grocery store, the front section had display after display of gorgeous fruit. All that beautiful color was a feast for my eyes.
I was immediately drawn to the peaches. They were just sitting there front and center ready for me to bag up and bring home.
Oh the possibilities!
Peaches with yogurt for breakfast. Smoothies. Peach Crumble. Grilled Peaches. Peach Cobbler. Peach Salsa. Even just plain would be delicious. It brought back memories of warm, sticky juice running down my chin as a little girl when I'd bite into a fresh peach at my Grandmother's house. She always had them during the summer. Sitting right in the bowl on her kitchen table ready for a dessert to be created or for a quick snack. Her kitchen would smell of the heady peach scent all summer long.
So I carefully bagged a few peaches and couldn't wait to get home to make something with them. I decided to make a Peach Tart to go with dinner for my family that same evening. No waiting around for me. My mouth had been watering all day thinking of them.
To make my Peach Tart, you'll need peaches, puff pastry, butter, sugar, apricot preserves, and cinnamon sugar spices. You'll want some very good vanilla ice cream to go along with it, too. Trust me, it's delicious.
Here's how I made it.
Line a kitchen pan with parchment paper cut to fit the pan. Brush the parchment paper with about 1 tablespoon melted butter. This makes the bottom of the pastry extra crunchy and delicious.
Unroll one piece of the puff pastry and place on the parchment paper. Brush the top of the pastry with melted butter.
Score the top couple of layers of the pastry about two inches all the way around the dough with a knife or pizza cutter. Place into a 350 degree oven until puffed and golden brown.
Begin slicing your peach. I had to pause just a minute here to take in the beauty of this little bit of goodness. Just look at that color!
Cut into the peach until you reach the peach pit. Then cut the rest of the way around the peach until you have two halves.
Slice the peach into consistently sized slices.
I left the skin on my peaches as I sliced them to add detail, texture, and fiber to the dessert. You can easily just peel the peaches if you'd prefer them not to be part of your dessert.
Remove the puff pastry from the oven. Yum, doesn't that look good? It smells pretty yummy, too.
Push down on the center of your pastry up to the edge where you scored it earlier with your knife or pizza cutter. This will create an edge for your pastry.
Arrange peach slices on your pastry.
For this size pastry and the way that I was arranging the slices, I had two rows of peaches. You can get fancy on your arrangement. I went for quick and simple.
Brush the tops of the peaches with apricot preserves.
I used about ¼ of a jar of Apricot Simply Fruit. Fill in the areas where there is not any fruit with more of the apricot. You'll want all of the center of the pastry filled.
Sprinkle the top of the pastry with cinnamon sugar spices, I used Chicago Spiced Sugar from The Spice House. This was given to me this past weekend at The Big Summer Potluck and I am now looking for things to make to include it in! It's THAT good.
Place back in the oven for about 5 minutes to heat the pastry through.
Serve warm with vanilla ice cream sprinkled with cinnamon sugar spices.
Peach Tart Recipe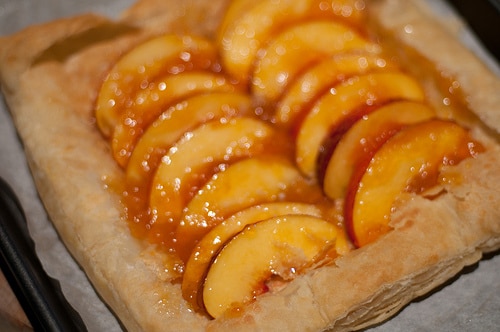 A simple recipe for peach tart ready in minutes.
Ingredients
1

puff pastry

1

peach

sliced

1/4

cup

apricot preserves

2

tablespoons

butter

melted

2

tablespoons

sugar

Cinnamon sugar spices

to taste
Instructions
Place puff pastry on kitchen pan lined with buttered parchment.

Brush top of pastry with butter and score pastry two inches from the edge.

Place pastry in oven and bake until puffed and golden brown, approximately 10 minutes. Remove from oven and press center of the pastry flat up to the point where scored in step 2. This creates an edge for the dessert.

Arrange sliced peaches in the center of the pastry.

Brush with butter and apricot preserves, adding more apricot preserves to fill in areas of the pastry.

Sprinkle with cinnamon sugar spices.

Warm in oven for five minutes.

Remove from oven and serve warm with vanilla ice cream sprinkled with additional cinnamon sugar spices.
Enjoy!