There just aren't very many days when I have quiet mornings. I'm sure most of you can relate to that statement, especially if your children are still living at home.
For the longest time, I have craved quiet mornings where I could spend time getting things accomplished, checking things off of my never-ending to do lists.
I've made a few attempts. Getting up earlier than everyone else in my house only to have the floor in the kitchen creak as I passed through to my office, waking my son immediately.
One morning in particular, I crept out of bed two hours earlier than the normal time for me. Everyone else sleeping peacefully. I soundlessly stirred my cream in my coffee and avoided the noisy floorboard in the kitchen, I knew this would be my morning. It would be my golden hour. All mine.
And then I heard quiet footsteps behind me. Rubbing his sleepy eyes, Little Buddy asked, "Mama, are you alright?"
With a kiss on top of his head, I pulled out the banana bread muffins I'd made the night before and whispered, "I'm perfect now."
We sat quietly enjoying our muffins and watching the sun paint it's warm light over the farm. Few words were spoken as we watched the turkeys begin their trot up the runway and birds getting their early morning drink and meal from our bird feeders and baths.
God was providing our entertainment this morning. The kind that no television show can ever truly capture.
My to do list continues to grow longer and my mornings are usually busy and rushed, but now my perspective of a perfect quiet morning for me has shifted from plowing through those to do lists to sitting quietly with my son and enjoying God's wonder over delicious Banana Bread Muffins.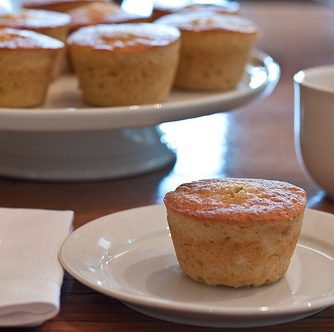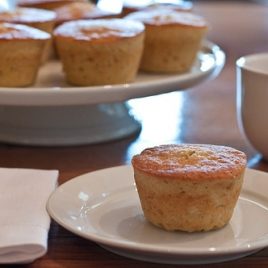 Southern Banana Bread Muffins
Banana bread muffins make a delicious breakfast or afternoon treat.
Ingredients
Glaze
1

cup

confectioner's sugar

2-3

tablespoons

orange juice
Instructions
Preheat oven to 350º F. Line muffin pans with paper liners and set aside. Prepare banana bread batter according to banana bread recipe. Pour into prepared muffin pans, filling 3/4 full, and bake until golden brown and the muffins spring back to the touch, about 25 minutes.

Top with a quick glaze.
For the Glaze:
Stir sugar and orange juice together and while muffins are still fresh and hot, pour the glaze over the top of the muffins.
Enjoy!
Robyn xo