Can you believe that Add a Pinch just turned three? Three! I simply can't believe all that has gone down during that time. Mercy, at all the sugar, butter, chicken, beef, cakes, pies, ice cream, and pork recipes we've shared during these three short years. Not to mention a few vegetables thrown in for good measure every once in a while to attempt to balance things out just a wee bit. Heh.
But in all seriousness, you guys are fabulous!
I can't wait to wake up every morning to see what all you have going on in your lives, to read emails about what recipe you've tried and how your family reacted to it, what fun twists or adaptations you've made to my recipes, and yes, even head to my kitchen to dream up something new to share with you all. I don't think I could ever possibly tell you how much you guys mean to me. I feel like each and every single one of you are friends that I just can't wait to share a new recipe with that I think you'll love, too.
Over the past three years, we've shared nearly 700 recipes, ranging from the recipes I make up in my kitchen to the heirloom recipes given to me by my Grandmothers. We've talked a whole lot about products that I don't think I could live without — for the moment — ranging from finger nail polish loves to hair product obsessions and everything in between. You've traveled along with my family virtually as we've loaded up the RV and hit the road on vacations and camping adventures. You've also gotten to peep inside our school room from time to time as Little Buddy okayed me talking about whatever we were up to in our homeschooling world. (He has the final say on that subject)
So, you may think after three years I'd start running out of things to share and say nearly every day. But, for me, it is just the opposite. You guys inspire me and make we want to do better and better and for that, I am ever so grateful.
To show you just how much you mean to me, I thought I'd share the one small appliance that stays on my counter day in and day out, 365 days a year.
Are you ready?
Here you go.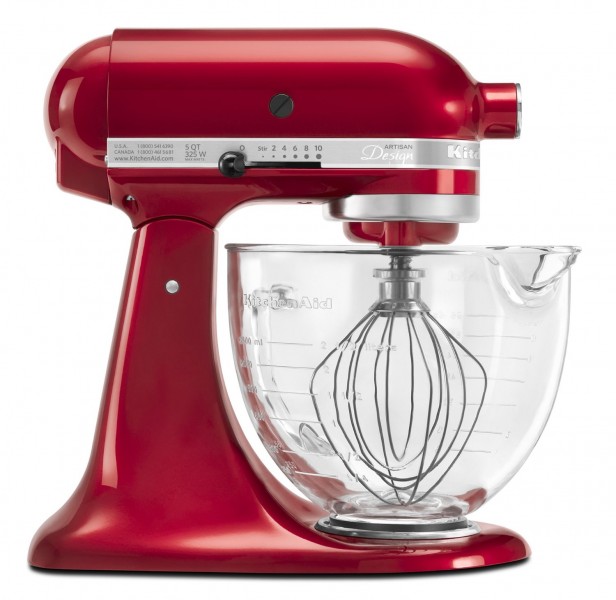 One lucky member of the Add a Pinch family will win this Kitchenaid Artisan Stand Mixer in Candy Apple Red. Oh la la!!! All you have to do is tell me what you enjoy most about Add a Pinch and what you look forward to for this next year. In other words, what do you love and want to see more of in the future?
For additional entries, here's a few things you can do, if ya wanna.
Then head back to this post and leave a comment for each of these that you did. Each comment counts as a separate entry.
Congratulations to Melanie J, comment #279!
This giveaway is open through Friday, October 11th at 11:59 PM EST and to US and Canadian residents. The winner will be selected at random and contacted directly using the email address provided as form of entry in the comment entry form and will have 48 hours to respond with appropriate information before another winner will be selected.
Love you guys to the moon and back!
Robyn xo
Disclosure: This giveaway is sponsored by Robyn Stone and Add a Pinch, LLC in appreciation to the Add a Pinch community for three wonderful years!