White Chicken Chili makes a delicious meal full of spicy chili flavor, white beans and chicken. You'll love this easy White Chicken Chili recipe.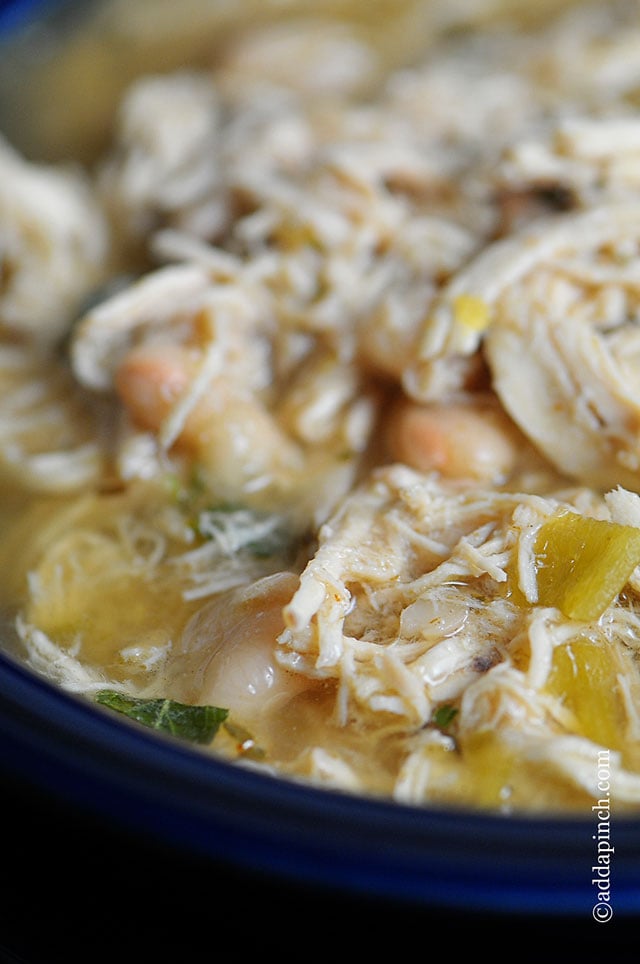 White Chicken Chili is one of those cool weather recipes that I can't get enough of it seems.
While Bart and I have always loved the flavors of White Chicken Chili, it wasn't always one that Sam enjoyed. So, I'd only make it when I had something else planned for him to eat or he was visiting friends or some other excuse. Finally, the other night, I had a serious hankering for a big, piping hot bowl of my white chicken chili that I just couldn't shake.
I could just taste the spicy flavors mingled with the delicious chicken and I knew I had all of the ingredients to make it in the house.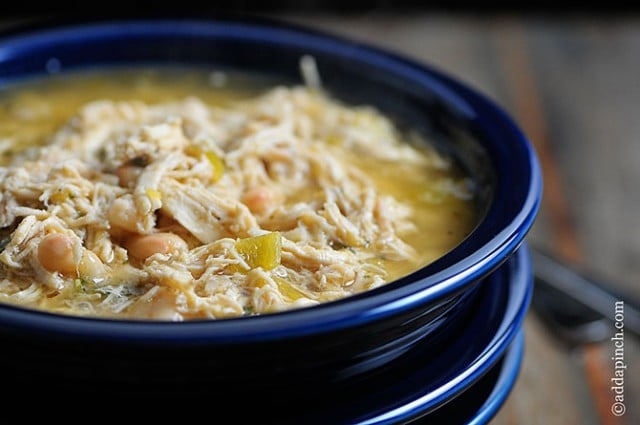 As I served big bowls of my white chicken chili for supper, Little Buddy wasn't too sure he wanted it as much as I did for supper. Finally, he took a bite and said, "Wow, this really is good."
That's when I want to run and shout from the rooftops, "He likes it! He really likes it!"
Remember that commercial?
I always say that I'm going to find it on YouTube so that my son can watch it. I know he'll completely identify with the poor boy who finally takes a taste of something that he just knows he'll hate only to find out he actually likes it.
That's the story of my life!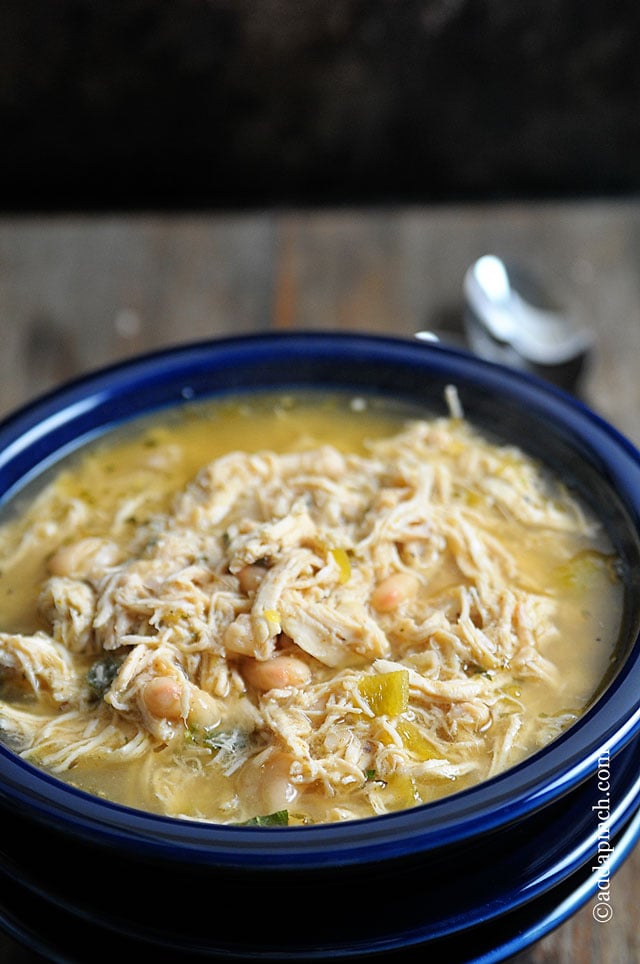 So, if Little Buddy likes it, you know it has got to be good.
Make it soon and fill your White Chicken Chili craving. You won't be sorry!
Here's my recipe. I think you'll love it!

White Chicken Chili Recipe
White Chicken Chili makes a delicious meal full of spicy chili flavor, white beans and chicken. You'll love this easy White Chicken Chili recipe.
Author:
Robyn Stone | Add a Pinch
Ingredients
4 skinless, boneless chicken breasts
4 cups chicken stock
1 clove garlic, minced
1 medium onion, diced
1 (15-ounce) can white beans, drained
1 (4-ounce) can diced green chilis, with liquids from chilis
1 teaspoon dried oregano
1 teaspoon ground cumin
½ teaspoon chili powder
1 teaspoon salt
1 teaspoon ground black pepper
1 teaspoon chopped fresh oregano
Instructions
Add chicken to a 4-quart, heavy bottomed Dutch oven or stockpot over medium heat. Add chicken stock and cook until tender, about 15 minutes. Shred chicken with two forks and then add back to the liquid.
Add garlic and onion to stockpot, white beans, green chilis, dried oregano, cumin, chili powder, salt, pepper, and chopped fresh oregano. Stir until well-combined. Taste for flavor and adjust to your preference.
Simmer over low heat for about 5 minutes. Remove from heat and serve.
Even though my White Chicken Chili is fairly quick and easy to make, even on the busiest of weeknights. I understand that many times we need to make a few dishes ahead of time for serving later. This recipe works beautifully for that!
Here's how:
Freezer Instructions:
Prepare recipe as instructed and then ladle it into an airtight container. I use deli containers or large Mason jars so that it doesn't take up as much room in my refrigerator or  freezer. Freeze.
Remove from freezer and place in the refrigerator to defrost the night before planning to serve. Then, either place in your slow cooker on low  to allow the chili to slowly warm throughout the day for serving for supper or pour into a large stockpot for reheating. Additionally, you can reheat in the microwave at 45 second intervals at about 80% power, stirring after each interval until heated throughout.
Enjoy!
Robyn xo