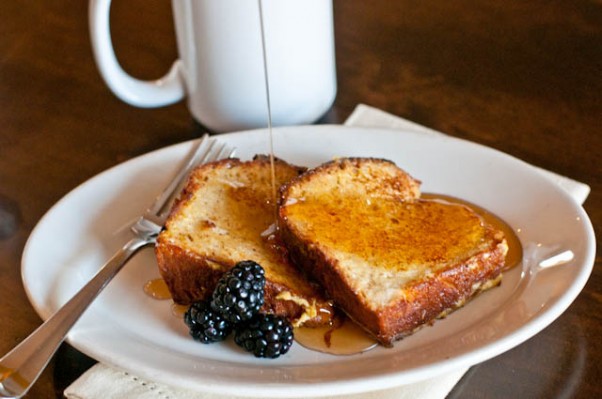 I have a confession to make. There is another reason why I love to bake Sally Lunn bread that I have to share with you. It makes the best French toast I have ever tasted. Decadent, rich, moist, melt-in-your-mouth deliciousness in every single bite.
Come to think of it, that's probably why my whole house is a-buzz when they know Sally Lunn bread is baking in the oven. They know they'll be served up a fresh plate of Sally Lunn French toast in the morning. And believe me, French toast made with Sally Lunn bread is a mighty fine reason to get up and going in the morning.
You can also use other types of bread for your French toast – recommended would be brioche and challah, while in a pinch you can use whatever bread you have on hand. But I promise you, once you taste French toast made with Sally Lunn bread, it will become a favorite for you, too.
Here's how I make it.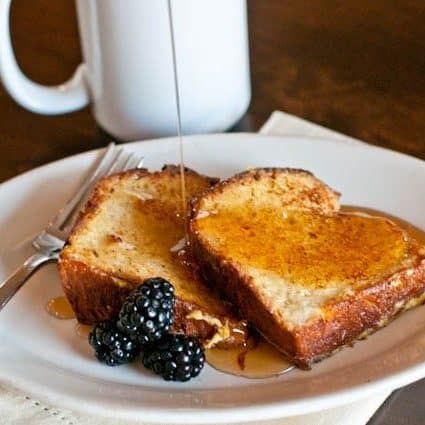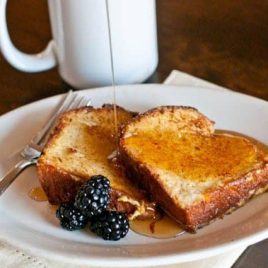 French Toast
A truly decadent French toast you'll turn to time and again.
Ingredients
2

eggs

1

cup

milk

or half-and-half, or cream

pinch

salt

1

tablespoon

sugar

1

teaspoon

vanilla

1

teaspoon

ground cinnamon

8

slices

Sally Lunn

brioche, or challah bread cut into 1" slices

butter
Instructions
Place four slices of bread in a 13x9 rectangular baking dish.

Melt about 1 tablespoon of butter on a griddle or in a large skillet over low to medium heat.

Whisk together eggs, milk, salt, sugar, vanilla, and cinnamon.

Pour half of liquid mixture over bread slices in baking dish.

Place bread slices on griddle and cook until golden browned on each side.

Serve immediately or keep warm in oven until ready to serve, but no longer than about 30 minutes.

Serve with your favorite maple syrup, sauteed fruit topping or whipped cream.