This simple, delicious Pork Roast recipe is a favorite and perfect in so many dishes too! Easily made in the slow cooker, this is the best Pork Roast and is loaded with flavor!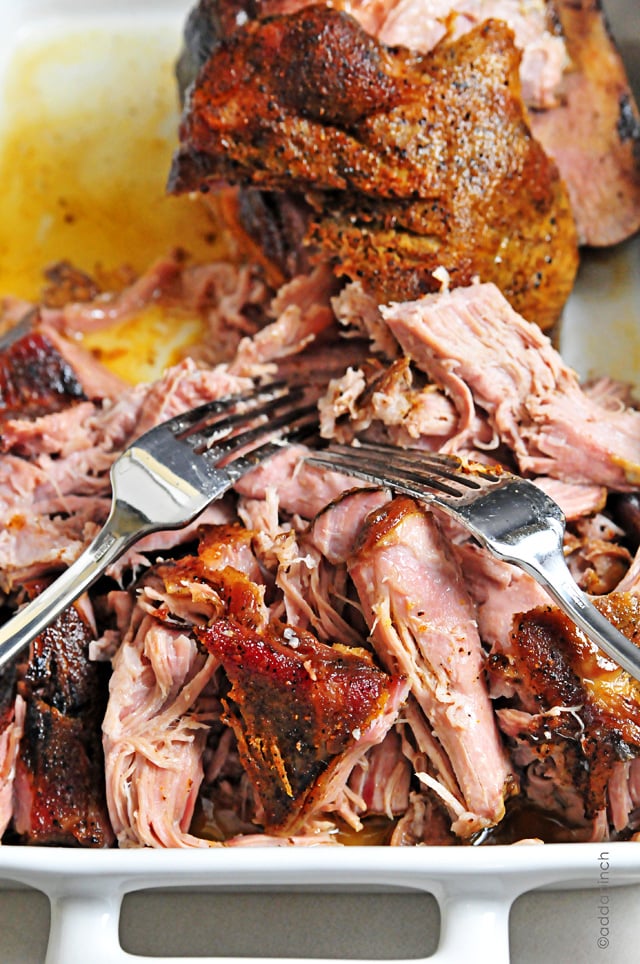 Perfect Pork Roast – This simple slow cooker Pork Roast recipe makes the most amazing Pulled Pork! And it's so easy!
If your family enjoys pork dishes, you really do want to give this pork roast recipe a try. It is the most simple and easy way to make the best pulled pork. And the slow cooker does most of the work!
Pork Roast (Pulled Pork Recipe)
This pork roast is another one of those recipes where I throw all of my ingredients into my slow cooker and then let it do all the work. Everyone loves the moist, scrumptious pulled pork it makes and rave over it every time I serve it. So even though it's incredibly easy to make, I get to take all the credit for it.
Seriously though, I've made this so many times, have found the best cuts of pork to use and the right blend of ingredients to use in this slow cooker recipe. I've tested the recipe so many times to know exactly how to slow cook it so that it is so very tender and not tough. So, I think it really is a fair partnership that my slow cooker and I have in making this delicious pork roast recipe. And it results in the best pulled pork I've ever tasted!
How to Make the Best Pulled Pork
To make this pork roast or pulled pork recipe, I begin with my favorite cut of pork, my seasoning, and just the right amount of time in my slow cooker! That's really the secret.
There are just a few tricks that I've found that I want to share with you so you'll be loving this pork roast as much as we do.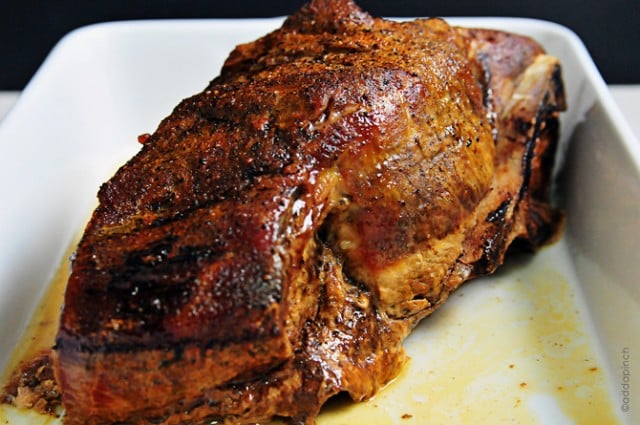 The Best Cut of Pork for Pulled Pork
This is just my opinion, but I prefer to use a shoulder blade roast or Boston butt roast when slow cooking for an extended period – like in this recipe. I think these cuts of meat have just the right ratio of fat to meat to allow the roast to keep its flavor and become extremely tender. This makes such delicious pulled pork!
How to Cook
To make this, you'll need at least a 6-quart slow cooker that has a tight fitting lid. I have found that one with a WARM setting works perfectly for this recipe.
Ingredients
This pork roast recipe is simple and doesn't include a lot of ingredients. Here's what you'll need to make it.
Boston Butt,
Worcestershire (or coconut aminos if sensitive to soy),
I don't add any other liquids.
Once I have my Boston butt roast (or shoulder blade roast), I place it into my slow cooker with the fat facing up. This allows the fat to drizzle down the sides of the roast as it cooks for amazing flavor and tenderness. I don't brown my pork prior to placing in my slow cooker.
Once the roast is in the slow cooker, add the Worcestershire or coconut aminos until well-covered. Then season well with dry rub.
Cook it Low and Slow
I cook my pork roast looooow and slooooow.
Trying to rush this cut of meat just isn't good to me. I normally cook my pork roast in my slow cooker for 8-10 hours on Low setting for the best pulled pork.
I actually like to put it into my slow cooker as I'm going to bed at night. Then I wake up with my night's supper done before I even have my breakfast.
Then, I'll leave it set to Warm with the liquid that cooked off while it cooked overnight still in the slow cooker and let it "steam" in the slow cooker for another 4 hours or so. The resulting pulled pork will absolutely melt in your mouth!
But of course you can start it in the morning and have it cook all day while you go about your activities. It's delicious either way!
The pork is done when the internal temperature reaches 190 degrees to 205 degrees Fahrenheit. Once done, remove from slow cooker and let rest for 5-10 minutes.
Then slice or shred with forks and serve as desired.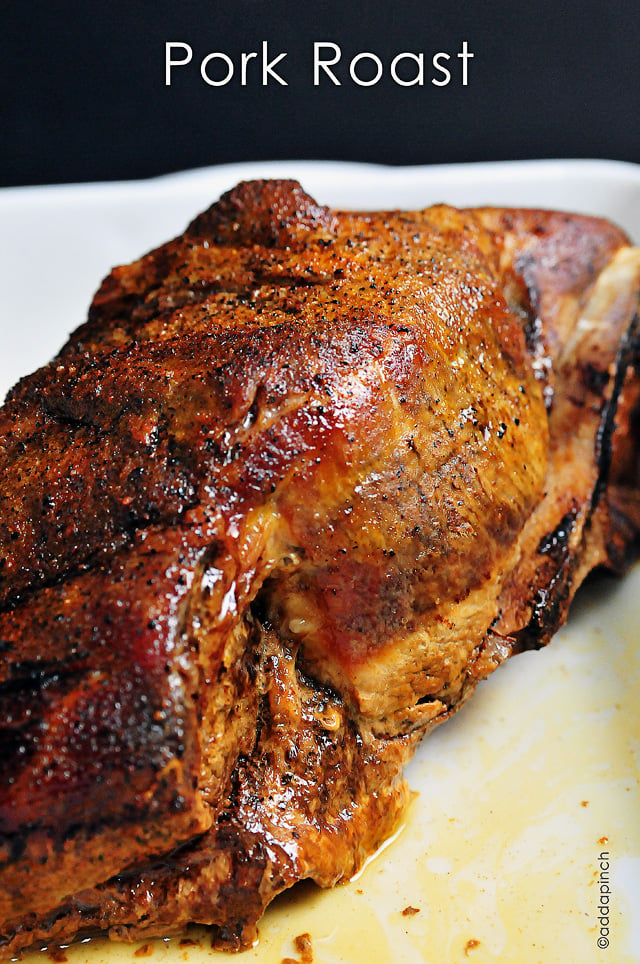 Favorite Ways to Serve Pork Roast
There are so many ways to serve this pork and my family enjoys eating this often! It's delicious in Pulled Pork Quesadillas, or alongside some savory Baked Beans and Southern Potato Salad. And my family and friends especially love when I make Pulled Pork Sandwiches with a scoop of crunchy Coleslaw piled on top or served on the side! The meal options are endless – it's even delicious scooped on top of a House Salad for a simple lunch or supper.
Freezer Instructions
Pulled Pork freezes well. After your pork has completely cooled, place in an airtight freezer container and store for up to 2 months.
So now that I've shared a few secrets with you, I can't wait to hear how you like this pork roast!
Here's the recipe for my pork roast.
Pork Roast Recipe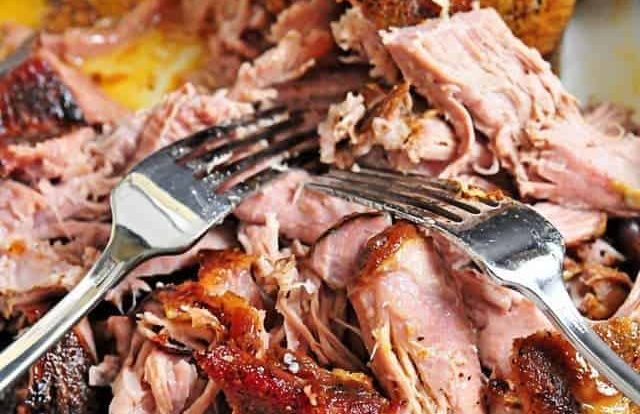 Pork Roast Recipe – This delicious Pork Roast recipe is so easy to make in the slow cooker! It's a simple favorite that makes the Best Pulled Pork to use in so many dishes!
Ingredients
1

(3-5 pound)

Pork Shoulder Blade Roast or Picnic

8-10

dashes

Worcestershire sauce

or coconut aminos

3-5

tablespoons

dry rub

your favorite, (+more if desired)
Instructions
Place meat in the slow cooker. Add dashes of Worcestershire sauce to the top of the meat until it is well covered. Then sprinkle heavily with dry rub. Cook on low setting of slow cooker for 8-10 hours. Leave meat in the slow cooker on the "warm" setting for about 4 more hours or until the meat easily will pull with two forks.

Internal temperature of pork roast should be between 190º F and 205º F.

Remove from slow cooker and allow to rest about 5-10 minutes. Then, slice or pull for serving, basting with pan juices from slow cooker.

Serve warm.

Leftovers should be kept in an airtight container in the refrigerator or freezer.
Nutritional Information
Calories:
228
kcal
|
Carbohydrates:
1
g
|
Protein:
20
g
|
Fat:
16
g
|
Cholesterol:
73
mg
|
Sodium:
57
mg
|
Potassium:
230
mg
Enjoy!
Robyn xo


Originally published 2012.