This deliciously golden Roast Turkey Breast is so simple to make and takes less time than roasting an entire turkey! Perfect size for smaller groups for Thanksgiving, holidays and family suppers! Golden brown, juicy turkey breast every time with this favorite recipe!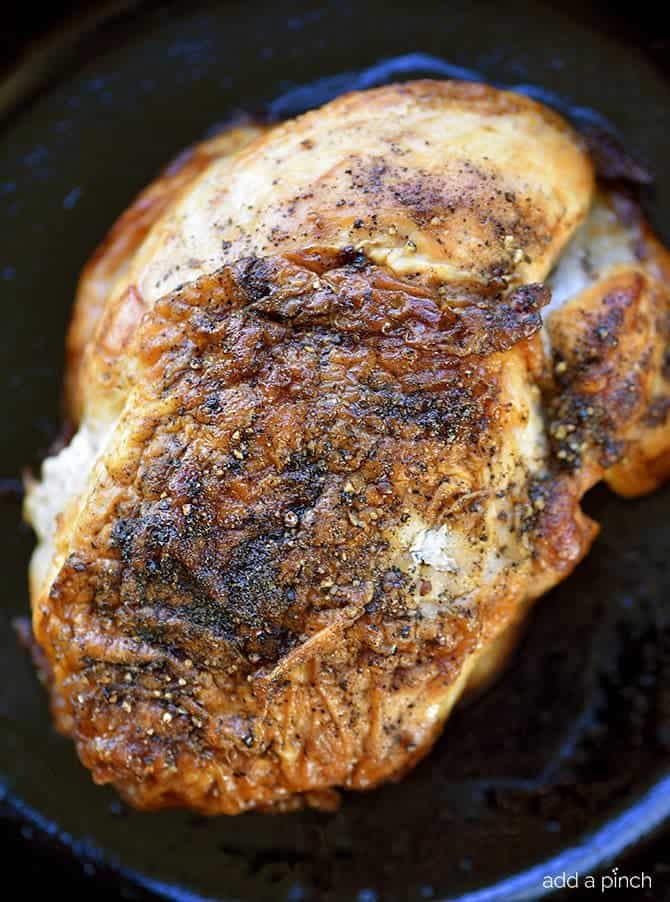 One of the things that I hear more and more often is that cooking an entire turkey can be a little bit intimidating to some and is more food than is needed for smaller families and groups. That's where this Roast Turkey Breast makes for a mighty delicious solution!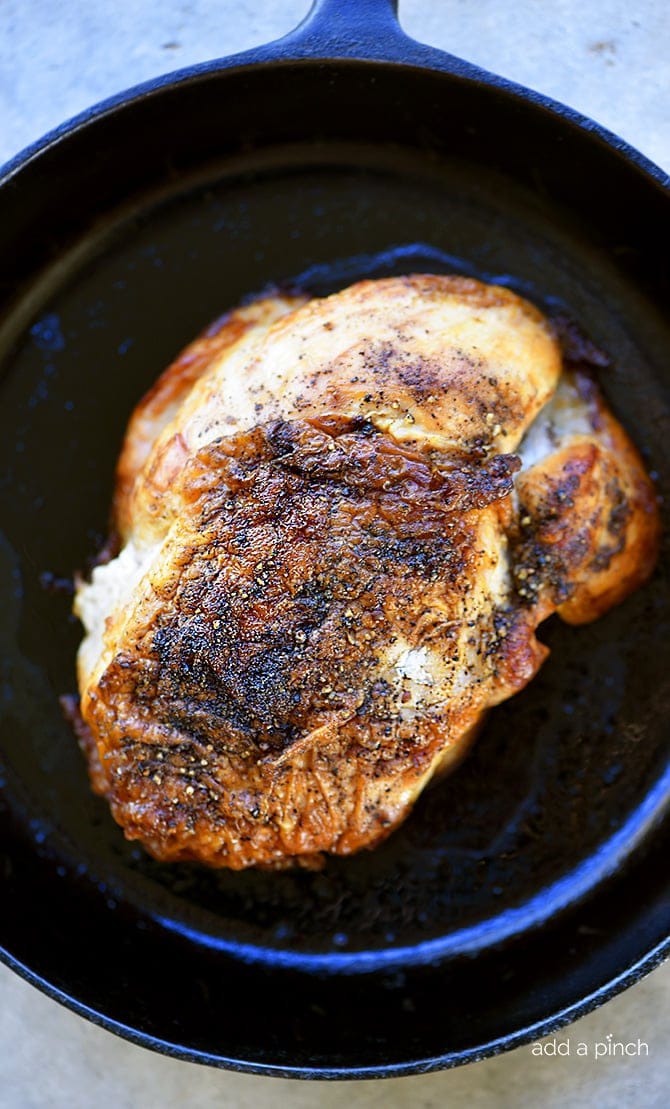 Quicker and easier than roasting an entire turkey, this roasted turkey breast is roasted right in a skillet and uses just four ingredients! There's no need for special cooking equipment or stressing with this recipe.
How to Roast a Turkey Breast
To make it, you'll begin with a 4 to 5 pound turkey breast. I prefer to use one that has the skin still on. If your turkey breast has been frozen, go ahead and let it thaw completely in the refrigerator.
When ready to roast, preheat your oven to 450ºF. As your oven is preheating, arrange your turkey breast in a medium (12-inch) skillet, brush with melted butter and sprinkle with salt and pepper. Then, roast in your preheated oven until the turkey breast reaches 165ºF when checked with an internal thermometer. This takes about 45 minutes to an hour. Then, remove the skillet from the oven and tent with foil for about 15 minutes to allow the turkey breast to rest before slicing and serving.
Make Ahead Instructions
Prepare the Roast Turkey Breast according to the recipe instructions.
Allow it to cool completely, then store in an airtight container in the refrigerator for up to a week. Serve cold or rewarm and serve.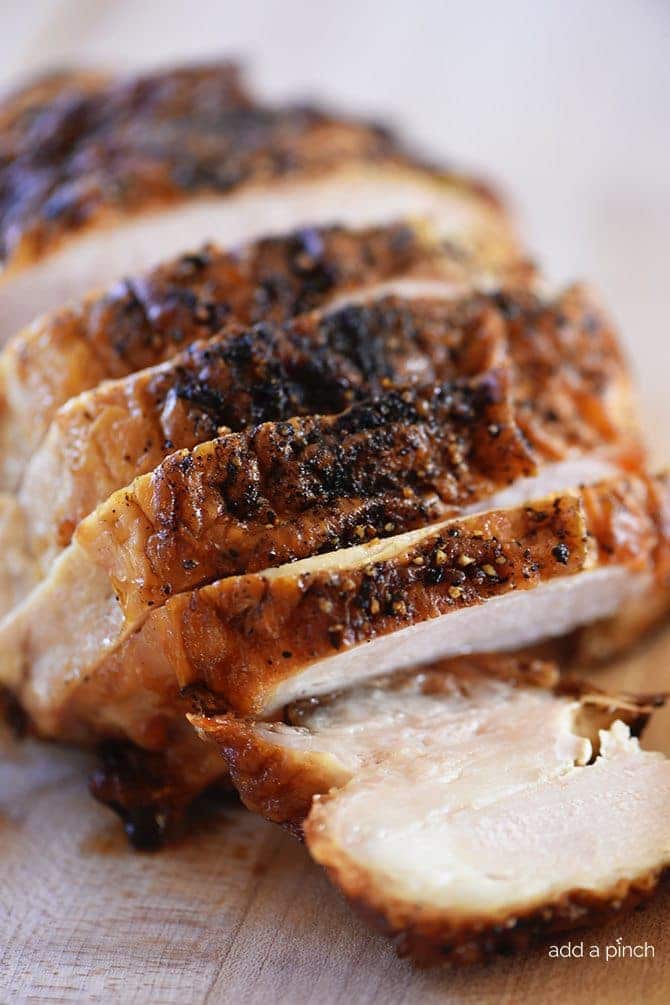 Just look at that beautiful skin on that turkey breast! You will love it, but especially love how tender and juicy the turkey breast is when you taste it. The seasonings are just the right amount and those that everyone should have on hand.
Talk about easy!
But, don't think this is just good for Thanksgiving! It is also mighty delicious for a Sunday supper or special weeknight meals. Of course, I love to make it ahead and then serve it during the week for a quick supper or to use it throughout the week in salads, like my Turkey Salad, sandwiches, wraps and such!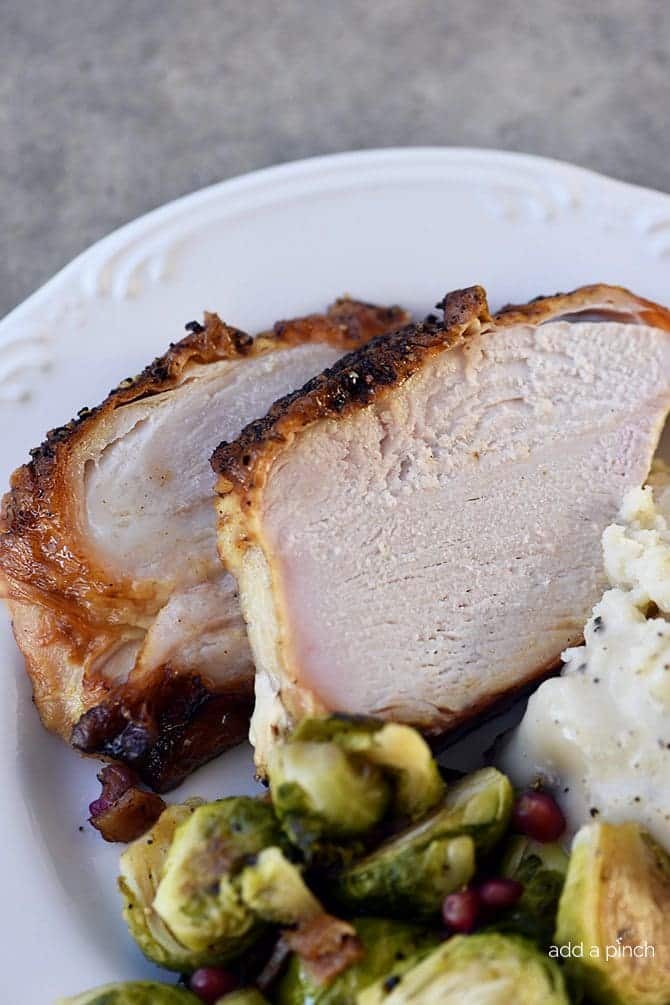 Some Side Dishes for Roast Turkey Breast
Here's my Roasted Turkey Breast recipe. I hope you love it as much as we do!
Roasted Turkey Breast Recipe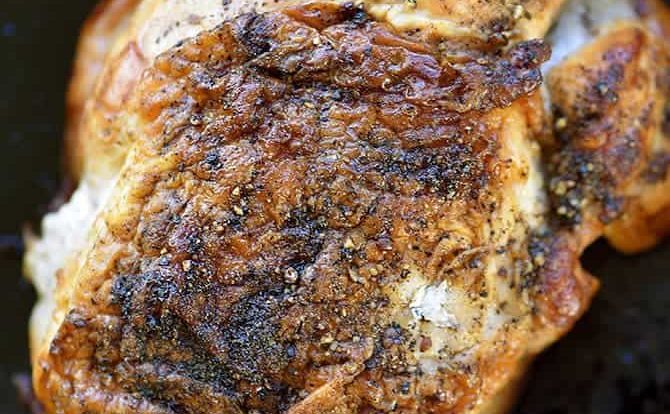 Roasted Turkey Breast Recipe – Making a Roast Turkey Breast recipe is simpler and takes less time than roasting an entire turkey! Perfect for serving smaller groups for the holidays or even on a weekend!
Ingredients
1

4 to 5 pound boneless turkey breast, skin on

3

tablespoons

salted butter

melted

1

teaspoon

kosher salt

1

teaspoon

freshly ground black pepper
Instructions
Preheat oven to 450°F.

Place the turkey breast onto a 12-inch skillet. Brush the turkey all over with the melted butter and then sprinkle with the salt and black pepper.

Roast the turkey until an internal thermometer reaches 165ºF, about 45 minutes to 1 hour.

Remove the turkey from the oven and tent with foil to rest for about 15 minutes before serving.
Enjoy!
Robyn xo