Sharing our Weekly Meal Plan with make-ahead tips, freezer instructions, and ways make supper even easier!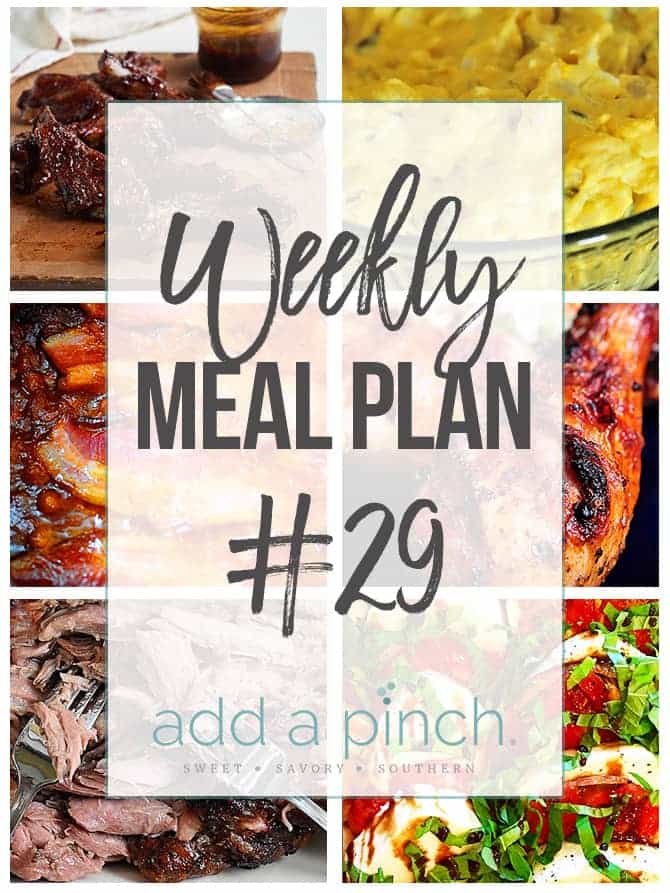 Saturday: Homemade Hamburgers with all the fixings + Spicy Roasted Sweet Potato Wedges + Caprese Salad with Balsamic Glaze + Grandmother's Peach Cobbler (30 Minutes)
Sunday: Grilled Chicken with Best Grilled Chicken Marinade + Easy Tortellini Pasta Salad + Grilled Zucchini + Best White Cake + No Churn Vanilla Ice Cream (Make Ahead)
Monday: Cilantro Lime Shrimp Avocado Salad + Strawberry Shortcakes with Sweet Cream Cheese Biscuits (from Add a Pinch Cookbook)
Tuesday: Sticky Molasses Ribs (from Add a Pinch Cookbook) + Pulled Pork Sandwiches + Coleslaw + Best Southern Baked Beans + Southern Potato Salad + Cherry Cheesecake Ice Cream (Slow Cooker, Make Ahead – July 4th Celebration)
Wednesday: Leftovers
Thursday: One Pan Pesto Chicken + House Salad + Peanut Butter Pie (30 minutes)
Friday: Travel Day – Eat Out as Family
MEAL PLAN TIPS:
Our family enjoys celebrating our country's Independence Day with all kinds of fun summer activities and time together with close family and friends. So it usually involves cooking so many delicious foods that we all will enjoy! We start the week off with lots of tasty foods this weekend!
Saturday:
My son and husband are just getting home from camp today, so I'll try to have a lot of this prepped ahead today.
Homemade Hamburgers and Fixings: I'll make my hamburger patties ahead of time and keep in the fridge until ready to grill. Prepare all of the fixings ahead of time, seal in containers and refrigerate.
Spicy Sweet Potato Wedges are made and ready to cook, and my peach cobbler baked too. I think the Caprese Salad is best made and served fresh, but my Balsamic Glaze is already made and on hand.
Sunday:
My family is getting together for supper to celebrate my brother-in-law's birthday. He always requests the Best White Cake as his birthday cake!
Grilled Chicken with Marinade: Make marinade ahead and marinate chicken ahead too for the best, most delicious and juicy chicken! It's usually a good idea to grill a couple of extra chicken breasts for another meal or a salad later this week.
Easy Tortellini Pasta Salad: Delicious served warm or cold, which makes this a perfect salad to make ahead.
Monday:
Cilantro Lime Avocado Shrimp Salad: This is such an easy, tasty salad for summer! It's ready in minutes, but you could make the salad earlier, add the dressing ingredients and toss right before serving for supper.
Strawberry Shortcake with Cream Cheese Biscuits: I get the strawberries hulled, sliced and ready to go for these ahead of time. This dessert is a regular family favorite that's in my cookbook! It's perfect for serving on the 4th too!
Tuesday: Happy July 4th!!!
Sticky Molasses Ribs: These are from the cookbook. I've already made the sauce and have it in a container in the refrigerator. The ribs are in the freezer and I'll let them thaw overnight. This morning, I'll add the ribs and sauce to the slow cooker and go on about our day of family activities. These are so simple and scrumptious!
Pulled Pork Sandwiches: Let the slow cooker do all the hard work for you. You can easily put everything into the slow cooker insert the evening before and refrigerate. Then, on Sunday morning, just remove from the refrigerator and place into the slow cooker, set the timer and go! Easy, peasy!
Coleslaw: This coleslaw comes together in a snap, but is also a great make-ahead side dish, too.
Best Southern Baked Beans: This cooks for a while to bring out that amazing, rich flavor, so you can make this earlier in the day if you wish and reheat.
Southern Potato Salad: Make the potato salad the night before and refrigerate – so easy.
Cherry Cheesecake Ice Cream: Make this the day before for the best ice cream. Then top with cherry sauce – and of course an extra cherry on top – when ready to serve! Love this ice cream!
Thursday:
One Pan Pesto Chicken: This one pan dish is another quick-fix supper favorite!
House Salad: I keep salad prepped ahead and in the fridge for quick sides or lunches during the week. Add a favorite dressing and serve.
Peanut Butter Pie: This simple, no-bake pie could not be more delicious! It's a definite make ahead dessert and perfect for the peanut butter lover. (hand raised)
I hope your holiday week is fabulous and filled with happiness and relaxation!
Robyn xo