This delicious Steak Burrito Bowl recipe is loaded with juicy steak and other fresh, flavorful ingredients and rivals a restaurant favorite! Ready and on the table in minutes!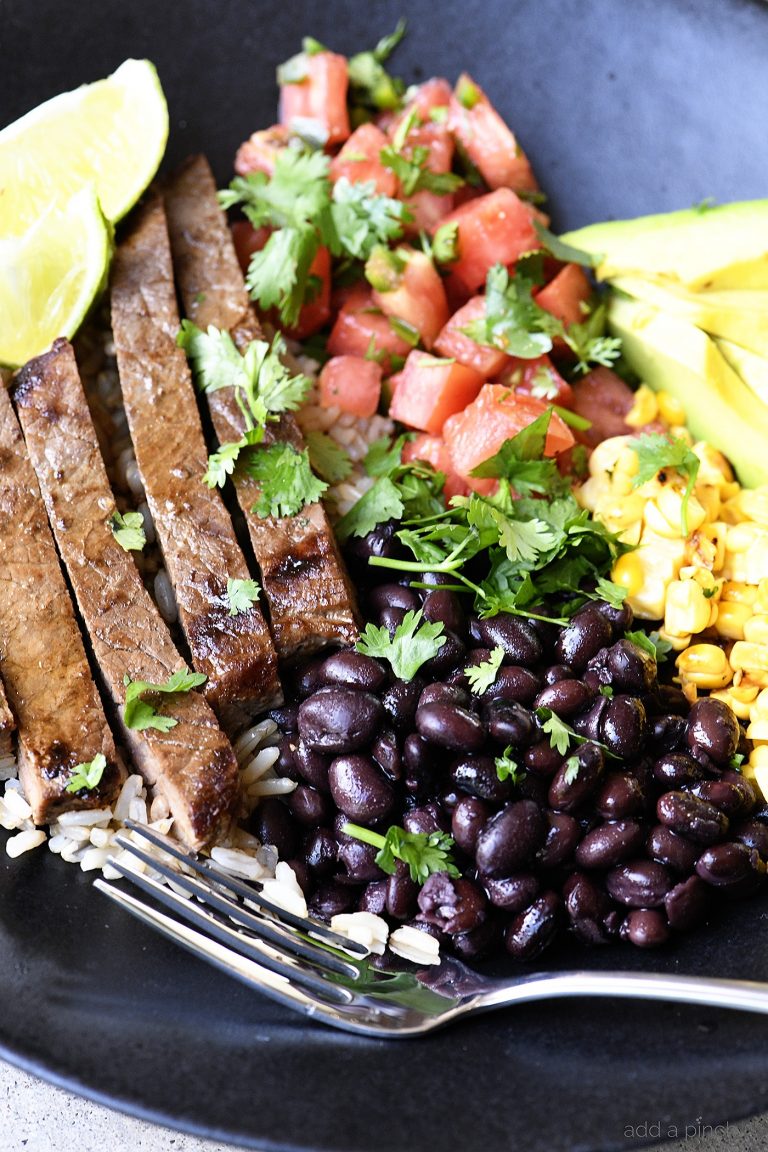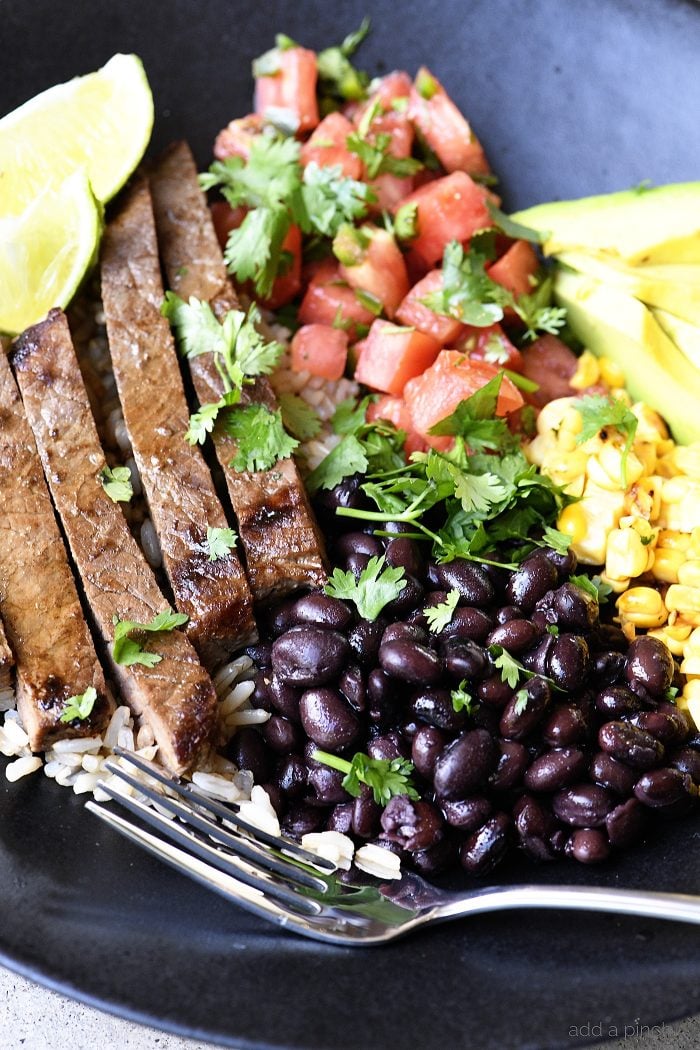 This quick, simple and scrumptious Steak Burrito Bowls recipe is so full of fresh flavor and is a favorite meal in my house. It's inspired by the burrito bowls found in a some Tex Mex style restaurants and is so easy to make. Since it's made fresh and can be customized to include your favorite toppings, I like it much better than restaurant versions. It's ready in minutes and perfect for weeknight meals or casual gatherings and I think you're going to love it!
Steak Burrito Bowls Recipe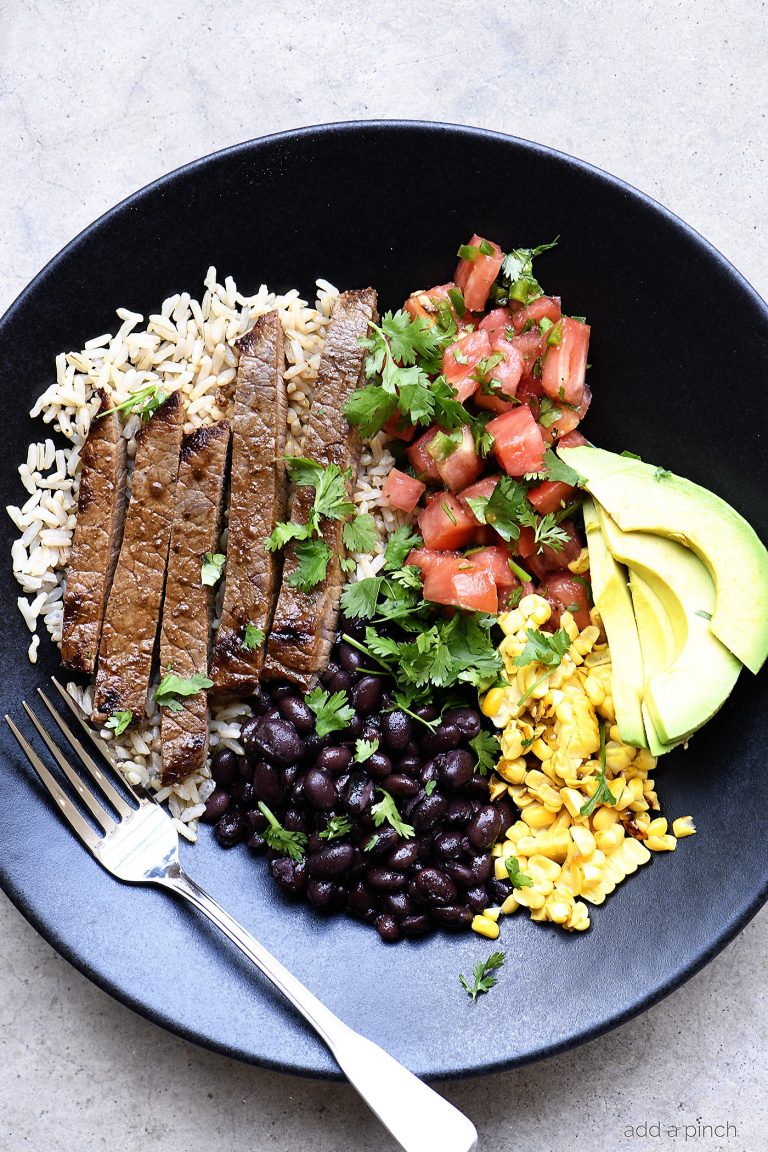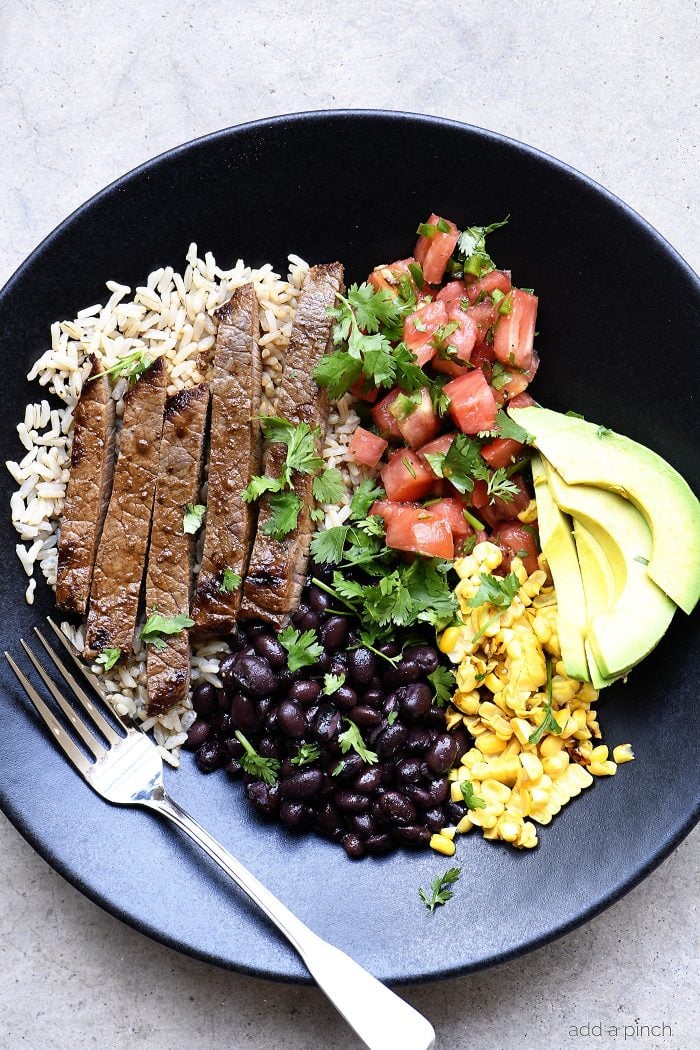 My Steak Burrito Bowls come with so many options so that you can customize them to what you have available for the easiest meal time possible for you and your family. It also uses items that I've either prepped ahead or I give options on how to make it with other ingredients so that it cuts your cooking time significantly!
How to Make Steak Burrito Bowls
To make my homemade Steak Burrito Bowls recipe, I start with a boneless steak, whatever I have on hand, really. If I've planned ahead, then I'll grab flank steak, but if not I'll just go with whatever is on hand!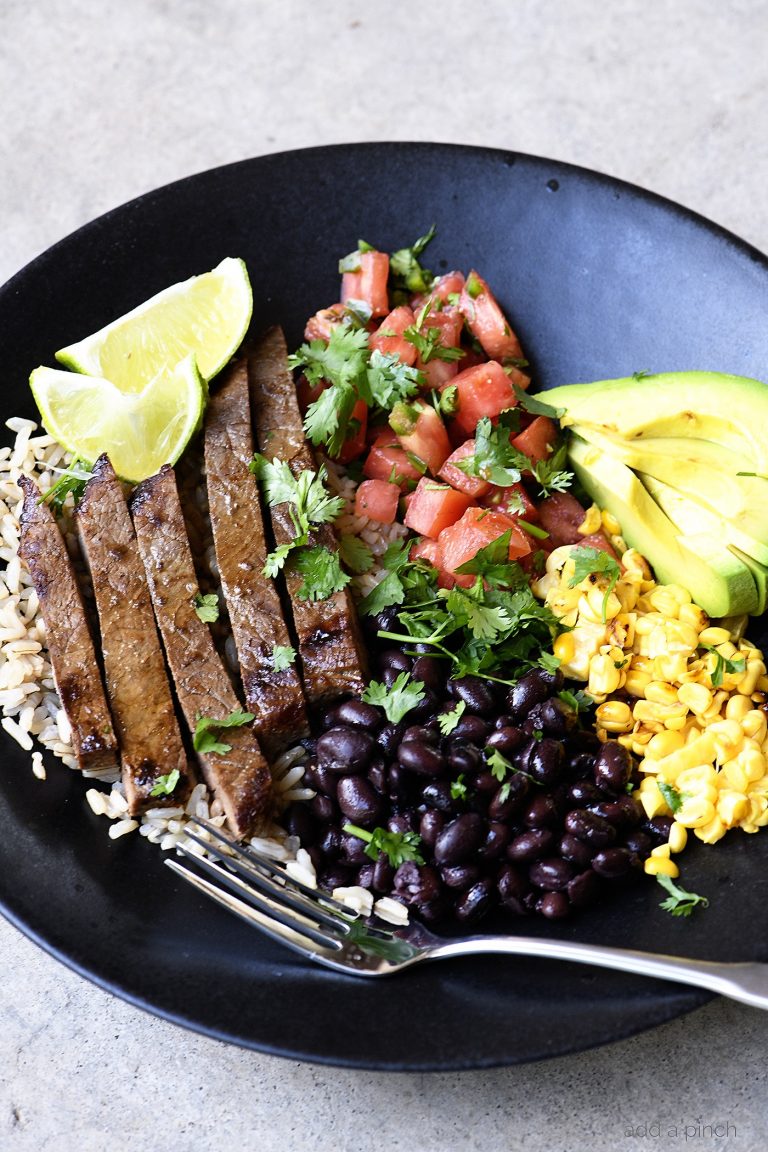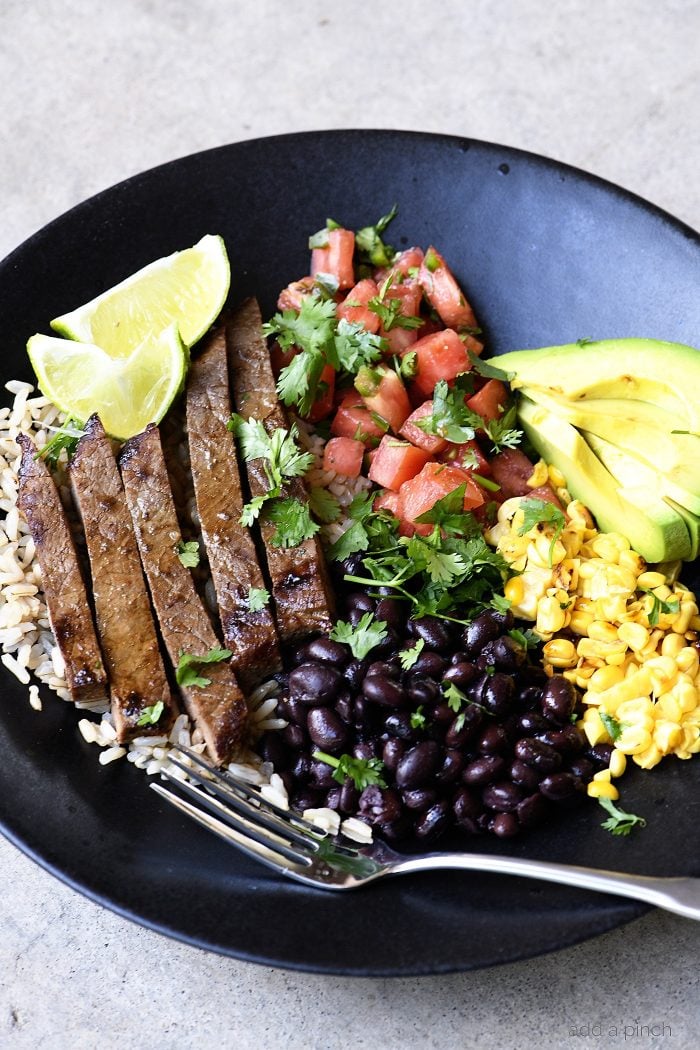 Ingredients
To make these burrito bowls, you'll need:
steak – can use flank steak or your favorite boneless steak
limes
Stone House Seasoning – my family's delicious "house seasoning" blend I developed many years ago. Our last name is Stone, hence the name for my seasoning.
fresh cilantro – chopped
corn
black beans
brown rice cooked – you can use white rice if you prefer
avocado slices
sour cream – optional
Instructions
Season the Steak
Once I have my steaks, I like to place them on a parchment paper lined baking sheet, squeeze lime juice over the top of my steak and then sprinkle both sides with my Stone House Seasoning and chopped fresh cilantro.
Prep – or Make It Ahead!
I then let them rest while I prep all of the rest of the steak burrito bowls. And to let you in on a little secret, I love to plan to have steak on the weekends and then just throw a couple of extras in the mix so that the steak is all ready to go for these burrito bowls later in the week. I'm not sure if this is lazy or genius, but either way, I'm not planning on changing my ways any time soon.
I've mentioned previously about how much I love to cook my Instant Pot Brown Rice to have on hand for easy meals throughout the week. This is one of those times that I turn to pulling it out of the refrigerator or freezer and reheating to use in these burrito bowls. Of course it doesn't take that long to make my brown rice recipe, but planning ahead does help even more! If you haven't planned ahead and still want to make these burrito bowls in a jiffy, look for the brown rice bowls in the rice section of the grocery store that are heat and serve.
ADD the Rice
I scoop my brown rice and divide it among my bowls to begin the assembly of the burrito bowls. Alternately, you can make a steak burrito bowl bar and let everyone assemble their own with their favorite ingredients for a fun way to serve it!
add the corn
Next, I heat a grill pan or medium skillet over medium high heat and then add my corn on the cob to the grill pan to char it on all sides, turning as each side cooks with tongs. If you don't have corn on the cob, you can easily substitute with frozen corn kernels and just cook until they are golden brown.
Once my corn has cooked, I remove it from my grill pan and either scoop it onto the rice for the pre-assembled burrito bowls or place it in a bowl for the burrito bowl bar method.
add the steak
Then, I add butter to my grill pan or skillet and then my steak to cook for 3 minutes on either side. I then allow my steak to rest for 5 minutes off of the heat. Once it has rested, I slice it into thin strips to serve on the burrito bowls.
add other toppings
I spoon on my drained and rinsed black beans and then add my pico de gallo, sliced avocado, a squeeze of lime, fresh cilantro and a sprinkle of salt or even more Stone House Seasoning. If you like, serve with sour cream.
Now it's ready to devour! Enjoy!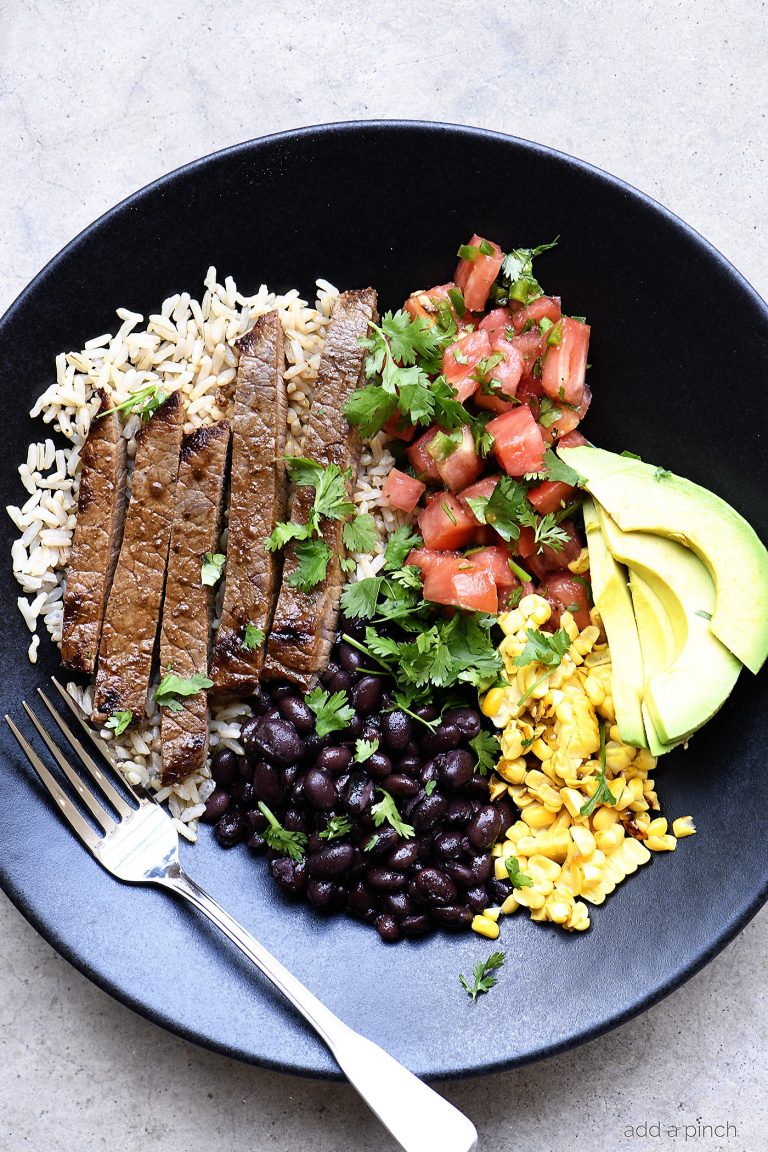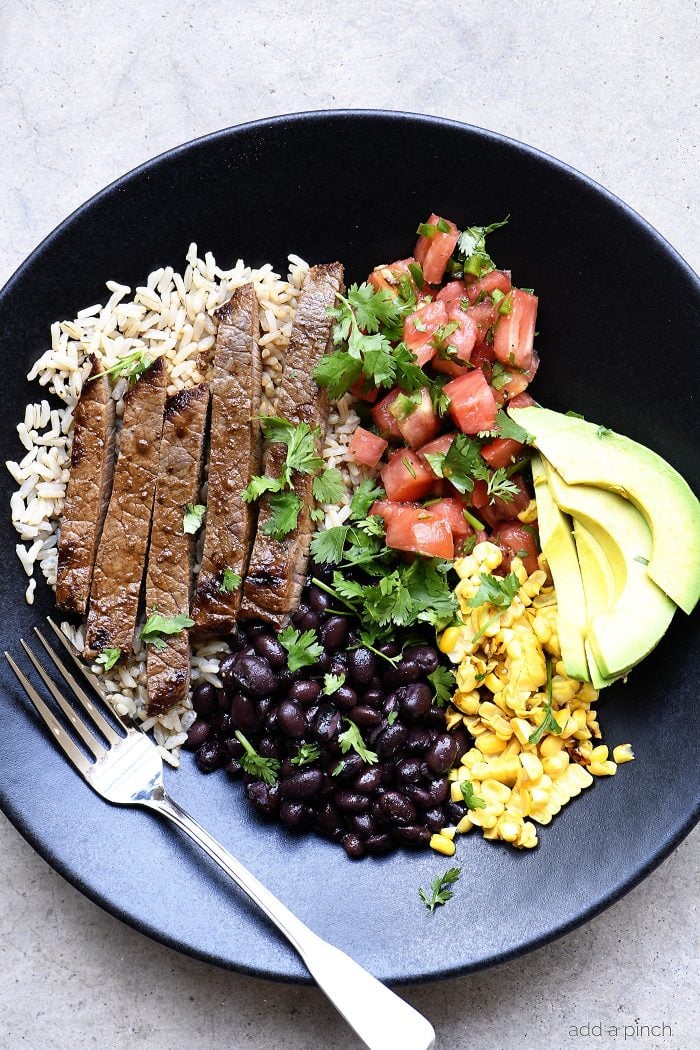 Here's my Steak Burrito Bowls Recipe. I sure do hope you love it as much as I do!
Steak Burrito Bowls Recipe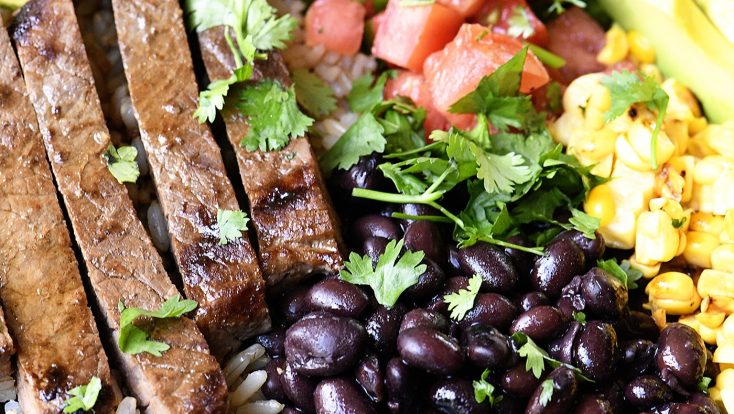 This delicious Steak Burrito Bowl recipe is loaded with juicy steak and other fresh, flavorful ingredients and rivals a restaurant favorite! Ready and on the table in minutes!
Ingredients
1

(2-pound)

flank steak

or your favorite cut of steak (cooked appropriately)

3

medium

limes

halved

1

teaspoon

Stone House Seasoning

plus more for seasoning at the end

1/2

cup

fresh cilantro

chopped

2

ears

corn on the cob

or 2 cups frozen corn kernels, thawed

2

cans

black beans

drained and rinsed

2

cups

brown rice

cooked

2

large

avocados

halved, pitted, and sliced

2

cups

pico de gallo

or salsa

sour cream

optional
Instructions
Arrange flank steak on a parchment paper lined baking sheet. Squeeze one lime over the flank steak and then sprinkle with Stone House Seasoning and then top with about ¼ cup of fresh cilantro. Cover and allow to marinate while preparing the remaining ingredients for the burrito bowls or prepare ahead and allow to rest in the refrigerator to marinate overnight.

Spoon ½ cup of cooked brown rice into each bowl to begin assembly of burrito bowls or serve in one large bowl for self-assembly.

Heat medium skillet or grill pan over medium-high heat. Add corn to the pan and cook until the corn has mostly charred. Remove from the heat and add ½ cup of the cooked corn to the burrito bowls or into a bowl for self-assembly of burrito bowls.

Add butter to the skillet or grill pan, followed by the flank steak. Cook on one side for 3 minutes, flip over to the other side and cook the other side for 3 minutes. Reduce heat to medium and cook until the flank steak reaches 130º – 140º F, about 5 more minutes. Remove from grill, tent with foil and allow to rest on a cutting board for 5 minutes before slicing. Slice thinly and serve on the burrito bowls or allow for self-assembly.

Divide the black beans, avocado, and pico de gallo among the burrito bowls. Then top each with fresh cilantro and lime juice or allow for self-assembly. If needed, add a sprinkle of salt or Stone House Seasoning and serve warm.
Nutritional Information
Calories:
814
kcal
|
Carbohydrates:
132
g
|
Protein:
21
g
|
Fat:
3
g
|
Sodium:
987
mg
|
Potassium:
1041
mg
|
Fiber:
18
g
|
Sugar:
13
g
|
Vitamin A:
750
IU
|
Vitamin C:
16
mg
|
Calcium:
106
mg
|
Iron:
6
mg
Enjoy!
Robyn xo