35 Breakfast Recipes for Back to School gives you so many breakfast ideas and recipes that are perfect for back to school and other busy mornings!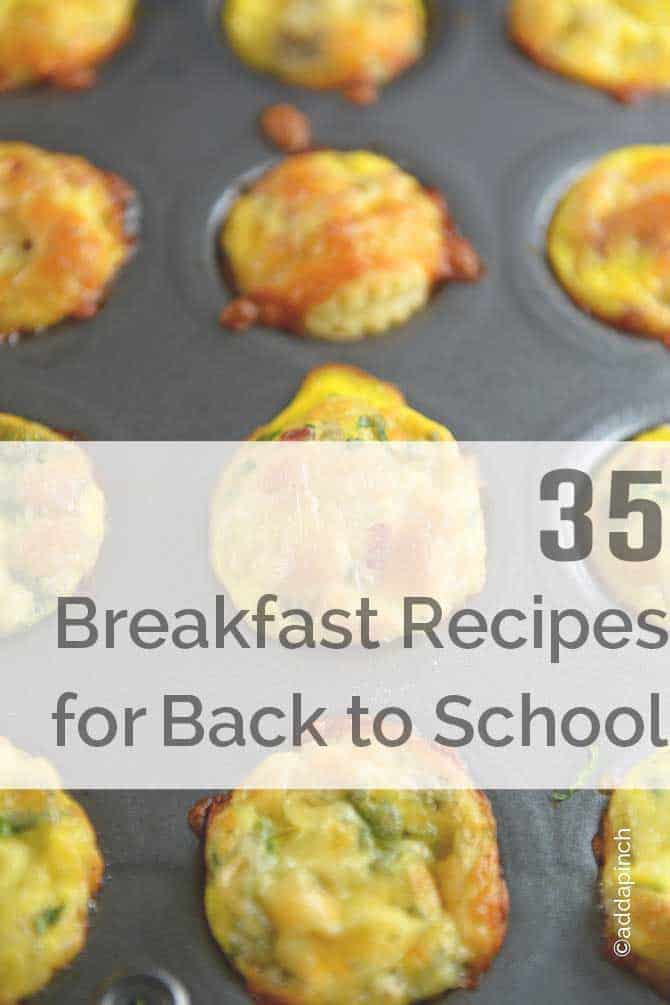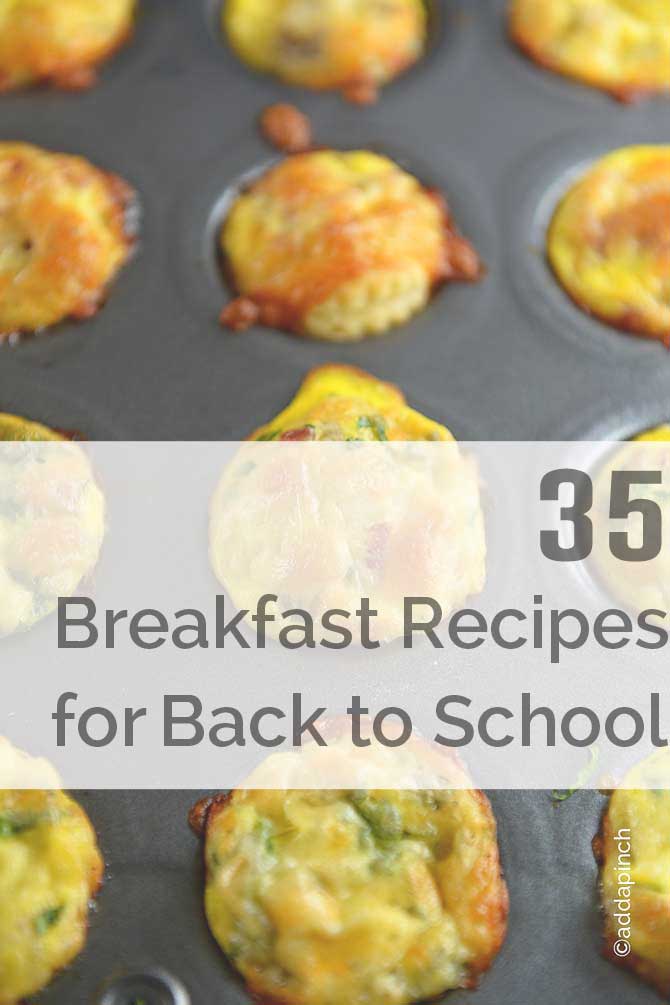 35 Breakfast Recipes for Back to School
It is that time of year again, rushing to get everyone dressed and out the door to be on time for school. Wait! What about breakfast? If you are like me, you don't have time for a leisurely sit down breakfast that takes ages to cook. However, I do want my family to have a nutritious and delicious breakfast to start the day. These 35 breakfast recipes for back to school not only meet those requirements but are easy and quick to make or can be made ahead for a fast breakfast your family will love.
Casserole and Egg Recipes
Bacon, Portabello, and Spinach Breakfast Casserole – Add a Pinch
This casserole is an easy make ahead meal that is so filling and yummy with cheese, eggs, bacon, spinach, and mushrooms.
Mini Quiche – Add a Pinch
These mini quiche, ready to eat in 20 minutes, are great for a quick, delicious back to school breakfast. Add in your family's favorite ingredients for individualized quiche.
Frittata with Potato and Bacon – Taste and Tell
In about 30 minutes, you can have a feast for breakfast with this frittata made with eggs, cheese, bacon, and potatoes.
Easy Ham Frittata – Add a Pinch
Ready in 17 minutes, this easy ham frittata is a one-dish wonder for breakfast.
Sweet Potato Hash – Add a Pinch
Salsa, eggs, sweet potatoes, and sausage add a little spice that makes a delicious meal in just 25 minutes.
Bacon and Mushroom Quiche – Add a Pinch
This quiche is a make ahead breakfast that will become a family favorite.
Bacon and Egg Cups – Add a Pinch
These cups make a delicious, hearty breakfast to get everyone's day started. Just add fruit to the plate and glass of orange juice for a complete meal.
Egg in the Hole – Add a Pinch
Egg in the hole is a quick, nutritious breakfast that is ready in minutes.
Breakfast Sandwich Recipes
Supreme Spinach and Egg Breakfast Sandwich – Foodie with Family
This spinach, egg, and cheese bake is made ahead of time and frozen in individual portions. Just remove the portion you need and make your sandwich for a hearty and oh, so good breakfast.
Egg Salad Sandwich with Bacon and Avocado – Add a Pinch
Crispy bacon, eggs, and creamy avocado slices on a croissant will be a breakfast item your family will request time and again.
Toasted Cheese Sandwich – Taste and Tell
Surprise! These delicious sandwiches are made with sour cream, Dijon mustard, and grated cheddar.
Rise and Shine Breakfast Burritos – Tidy Mom
The rise and shine breakfast burritos with black beans, tomatoes, mushrooms, peppers, eggs, cheese, and salsa can be made ahead for a breakfast on the go or a sit down meal.
Grilled Cheese Sandwich with Ham and Bacon – Add a Pinch
Can you imagine both ham and bacon in one sandwich? Oh, my, that makes these grilled cheese sandwiches over the top.
Egg and Avocado Breakfast Burrito – Add a Pinch
In 15 minutes, you can have these burritos made with eggs, salsa, and avocado slices for a spicy to go breakfast.
Grilled Cheese with Apricot Jam and Arugula – Love and Olive Oil
For a different twist on a classic grilled cheese, make these sandwiches with jam and arugula.
Make Ahead Breakfast Burritos – Add a Pinch
Make these cheese, mushroom, egg, and sausage burritos, freeze them, and take out as you need them for a quick on the go breakfast.
Bacon, Egg, and Cheddar English Muffin Panini – Panini Happy
These are made with individual bacon, egg, and cheese omelets and toasted English muffins and are just perfect for one of those hurry out the door breakfasts.
Canadian Bacon 'n' Cheese Muffin – She Wears Many Hats
This quick breakfast sandwich, made with eggs and Canadian cooked in the microwave and topped with cheese, will be ready in less than 5 minutes. How is that for a fast breakfast to go?
Ham, Egg, and Cheddar Breakfast Crepes – Panini Happy
These breakfast crepes can be made ahead and frozen for up to a month. Take out as many as you need, fill with the omelet, roll, heat, and you are ready to go.
Triple Play Peanut Butter Oatmeal Muffins – Bake at 350
Oatmeal and peanut butter mixed together in a muffin – Wow! Your kids are going to jump for joy when you serve these for a back to school breakfast.
Raspberry Bars – Add a Pinch
Raspberry Bars, made with raspberry preserves, almonds, and oatmeal are a great make ahead breakfast bar.
Two Ingredient Cream Biscuit – Add a Pinch
These two ingredient cream biscuits are ready in to eat in 15 minutes. Add bacon and eggs and you have a complete breakfast in no time.
Perfect Buttermilk Pancake – Add a Pinch
Make these perfect buttermilk pancakes in just 11 minutes for a back to school breakfast. Your family will think you have been up for hours to have this cooked for breakfast.
Perfect French Toast – Add a Pinch
French toast isn't just for weekends. Make this perfect french toast in just 7 minutes for one of your back to school breakfasts.
Cranberry Orange Muffins – Add a Pinch
Cranberry orange muffins are a great make ahead breakfast treat your entire family will love.
Ham and Cheese Breakfast Muffins – She Wears Many Hats
Make these ham and cheese breakfast muffins the night before for a quick sit-down or out-the-door breakfast.
Southern Tenderloin Biscuits – Add a Pinch
Southern tenderloin biscuits can be made in about 15 minutes or can easily be made ahead for a quick breakfast.
Buttermilk Waffles – Add a Pinch
My son thinks there could be no better breakfast than a warm waffle drizzled in maple syrup. For a fast waffle breakfast, make a batch ahead and freeze. Then just remove number you need and toast in toaster.
Oatmeal Recipes
Apple Pie Oatmeal – Add a Pinch
This is a perfect warm you up breakfast of oatmeal, apples, and spices for cool fall mornings.
Bruleed Cherry Oatmeal – Add a Pinch
Bruleed cherry oatmeal will become your family's new favorite way to eat oatmeal.
Roasted Cherry Parfait – Add a Pinch
Made of roasted cherries, yogurt, and simple granola, the roasted cherry parfait is a quick breakfast that your whole family will love.
Homemade Granola – Add a Pinch
Homemade granola, full of nuts, coconut, oats, and dried fruit, is a breakfast your kids will request frequently so make plenty.