50+ Ground Beef Recipes
A collection of over 50 ground beef recipes for all occasions!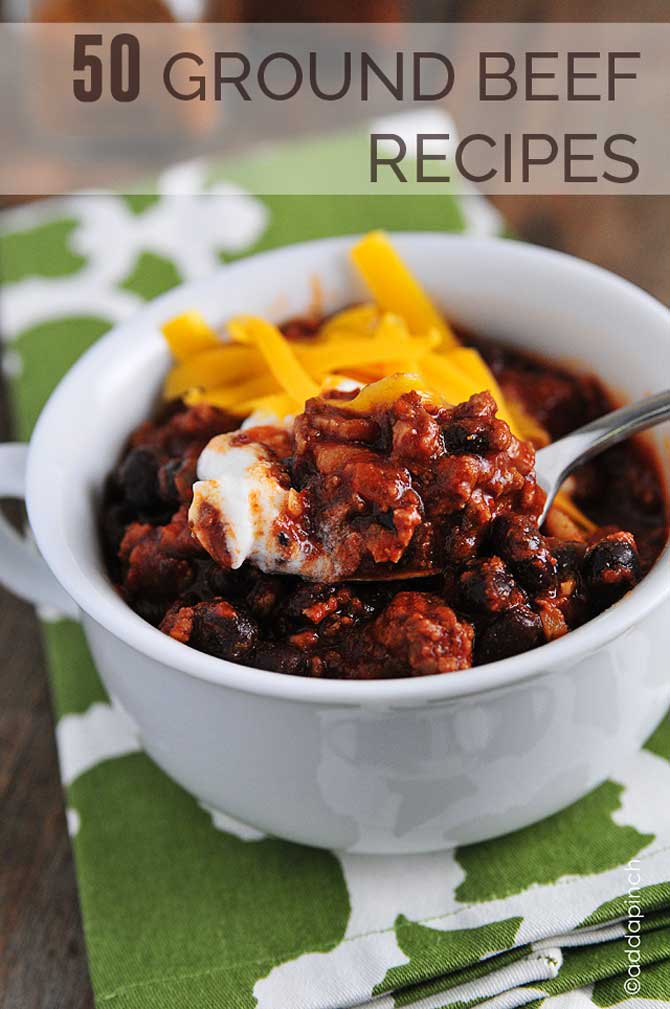 How many of you are like me and keep ground beef stocked in your refrigerator or freezer? That is one of my "go-to" meats for all kinds of meals, whether just for my family or for a dinner with friends or for those party and game day dishes. On those busy days when I need to make a meal in a hurry or need to have a meal cooking in the slow cooker, I can always find a recipe with ground beef that my family and friends will love. These 50 ground beef recipes include everything from dips to soups, salads to casseroles, sandwiches to meatloaf, and pastas to nachos. Maybe some of these will become new favorites for your family.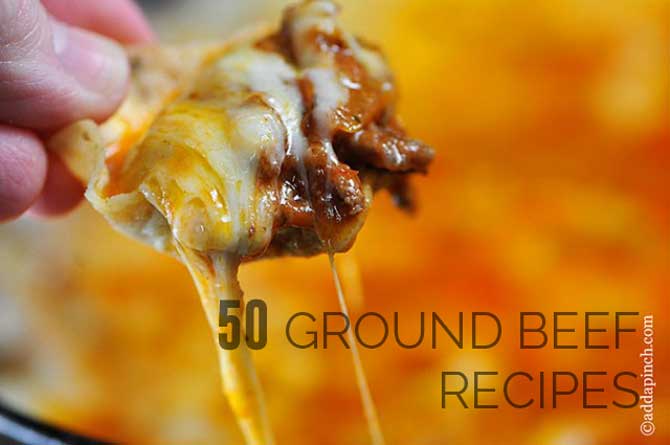 50+ Ground Beef Recipes
Appetizers, Nachos, and Salads
Beef Enchilada Dip – Add a Pinch
Taco Salad – Add a Pinch
Slow Cooker Cocktail Meatballs – Add a Pinch
Taco Dip – Add a Pinch
Bacon, Blueberry, Blue Cheese Salad with Rosemary Balsamic Vinaigrette – Eat 2 Gather
Swedish Meatballs – Add a Pinch
Macho Nachos – A Farm Girl's Dabbles
Chili Dog Nachos – Taste and Tell
Cheeseburger Salad – Add a Pinch
Soups and Chilis
Meatball Soup – Add a Pinch
Weeknight Black Bean Chili – Add a Pinch
Hearty Chili – Add a Pinch
Slow Cooker Taco Soup – Tidy Mom
Casseroles, Pastas, and Other Entrees
Slow Cooker Beef Ziti – Add a Pinch
Enchilada Casserole – Add a Pinch
Baked Pasta with Spaghetti Sauce – Add a Pinch
Lasagna – Add a Pinch
Barbecue Beef, Bacon, and Bean Casserole – Foodie with Family
Easy Eggplant Lasagna – Add a Pinch
Puffed Up Pizza Casserole – Taste and Tell
Simple Beef Stroganoff – Add a Pinch
Wamsutta – A Southern Fairytale
Cheesy Beefy Mac – Lana's Cooking
Shepherd's Pie – She Wears Many Hats
Spanish Rice with Ground Beef – Add a Pinch
Bacon Wrapped Meatloaf – Add a Pinch
Hamburger Steak with Mushroom and Onion Gravy – Add a Pinch
Weeknight Meatloaf – Add a Pinch
Stuffed Green Peppers – Add a Pinch
Cheeseburger Frittata– She Wears Many Hats
Tamale Pie – Brown Eyed Baker
Frito Chili Pie – Add a Pinch
Mom's Cabbage Rolls – Bake at 350
Black Bean and Corn Empanadas – Eat 2 Gather
Texican Hash – A Southern Fairytale
Cheese Tortellini with Meat Sauce – Tidy Mom
Spaghetti Sauce – Add a Pinch
Beefed Up Baked Beans – Southern Plate
Burgers, Sandwiches, and Pizzas
The Great American Patty Melt – Add a Pinch
Sloppy Joes – Add a Pinch
Meatball Sliders – Add a Pinch
Hamburger Sliders with a Spicy Cilantro Lime Spread – Add a Pinch
Saucy Chipotle Burgers – My Kitchen Addiction
Slow Cooker Burgers with Ketchup Gravy – Southern Plate
Cheeseburger Quesadilla – Add a Pinch
Beef Enchilada – Add a Pinch
Bacon Cheeseburger Skillet Pizza – How Sweet It Is
Baked Mexican Eggrolls with Enchilada Guacamole – Taste and Tell
Italian Style Hand Pies with Marinara Dipping Sauce – Lana's Cooking
Pasties with Beef Gravy – Foodie with Family
Enjoy!
Robyn xo