Easy casserole recipes for every meal! More than 50 casserole recipes including chicken casseroles, beef casseroles, and egg casseroles!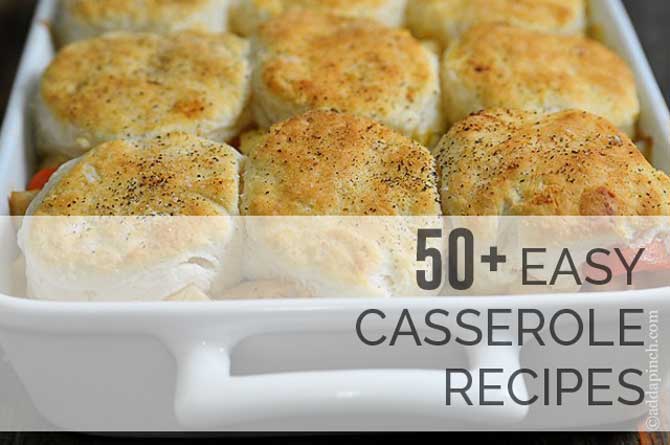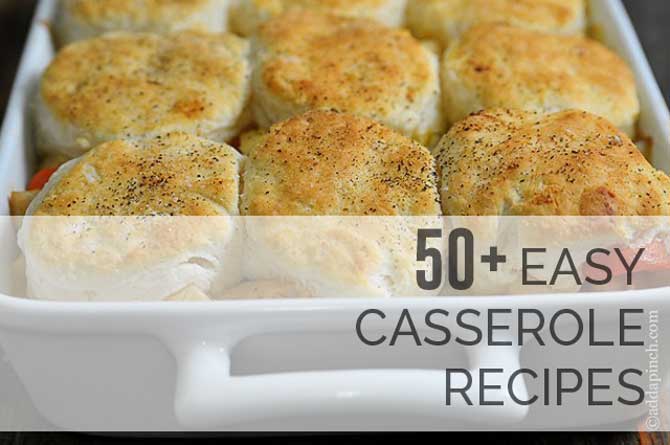 Casserole recipes are some of the most classic comfort food recipes that work for every occasion. From taking a meal to a family to celebrate a new birth or to serve your family for a comforting weeknight meal, it's no wonder that casseroles are a southern staple.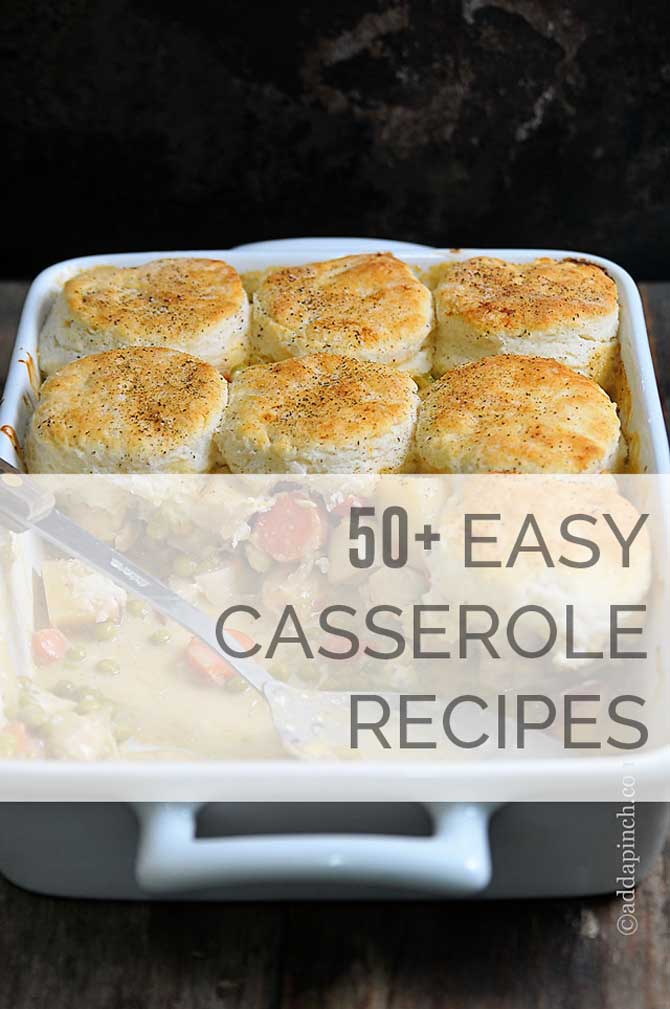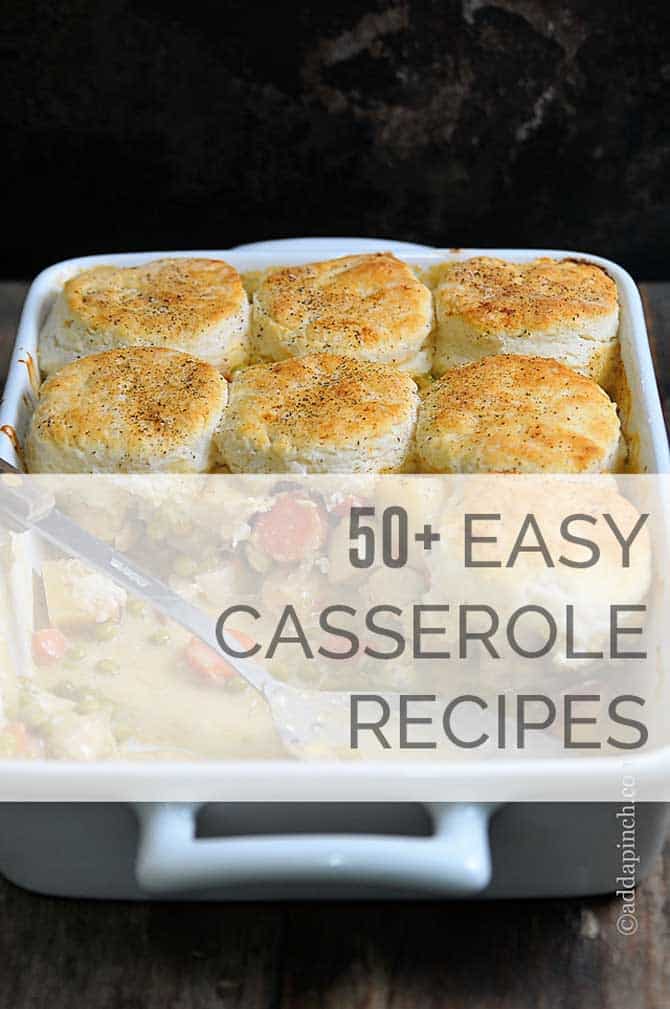 This collection of over fifty drool-worthy dishes are sure to include some of your old and new favorites.

Breakfast Casserole Recipes
Bacon, Portabello, and Spinach Breakfast Casserole – Add a Pinch
Ham and Cheese Breakfast Casserole – Foodie Crush
Cinnamon Apple Baked French Toast – Add a Pinch
Roasted Red Pepper Parmesan Baked Eggs – Picky-Palate
Baked French Toast – Add a Pinch
Overnight Prosciutto, Goat Cheese, Egg Bake -A Farm Girl's Dabbles
Breakfast Casserole – Kevin and Amanda
Peaches and Cream Breakfast Casserole – Barefeet in the Kitchen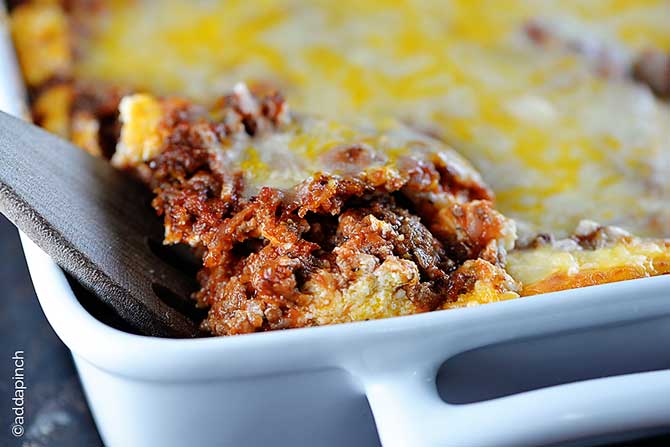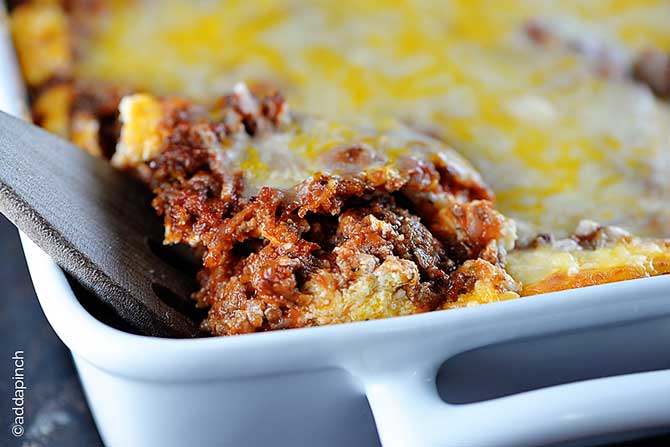 Beef Casserole Recipes
The Best Lasagna – Add a Pinch
Enchilada Casserole – Add a Pinch
Barbecue Beef, Bacon, and Bean Casserole – Foodie with Family
Beef Enchilada Casserole – Add a Pinch
Easy Shepherd's Pie – Simply Recipes
Baked Pasta with Spaghetti Sauce – Add a Pinch
Frito Chili Pie – Add a Pinch
Slow Cooker Beef Ziti – Add a Pinch
Pepperoni Pizza Casserole – Closet Cooking

Chicken Casserole Recipes
Chicken Pot Pie with Biscuits – Add a Pinch
Pimento Cheese Chicken – Add a Pinch
Sausage and Potato Bake – Two Peas and Their Pod
Jalapeno Popper Chicken – Add a Pinch
White Chicken Enchiladas – Add a Pinch
One Pan Chicken with Thyme Biscuits – Add a Pinch
Turkey Tetrazzini – Simply Recipes
Coq au Vin Blanc – Add a Pinch
Chicken Enchiladas – Add a Pinch
Creamy Baked Turkey – Add a Pinch
Hot Chicken Salad – Add a Pinch
Grandmother's Chicken Casserole – Add a Pinch
Spinach Artichoke Chicken – Add a Pinch
Chicken and Rice – She Wears Many Hats
Chicken Cordon Bleu Quinoa Casserole – Closet Cooking
Pork Casserole Recipes
Scalloped Potatoes and Ham – The Pioneer Woman
As You Like It Breakfast Casserole – Simply Recipes
Sausage and Kale Pasta Bake – Bev Cooks
Ham and Asparagus Strata – Simply Recipes
Pork Chop Casserole – Bev Cooks
Mac and Cheese Casserole Recipes
The Best Ever Macaroni and Cheese – Add a Pinch
Chicken Mac and Cheese – Add a Pinch
Italian Style Mac and Cheese – A Spicy Perspective
5 Minute Mac and Cheese – Picky Palate
Macaroni and Cheese Stuffed Vegetable Boats – Recipe Girl

Vegetable Casserole Recipes
Broccoli Cheese Casserole – Add a Pinch
Tomato Pie – Add a Pinch
Easy Eggplant Lasagna – Add a Pinch
Broccoli Wild Rice Casserole – The Pioneer Woman
Tex Mex Black Eyed Pea Casserole – Recipe Girl
Cheesy Chipotle, Corn, and Zucchini Casserole – A Southern Fairytale
Squash Casserole – Add a Pinch
Butternut Squash Skillet Lasagna – How Sweet Eats
Egg Vegetable Casserole – Two Peas and Their Pod
Enjoy!
Robyn xo