A collection of over 50 honey recipes from breads, appetizers, drinks, entrees and desserts! A great way to use nature's sweetener!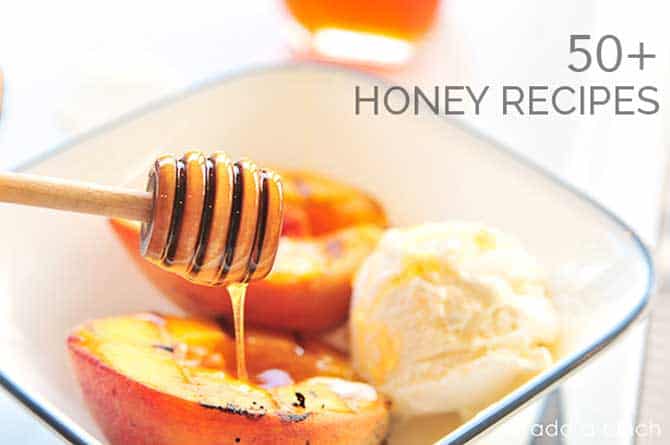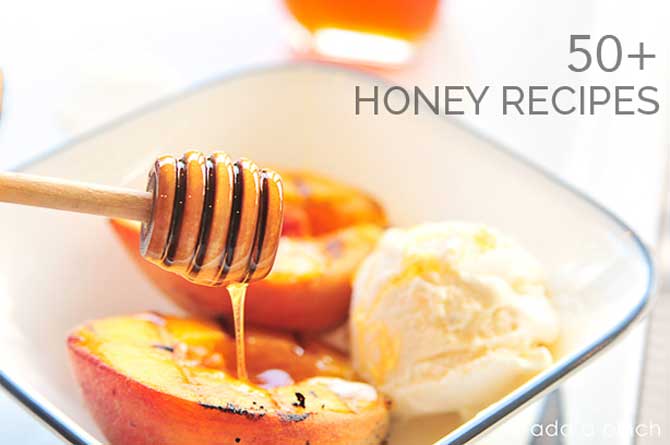 Honey makes a delicious addition to so many recipes. For years, we've loved getting jars of honey from friends who kept bees and then, finally, we decided it was time to begin the beekeeping journey ourselves. We've learned a lot over the last couple of years and still have so much more to learn.
Produced by honey bees, pure honey is nature's little miracle. Made from the pollen collected by the honey bees, honey takes on the coloring and flavoring based on the plants from which the honey bees collected pollen. Generally, lighter colored honey is milder while darker honey has a deeper, richer flavor.

Appetizer, Bread, and Drink Recipes
Slow Cooker Cocktail Meatballs – Add a Pinch
Cinnamon Honey Butter – Add a Pinch
Andy's Chocolate Peanut Butter Snack – Add a Pinch
Homemade Granola – Add a Pinch
Perfect Pizza Dough – Add a Pinch
Honey Lemon Balm Spritzer – She Wears Many Hats
Honey Prosciutto Flatbread – She Wears Many Hats
Candied Almonds – She Wears Many Hats
Steakhouse Honey Wheat Bread – Lana's Cooking
Roasted Figs with Gorgonzola – Lana's Cooking
Mini Phyllo Cups with Whipped Goat Cheese, Grapes, and Thyme – A Farm Girls' Dabbles
5-Seed Applesauce and Honey Bread – Bake at 350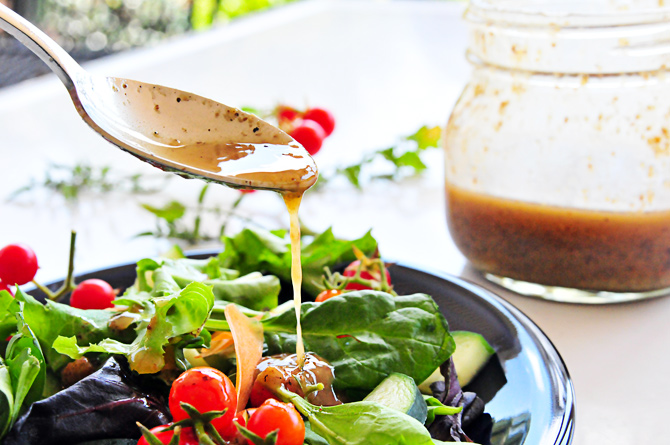 Salad and Dressing Recipes
Watermelon Salad with Watermelon Vinaigrette – Add a Pinch
Honey Mustard Dressing – Add a Pinch
Apple Pear Salad with Pomegranate Vinaigrette – Add a Pinch
Fruit Salad – Add a Pinch
Honey Lime Mayonnaise – She Wears Many Hats
Simple Honey Mustard Salad Dressing – She Wears Many Hats
Bacon Vinaigrette – Add a Pinch
Grape Salad – Add a Pinch
Grilled Peach Salad with Toasted Pecans, Blue Cheese and Honey Balsamic Syrup – Panini Happy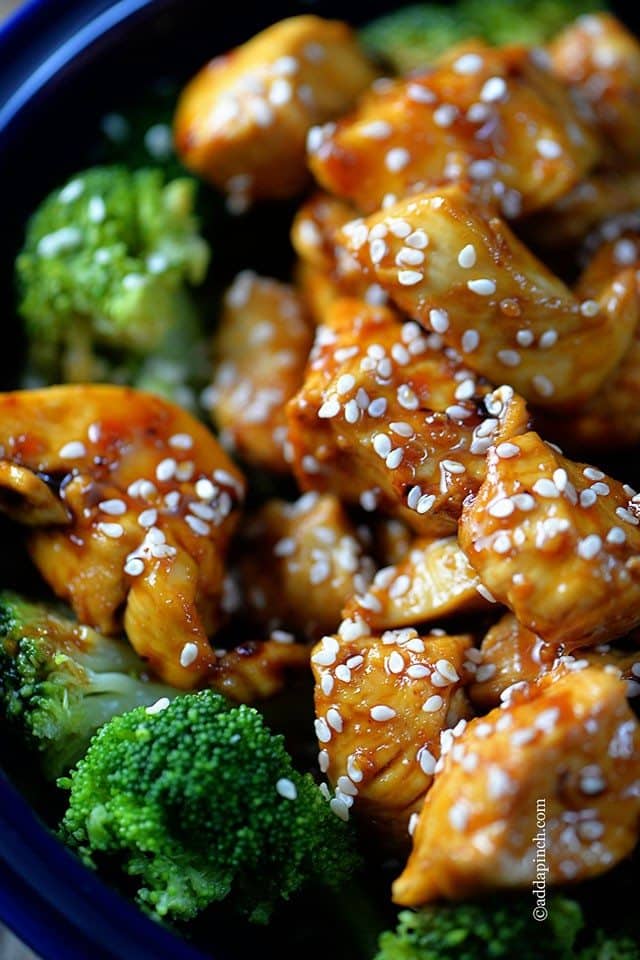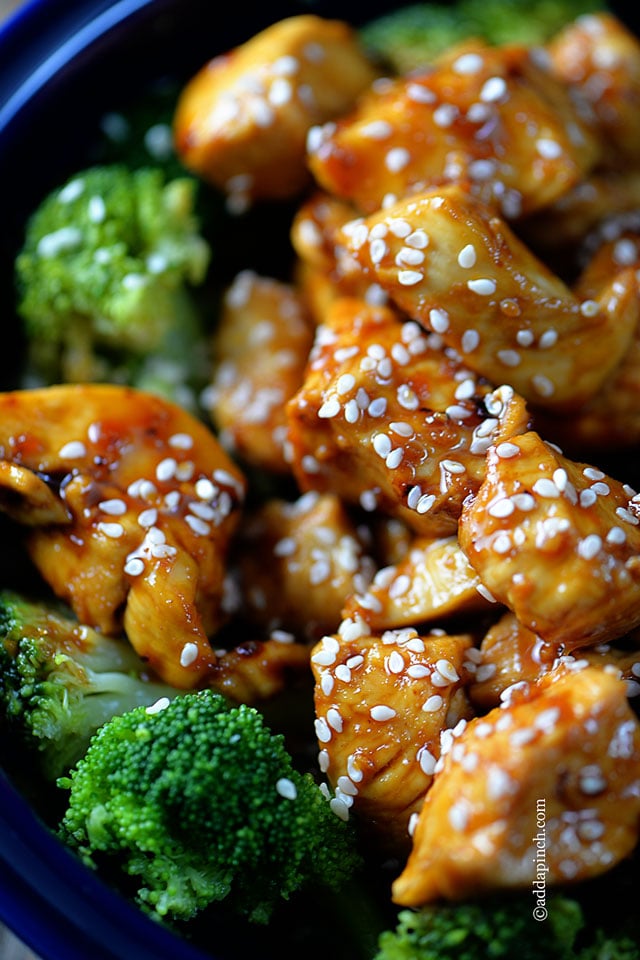 Beef, Pork, Poultry, and Fish Recipes
Honey Soy Pork Chops -Add a Pinch
Honey Soy Pork Tenderloin Recipe – Add a Pinch
Honey Sriracha Chicken Lettuce Wraps – Add a Pinch
Honey Soy Chicken – Add a Pinch
Honey Mustard Chicken Thighs – Add a Pinch
Spicy Honey Soy Roasted Chicken Thighs – Add a Pinch
Honey Ginger Salmon – Add a Pinch
Sweet and Spicy Chicken Wings – Add a Pinch
Simple BBQ Ribs – Add a Pinch
Balsamic Chicken Skewers – Add a Pinch
Bacon Wrapped Chicken – Add a Pinch
Skinny Orange Chicken – Add a Pinch
Balsamic Pork Tenderloin – Add a Pinch
Toasted Balsamic Chicken Salad Sandwich – Add a Pinch
Balsamic Roast Beef – Add a Pinch
Cider Braised Pork Ribs – Add a Pinch
Thai Chicken Wraps – The Pioneer Woman
Coconut Curry Shrimp – The Pioneer Woman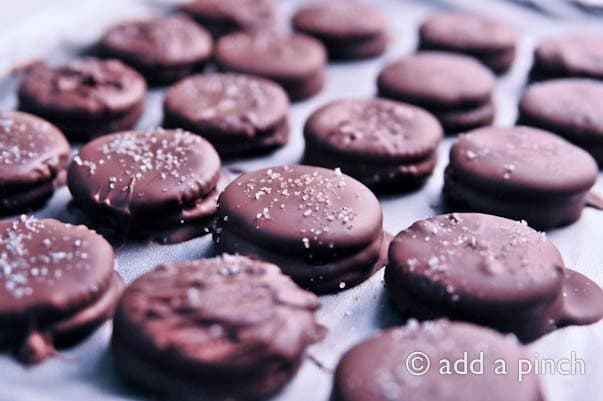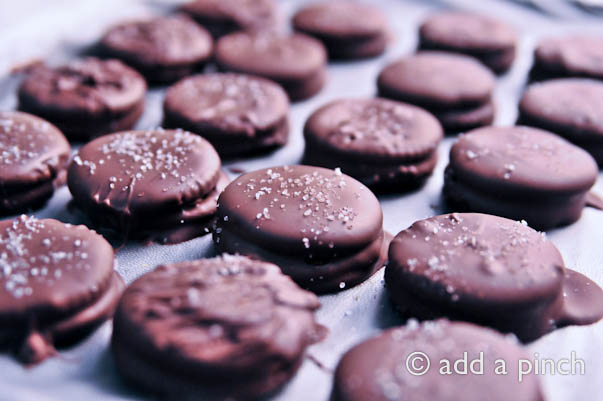 Dessert Recipes
Grilled Peaches with Honey and Ice Cream – Add a Pinch
Honey Cinnamon Cookies – Add a Pinch
Skinny No-Bake Chocolate Cookies – Add a Pinch
Roasted Cherry Parfait – Add a Pinch
Perfect Whipped Cream – Add a Pinch
Coconut Pineapple Paleo Popsicles – Add a Pinch
Roasted Peach Parfaits – Add a Pinch
Citrus Tea Biscuits – She Wears Many Hats
Spiced Poppy Seed Cake with Almond Buttercream Frosting – Bake at 350
Honey Cardamom Poached Pears – Foodie with Family